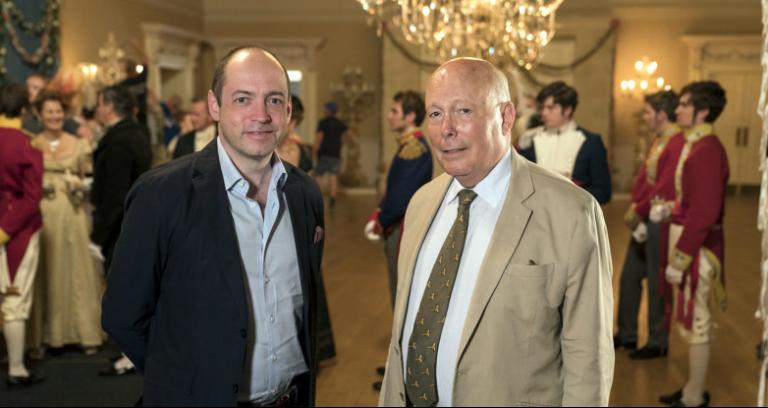 This Sunday, May 17, EPIX's Belgravia concludes its run. Based on an online book by Downton Abbey creator Julian Fellowes, it tells a story of secrets and family intrigue among society elites and social climbers in a (still) swanky new (in the 1840s, that is) London neighborhood.
I wrote previously about it here.
Fans who've followed Fellowes' career know that he is a Catholic, if sometimes an unconventional one.
As I noted in a 2015 column, while Downton was still airing on PBS' Masterpiece:
Creator and writer Julian Fellowes is a Catholic, and while not born to British aristocracy, he married into it (meeting his Anglican wife while having an affair with someone else's), and has become a "toff," as the British put it, with a big house and all. But it's impossible to determine the state of another person's soul, so it's hard to know how much Fellowes allows his faith to influence his storytelling or even his life.
The issue of Catholicism surfaced a bit in Downton, as I noted here, in the same column:
Catholicism has come up in Downton, in the person of Tom Branson, the family's Irish chauffeur, who's always seemed more attached to his radical politics than his faith.

He romanced and wed Sybil Crawley, and in the wake of her death following the birth of their daughter, he insisted the child be baptized Catholic. This scandalized his father-in-law, Robert Crawley, the monarchist Earl of Grantham, who spouted the sort of anti-Catholic sentiments typical of his era and situation.
Other than that, faith hasn't played much of a part in Downton, except for the occasional wedding. It's not mentioned in Belgravia, which has more to do with class and social rank than it has to do with religion.
As anyone who's watched the royal tussles over divorce and the sanctity of marriage during the '50s and '60s in Netflix's The Crown knows, in terms of moral teaching on sex and marriage, there wasn't much daylight between the official teaching of the Church of England and the Catholic Church until very recent decades. Of course, now, there is a vast gulf between the two — owing to the Anglican church having moved very far from doctrines the Catholic church continues to maintain.
There is still anti-Catholic sentiment in Britain — often as much political as it is doctrinal — but there is a general detente today between the Holy See and the Archbishop of Canterbury. Nevertheless, the differences remain.
But the peculiar situation of English Catholics remains complicated, as it has since Henry VIII broke with Rome in 1533 to put aside his wife, Catherine of Aragon, and marry his mistress, Anne Boleyn.
One of the best-known works dealing with English Catholicism is Evelyn Waugh's 1945 book Brideshead Revisited, most successfully adapted as a miniseries in 1981, which aired on PBS' Great Performances.
Aside from historical works set during the Tudor era — like TNT's short-lived Will, which took up the theory that Shakespeare was a secret Catholic — and HBO's Gunpowder, about Catholic persecution and plots in the early 16oos — and the current British cozy-mystery series Father Brown, loosely based on stories by G.K. Chesterton, there hasn't been much since Brideshead dealing with Catholics in England.
So, when I sat down with Fellowes to chat about Belgravia at the biannual TV Critics Association Press Tour in Pasadena, California, in January — read the Belgravia piece here — I decided to ask him if he'd ever set a story amid English Catholics.
He said:
I don't necessarily reject the idea because I think there is something to be found there. And right into my youth, when I was 19, we were encouraged in the season and all that kind of thing to be a Catholic group. We were very much flung together because our parents hoped we would marry each other — because practically no one did, but that was the idea. And that's now really gone because the season's gone, so it's finished.

We did see ourselves, not as a alien group, but as a kind of group apart. We were a group within a group. A club, not a hostile one, I don't think. But there was something about us that was relating to each other. And it was quite comforting actually. I rather liked that, I liked the sense of belonging and being part of it. But of course in those days, much more than now, Catholics went to Catholic schools and all of that sort of thing. So there was more of a sense of identity.
The we got on the subject of Waugh. Here's the exchange:
Kate: You can't leave it all to Evelyn Waugh. That can't be the last word on the subject.

Julian: It's a pretty good word on it.

Kate: Well, I'm not saying it's not, but I'd like to hear your take on it.

Julian: OK. Well, I'll have to think about it. I'll have to put my thoughts into words.
Here's to hoping he does.
Images: Carnival Films/EPIX
Don't miss a thing: Subscribe to all that I write at Authory.com/KateOHare