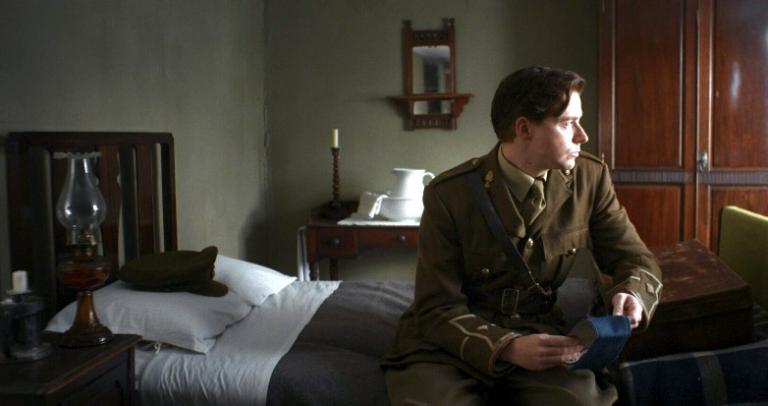 I'm turning this space over today to my pal and co-worker Father Vince Kuna, C.S.C., a Holy Cross priest who's also a serious film/TV buff, and a filmmaker who graduated from the USC School of Cinematic Arts (also George Lucas' alma mater).
Like him, I was a big fan of Lucas' 1992-'93 ABC series The Young Indiana Jones Chronicles (you'll see below why that matters). It led to the one interview I got to do with Lucas, and put me on the Lucasfilm Christmas-card list for several years, thanks to his lovely PR guru, Lynne Hale.
Father Vince looks at the new biopic Benediction, written and directed by Terence Davies, which released in selected theaters on June 3. It depicts the personal, professional and spiritual journey of British poet Siegfried Sassoon.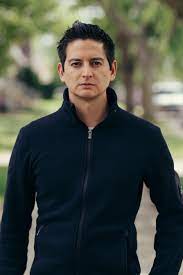 Father Vince will tell you about the plot, but the film did remind me of the 1991 miniseries version of Evelyn Waugh's 1945 novel Brideshead Revisited. They share a quintessential Englishness, languid pace, recognition of the horror of war, and gradual realization that, even after a troubled and complicated life, a home for the soul is to be found in the Church.
Also, it's said that one of the characters in Benediction, decadent socialite Stephen Tennant (played by Calam Lynch), was one of the inspirations for Lord Sebastian Flyte in Brideshead. Played by Anthony Andrews in the miniseries, Flyte is a decadent but ultimately penitential character in Waugh's acclaimed story of a writer (Jeremy Irons) who becomes entangled with an aristocratic English Catholic family.
Aimed at an adult audience, Benediction is rated PG-13 for disturbing war images, thematic elements and sexual content (consisting of one brief and relatively non-explicit homosexual tryst; the rest is implied but not shown).
With that, take it away, Father Vince:
If they saw and can remember, American audiences first encountered Siegfried Sassoon during an episode of The Young Indiana Jones Chronicles in the early 1990s. While the Indiana Jones trilogy of the 1980s produced classic adventure movies, George Lucas took an admittedly cerebral approach to the younger character, most pointedly his moral and philosophical development in the tumultuous period of World War I.

The short-lived two-season series traveled the entire globe, shooting on location and employed for the first time (at least on a grand scale) non-linear, remote editing. For all of his Star Wars accolades, YIJC is Lucas' proudest achievement, in his own words. Indiana Jones (Sean Patrick Flannery) fresh off the brutal battle of the Somme, meets Siegfried Sassoon at a pub.

Sassoon shares some of the poetry he wrote about trench warfare. For Indy, the brief encounter proves transformative. He leaves the trenches and enlists in Belgian intelligence, working as a spy for the remainder of the war.

The film Benediction makes no bones from the outset regarding Sassoon's eventual conversion to the Catholic Church. A flash-forward scene shows Sasson praying before the Blessed Sacrament, lying prostrate and making a Profession of Faith. Not only is the film about conversion to faith, but one rooted strongly in the intellectual tradition and fleshed out with lengthy conversations with doctors in field hospitals and socialites at soirees.

Upon deeper reflection, the faith journey plays out not so much as just the journey to God, but of one stepping away from vices. Sassoon grew disillusioned being a cog in the military-industrial complex, hence, the wartime poetry voice-overed gritty historical footage of the war.

Peter Capaldi as the older Seigfried Sassoon, in 'Benediction'/Roadside Attractions

Even after war's end, Sassoon (played by Jack Lowden as a younger man) harbors some bitterness that his literary gifts didn't help to end the war sooner.

As an older man (Peter Capaldi) he's made some peace with his wartime experiences. Considering his relationships, Sassoon marries Hester Gatty (Kate Phillips) but only after several homosexual dalliances.

The closing scene depicts Sassoon gazing out into a sunset He's moved to tears, almost what someone might find in Adoration of the Blessed Sacrament, that no person and no personal high or low could approach the fulfillment one would find in God.

The structural journey is truly unique. Sassoon was a poet. The story thus proceeds poetically. Sassoon begins in the depravity of the Great War and emerges towards the end of his life content in his Catholic faith. The journey he took to get there was high-level calculus, we only receive a vague sense that he needed to avoid some things and seek the good in other entities.

Poetry of the sublime sort journeys to the heart and offers impressions and mystery, not airtight answers.

The poetical structure of Benediction stands in stark contrast to the usual industrial document Hollywood terms a screenplay. Scripts follow three-act and eight-sequence structure, with an inciting incident occurring around page twenty. The action and character development must proceed in a logical flow, to a resolution that may surprise, but never come off as contradictory or even paradoxical to what came before.

Scripts of this prose style leave little unanswered, computing more like lower-level math to draw out the earlier analogy. A recent, excellent conversion film, Father Stu, stands as an example in the Hollywood tradition. We clearly know the man-child he used to be, then we follow the even clearer-cut journey to the Father Stu (Mark Wahlberg) he became.

I'm not saying either approach is better, although Benediction was a nice meditative break from the standard fare. And if Sassoon's life and cultural legacy tell us anything, it's that we still need a poet or two to cut against the grain of what's considered industry standard.
Click here for theater and ticket information.
P.S.: As a side note, another character in Benediction is journalist, art critic and art dealer Robbie Ross (played by Simon Russell Beane), who was also a friend of acclaimed Irish writer Oscar Wilde.
He stuck by Wilde during the sex scandal that led to his trial, conviction, imprisonment and subsequent exile to Europe. Ross was still with him at the end of his life, when Wilde had a deathbed conversion to Catholicism.
From CatholicEducation.com:
In 1899 Wilde traveled in Europe, an exile. In 1900 he was briefly in Rome with his companion Robbie Ross. They attended Masses and papal audiences, and Wilde received a blessing from Leo XIII that, he thought, even had a physically curative effect on him. As he joked to Ross, he was "a violent Papist," but he left Rome as he had come, still an admirer of sacred art and sacred ritual, of piety and the papacy, but not yet a Catholic. His health deteriorating and his drinking excessive, Wilde left Rome for Paris, where the final scene of his long conversion would be played.

On November 28,1900, as Wilde lay dying on his bed in Paris, Robbie Ross called in a priest, an English Passionist, Father Dunne. Wilde was given conditional Baptism and was anointed. For a short time he emerged from delirium into lucidity, and Father Dunne, examining him, was satisfied that Wilde freely desired reception into the Church. Wilde died a Catholic on November 30.
Ross also became Wilde's literary executor, curating and compiling his work, for which all fans of Wilde's writing are eternally grateful.
Image: Roadside Attractions
Click here to visit USC film school graduate Father Vince Kuna's IMDB page.
Don't miss a thing: Subscribe to all that I write at Authory.com/KateOHare.