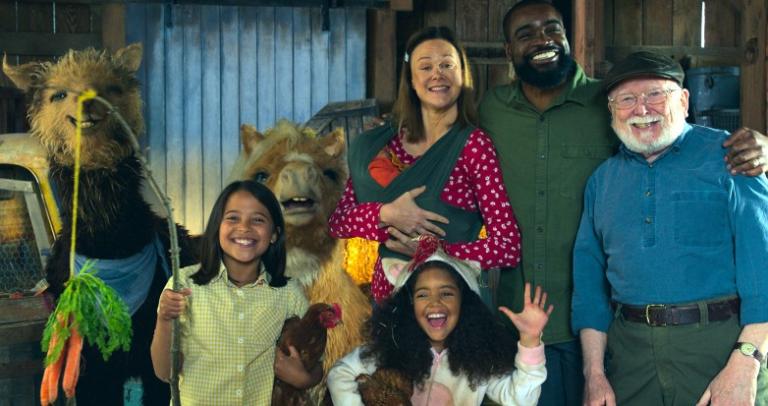 Dread and trepidation filled me as I sat down to view seven episodes from season one of the children's show Lovely Little Farm, currently streaming on Apple TV+.
Long gone are the days when just watching one or two episodes of a show aimed at children was enough, whether it's PBS, cable or streaming. One honestly never knows what one is going to get in kids' TV today, in terms of tone or content — especially when viewing them on behalf of a Catholic audience.
Imagine, then, my joy after binging straight through Lovely Little Farm and having nothing to complain about. It's sweet, fanciful, wholesome, and blessedly, not frenetic like so many kids' shows. There isn't a faith element, but on the other hand, there isn't an anti-faith element, either.
Take a peek:
What is Lovely Little Farm?
As I said when I wrote about the show for Family Theater Productions' Faith & Family Media Blog:
The British-produced Lovely Little Farm is the creation of BAFTA Award-winners Maddy Darrall, Billy Macqueen and Catherine Williams (Teletubbies, Topsy & Tim, Waffle the Wonder Dog).

Centered on a colorful family farm nestled among lavender fields somewhere in the British countryside, it blends live-action, CGI and puppetry to tell the stories of loving sisters Jill (Levi Howden) and Jacky (Kassdi Roberts).

They live with their parents, pregnant mom Jenna (Cicely Giddings), dad Jonas (Micah Balfour), nearby grandfather Jamma (Barry McCarthy), and a menagerie of animals.

The real animals are primarily goats, chickens, sheep and a dog. And then there are the talking animals: duckling Quackety Duck Duck (Shirley Henderson) blends live-action and CGI (with some help from Industrial Light & Magic, aka ILM); while Al Alpaca (Joel Fry) and Pickle Pony (Dominique Moore) are full-size puppets.

With the arrival of a new baby imminent, Jill must banish her animal friends from her room to the barn to make room for sister Jacky.

Over the course of the episodes, the sisters deal with animal emergencies (nothing scary, though), farming chores and family life.

Also, a very large, very shiny golden egg shows up. It's a bit of a mystery, but no one seems concerned by it (and, considering the gentle tone of the show, that's probably the correct response).
Talking to cinematographer Oona Menges about creating the fanciful world of Lovely Little Farm
One of the cinematographers for the show is Oona Menges, who's also a mom. She's known for such adult-oriented fare as HBO's science-fiction drama The Nevers. Menges has quite a challenge in Lovely Little Farm, dealing with all the show's disparate elements. But she envelops them in a warm, inviting look that adds to the show's overall charm.
Menges was kind enough to do an email Q&A about her experience on the show.
Where did the idea for this show originate?

Billy Macqueen and Maddy Darrell (executive producers) co-created Lovely Little Farm with a vision for how life might be if families had more time for reciprocity, gratitude, and to gift space for their children to thrive and have fun through nature and animals.

Why AppleTV+?

Lovely Little Farm is an ambitious, hybrid live-action/ animated family TV drama — and we're pretty certain that no one has made anything like it for under-8s and their families before. Luckily, our execs at Apple TV+ were excited about making a show that sat in a new and different space in the children's genre and gave us the creative freedom to bring the concept to life in a high-end way.

When Americans think of Britain, they don't always think of family farms. Do you hope this will surprise them?

I think you must be referring to urban Americans? U.K. farms and U.K. animal breeders that are generations old are well-known to rural/farming Americans — or Americans who are interested in animals.

I think what might suprise them is the surreal look, with American-style architecture, when they will be expecting stone houses, border collies and LOTS of mud, fog and rain!

This is a very fanciful series, but what do you hope kids and parents can learn about interacting with animals?

I think the world would be a better place if we could accept that other beings are sentient. The script recognised the animals and "other than human" as equal characters and members of the family unit. That is a concept I have always felt in real life, and I enjoyed that the series demonstrated that.

The surreal/fanciful look of the film just allows us to open up to this as a possible reality.

On a more practical level, the lessons learned in the day-to-day care and responsibilities on a farm, approaching it with kindness and patience are invaluable.

I also saw that the series demonstrates trust both in each other and in nature. This is something I hope humanity can learn.

As a parent yourself, what about this show touched you the most?

In this day and age, there are millions of children living in broken families and communities far from nature. The love and caring for each other that Lovely Little Farm demonstrates is a wonderful gift to those children.

The empowering of the girls, their sororal bond, and their listening to the animals, all touched me greatly. Watching them learn to problem-solve and take responsibility leading to greater confidence and empowerment was also a great journey.

The footage of the girls gathering eggs, for example, and learning how to handle the animals … all of that is real, and I loved that we captured genuine expression during interactions like that.

I love how the air is sprinkled with dust motes and bits of straw, caught in the light. Is that the cinematographer in you?

Lighting is about texture and atmosphere as well as light and shadow. I often use copper flakes and fine particles, which add that extra bit of detail that hopefully catches people viscerally.

On Lovely Little Farm, Simon Reay, the director of photography, established feathers, which are quite a bit larger, but which underscore the heightened reality, and of course, are in keeping with a farm.

When will the big egg hatch??

Episode eight. It's a fantastic surprise!
Here's to hoping the show continues as it began, is a big hit, and encourages AppleTV+ to do more of the same.
Image: AppleTV+
Don't miss a thing: Subscribe to all that I write at Authory.com/KateOHare.