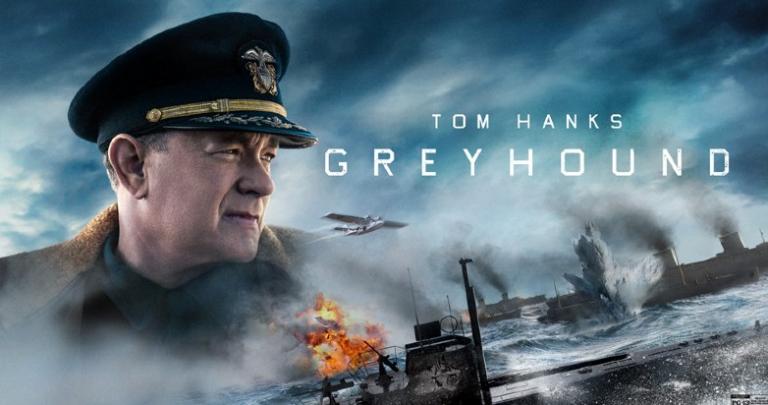 "No, don't, it's a countermeasure!"
Well, OK, that's not exactly what the thing is called in the World War II drama Greyhound, now available on streamer Apple TV+, but yelling that at the TV does prove I've seen The Hunt for Red October too many times.
To say that Greyhound, directed by Aaron Schneider and written by star Tom Hanks — and coming from Hanks' production company, Playtone — has a plot would be stretching it. Running 80 minutes (not counting credits), it's a taut, adrenaline-spiked thrill ride — but with grace notes.
In that, it's similar to the 2019 WWI feature 1917, with the same sense of impulsion and continuous peril, but with a little more overt faith content, and a little less character development.
Based on Horatio Hornblower author C.S. Forester's 1955 novel The Good Shepherd, Greyhound features Hanks as veteran U.S. Navy Commander Ernest Krause. In the winter of 1942, he's a first-time captain of the destroyer USS Keeling, code-named Greyhound, which is part of a US/U.K. escort attempting to get 37 troop and supply ships to Europe.
The main story, which takes place over a couple of days, focuses on the part of the North Atlantic journey where the convoy is without air support, and therefore most vulnerable to attacks from German U-boats, or submarines, nicknamed the Wolfpack.
Greyhound begins at Christmas, where Krause meets with his lady love (Elisabeth Shue) and gives her an ornament that says "Yesterday, today and forever," a reference to Hebrews 13:8, which says, "Jesus Christ is the same yesterday, today and forever." That's echoed in a holy card with the full quote, which Krause keeps in his cabin.
He's seen kneeling at his cabin bunk praying and quietly saying grace aboard ship before meals. He notes that the German submariners he's sending to the bottom of the Atlantic are "souls." Capt. Krause even offers a Bible reading at an appropriate moment.
Krause is a man of obvious deep faith, but this is not a movie that preaches or panders. The character is an able and courageous naval commander who just happens to be a Christian.
In real life, Hanks converted to Greek Orthodoxy when he married second wife Rita Wilson, and he has mentioned church attendance. But, he does hold some views more in line with Hollywood than the Catholic Church, such as support for same-sex unions.
But, Hanks is also, as he does again in Greyhound, intent on producing films and TV which do justice to American history. These include such acclaimed HBO miniseries as the WWII sagas Band of Brothers — which chronicled the war in Europe — and The Pacific, and the Founding Father portrait John Adams (required viewing for me every 4th of July).
At 64, Hanks is now a grand old man of American TV and cinema, having carved out a niche playing a wide variety of everymen (and even Mr. Rogers), and Greyhound is no exception. In truth, Hanks is perhaps 20 years or more too old to play a WWII naval officer who just got his first command — even one who's sailed a desk for 20 years in peacetime — but that's immaterial. As Krause, he's commanding and yet still with a glint of kindness, as a man who lives mostly on coffee and even eschews sitting down until he's concluded his mission.
Greyhound is a pulse-pounder, and the battle-scene CGI is seamless and has the weight of reality (they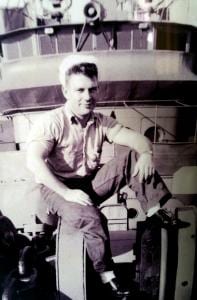 did shoot on a real ship, too, the restored USS Kidd, now a museum ship in Baton Rouge, Louisiana).
My dad, Fred O'Hare (seen at right), served in the Navy in the Atlantic in WWII, on a ship protecting convoys just like this and facing the same danger from U-boats.
It's a shame he didn't quite live long enough to see Greyhound. Most WWII battle-at-sea movies are set in the Pacific, and, as he pointed out when I tried to follow up a gift of Band of Brothers DVDs with ones of The Pacific, "Not my war."
Capt. Krause isn't a top admiral or high-level naval strategist (although he's a deft hand at maneuvering his ship). He's what King Henry V describes in Shakespeare's play:
Let me speak proudly: tell the constable

We are but warriors for the working day;

Our gayness and our gilt are all besmirched

With rainy marching in the painful field.

There's not a piece of feather in our host—

Good argument, I hope, we will not fly—

And time hath worn us into slovenry.

But, by the Mass, our hearts are in the trim …
Hanks admitted to being "heartbroken" that Greyhound isn't opening on the big screen, and I can only imagine what the battle sound effects would have felt like in a theater. It's also a shame that it's on Apple TV+ rather than one of the broader services like Netflix or Hulu. I don't have Apple TV+ (or any Apple devices) but watched courtesy of a press screener. Otherwise, I wouldn't have seen it at all.
But if you buy an Apple device, you get a year of the Apple TV+ service free. There is also a 7-day free trial, and it costs $4.99 a month after that.
Content notes: There is no sex or nudity; there's violence but not a lot of blood shown; and there's one f-bomb (quickly apologized for).
Images: AppleTV+/Courtesy Kate O'Hare
Don't miss a thing: Subscribe to all that I write at Authory.com/KateOHare