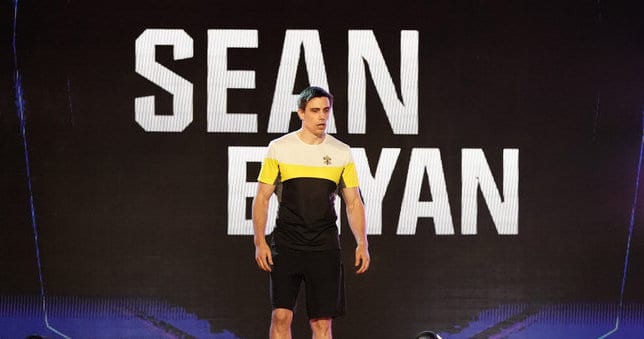 This strange year, American Ninja Warrior, rather than holding tryouts in different cities and a big finale at Mount Midoriyama in Las Vegas, is staging its entire COVID-shortened season in a domed stadium in St. Louis.
But, a lot of the sport's familiar faces are back, including Sean Bryan, the Papal Ninja, the Operations Director for the Lay Mission Project, a collaborative endeavor of the Western Dominican Province and the Diocese of Sacramento.
(SPOILERS FOR QUALIFIER #3 TO FOLLOW — WATCH IT HERE)
A former collegiate gymnast from the University of California, Berkeley, Bryan first appeared this year in the third qualifier round on Sept. 21. He led a team called the Hounds of Heaven, also featuring avid CrossFitter and 2018
ANW
competitor Father Stephen Gadberry — a pastor of two parishes in the Diocese of Little Rock (Arkansas), and a fellow of Bishop Robert Barron's
Word on Fire Institute
— and
ANW
veteran and pastor David Womelsdorf.
As a bonus, we got to see Bishop Barron, WOF executive producer Father Steve Grunow and other WOF staffers, labeled as "fellow parishioners," rooting for Father Gadberry. Bishop Barron
also Tweeted
a bit of video.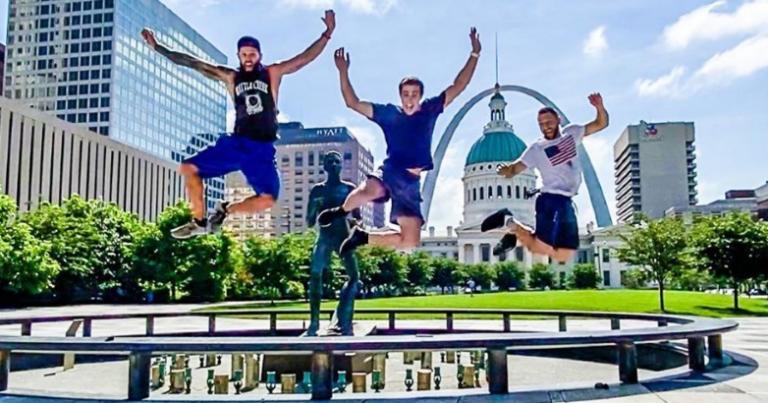 Neither Father Gadberry nor Womelsdorf finished the course, but Bryan did hit a buzzer. In the Power Tower face-off at the end with RJ Roman, though, Bryan lost by a whisker and was unable to take the rest of his team with him into the next round.
Click here to read part one, in which Bryan answered questions posed before the episode aired; below find his answers in the aftermath.
What did it mean to compete in a dome where Pope John Paul II once appeared?
I actually wasn't aware that St. John Paul celebrated Mass at the Dome at America's Center in St. Louis until after I saw the episode! I was aware that he visited St. Louis, but it didn't cross my mind that he may have been at the Dome. It turns out that it was the largest indoor gathering in history at over 100,000 people!

As fun as it would've been to know this at the time, I don't think it would've made a difference in my performance. The important thing is that the Spirit was most certainly active, which is a reminder that God's providence is always at work.
What would be your advice for Father Gadberry to up his Ninja game?
Fr. Stephen is an impressive athlete and quite a dedicated CrossFitter. But like all sports, it takes a significant amount of practice for anyone to "up their game." As much as someone trains CrossFit, it's only going to go so far in preparing him or her for Ninja-specific obstacle courses.

Thus, Fr. Stephen would greatly improve if he had access to a Ninja gym. Unfortunately, living in Arkansas, the closest one to him is hours away, and the responsibilities he has as a pastor doesn't allow for that much travel.

Perhaps he could set up Ninja-like obstacles or apparatuses at a gymnastics gym, since they seem to be more abundant. But even with Ninja-specific training, there's always variables that are nearly impossible to anticipate.

Ninjas do not get to practice the course and, for the most part, every course has obstacles that have never before been seen, let alone replicated. Any Ninja can fall on any obstacle, and even the best Ninjas have failed seemingly easy obstacles.

If Fr. Stephen gets another shot at the course, I'm he'll like have more time to prepare than he had for this rushed season, and I'll be sure to assist him in his training.
Of course, you hit a buzzer — but what did it mean to do it after coming back from an injured ankle and a dislocated shoulder?
Coming back after repeated injury seems to be par for the course. Most high-level athletes have faced major injury, and many have come back even stronger. If a Ninja, who specializes in overcoming obstacles, doesn't strive to overcome setbacks and injuries, it would be out of character, to say the least.

At the same time, similar to how each year the obstacles on the course get harder, as I get older, the injuries are becoming more challenging. These past two injuries have taken much longer to heal than anticipated, and they have taken up much more of my "spare time" than I thought I would be able to afford.

I have been shifting my training focus to accommodate. I have been forced to train smarter, since I cannot put in as many training hours as I used to because of life commitments – including the expansion of the Lay Mission Project and getting my gym, Traverse Fitness, back on its feet after a debilitating pandemic.

In my gymnastics career, I relied mostly on my coaches to concern themselves with the training schedule and training plan. When I started Ninja, my training was more about getting to the gym as much as possible and having fun with friends while practicing courses.

Because of time constraints and because of "Ninjuries" (that's what Ninjas call Ninja-related injuries), I've had to be much more intentional about a training plan.

With the help of Adam Rayl, along with online research and reflecting on my gymnastic training, I've been able to optimize my training cycles to hit peak performance of body and mind for target competition dates.

This itself takes a significant amount of work and discipline, but, like many other things in life, having friends to share the journey with not only keeps you accountable but also makes the tasks all the more enjoyable.
Keep up with Bryan's workouts and competitions at his PapalNinja Instagram account.
American Ninja Warrior airs Mondays at 8 p.m. ET/PT on NBC. It can also be watched at NBC.com, On Demand for those who have cable, and streamed on Hulu.
Image: Elizabeth Morris/NBC (top); Courtesy Sean Bryan (in body copy)
Don't miss a thing: Subscribe to all that I write at Authory.com/KateOHare