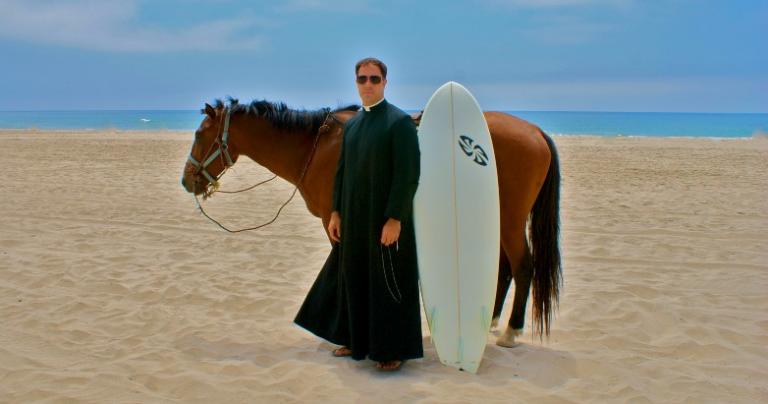 When he sat down to watch a screener of the documentary PRAY: THE STORY OF PATRICK PEYTON, in select theaters on Friday, Oct. 9, Father Donald Calloway, MIC, wasn't exactly coming to the story cold.
"I came into it," he says in a phone interview, "already having some knowledge of who Father Peyton was, because I have written six books on the Rosary. He's featured in two of them in major ways. So I knew a lot about him.
"I kept thinking, when they sent me the preview to watch, 'I wonder if this is going to be good. It could be lame; it could be hokey; it could be dorky.' But then I watched it, and I said, 'This thing's awesome.'
"It is so inspiring. I still meet a ton of people who, either they don't know who he is, or they get him mixed up with some other guy who they think is a football player or something. They're like, 'I've heard of him,' And I'm like, 'No, not that one, the priest.' And they're like, 'Oh, who?'
"And I tell them this guy promoted the Rosary more than anybody else, including popes in the 20th Century. There was nobody who even came close to what he did. And they're like, 'Really, why haven't I heard of him?'
"He had that big rally in San Francisco, but a lot of people will be like, 'Yeah, I really don't remember that.' And I'm like, 'Yeah, there's other stuff in the Philippines, Brazil, Colombia, millions of people.' And they're like, 'Yeah, never heard of him.' And I'm like, 'Wow.'
"So, when I saw the movie, I was like, 'This is a phenomenal way to visually get this message out.' Because, right now, the younger people, they're visual. If I give them a book on Father Peyton, they'll be like, 'Whatever.'"
In the interests of full disclosure, I manage social media and blog for Family Theater Productions, the company Father Peyton founded in 1947. It still sits in its original location on Sunset Boulevard in Hollywood, in the midcentury-modern building he commissioned — and it also produced PRAY. And I didn't know anything about Father Peyton before I went to work for the company.
So, yeah, Father Peyton isn't former NFL star Peyton Manning, and he isn't Archbishop Fulton Sheen. He was a priest of the Congregation of Holy Cross who, after surviving a bout with tuberculosis as a seminarian at Notre Dame — which he attributed to Mary's intercession — became laser-focused on promoting family prayer, especially the Rosary.
He eventually took his crusade to the nationwide Mutual Broadcasting System radio network in the late '40s, recruiting stars from Bing Crosby to Maureen O'Hara, Gregory Peck, Jimmy Stewart, Lucille Ball, Shirley Temple, Jimmy Cagney and others, to do uplifting, ecumenical radio dramas and comedies.
In the late '50s and '60s and beyond, Family Theater started producing TV specials, starring such folks as Raymond Burr, James Dean (in his first credited screen appearance), Petula Clark, William Shatner, Bob Newhart and Princess Grace (in her last screen appearance).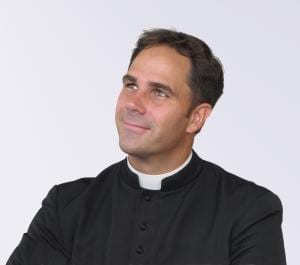 In the meantime, Father Peyton circled the globe, right up until shortly before his death in 1992, holding huge Rosary rallies. Despite all this, he faded from the American consciousness, but his signature phrase, "The family that prays together stays together," lived on.
Father Calloway, a member of the Congregation of Marian Fathers of the Immaculate Conception of the Most Blessed Virgin Mary, is currently the House Superior of the Marian House of Studies in Steubenville, Ohio (also the hometown of Franciscan University), and Vocation Director for the Marians.  This means he's far away from his beloved San Diego and his favorite hobby, surfing.
By his own admission, Calloway's path to the priesthood was, to put it mildly, rocky.
Father Peyton — who was declared Venerable by the Vatican in 2017 — also wasn't a perfect angel growing up. The film describes him as a sometimes rebellious student and a bit of a "brat." That's something Father Calloway can relate to — but in his own life, he went much further than that.
As a teen, Calloway was involved in drugs, promiscuity and even criminal behavior. It took tough love, rehab, his mother's conversion to Catholicism and fervent prayers, and his own eventual spiritual awakening, to turn a sullen, angry teenager into a Catholic priest.
It also took humility for Calloway to accept where he'd gone astray and turn his life around. That's one quality he greatly admires in Father Peyton.
"He's a model," he says. "Those who know him, know him for promoting the family Rosary, for all of that. But, at the root of that is what he was saying, but also his lived example. What people saw was humility. The man was so humble. He doesn't really seem to have considered himself to be much, and he just didn't go out there tooting his own horn.
"He was doing it for Our Lady, and that humility won people over."
Another person who appeared in a Father Peyton TV special was Saint Teresa of Kolkata, popularly known as Mother Teresa.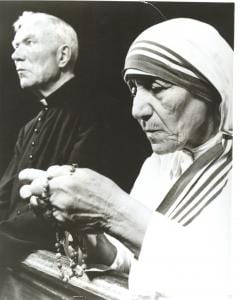 Says Calloway, "Those images of him standing with Mother Teresa, and I'm like, 'Here you've got this woman who takes care of the poor on the streets of Kolkata and around the world, and next to her is a priest, and he's doing the same thing, on some level, that she is. It's just that he wasn't as well-known.'
"She was able to do what she did because of her humility. She begged, too, and people gave to her. He did the same thing, and today, a lot of people would not be willing to give money to a priest. They're like, 'No, I don't trust you guys. I don't know what you're going to do with it.'"
I once asked Family Theater's head of production, Father David Guffey, C.S.C., an executive producer of PRAY, why people would keep talking to Father Peyton, knowing he was going to ask for money. He smiled and said, "He was a saint."
Well, he's not a saint officially, at least not yet. More on his sainthood campaign here.
Says Calloway, "His confidence in what Heaven was asking him to do was unbelievable. Many of said that the spirituality that really claimed the 20th Century was the Divine Mercy, and the slogan for that is, 'Jesus, I trust in you.' Patrick Peyton lived that thing perfectly. He trusted like … unbelievable."
PRAY: THE STORY OF PATRICK PEYTON is in select theaters on Friday. Plans are underway for DVD sales, parish screenings and digital downloads in early 2021. For the latest theater and ticket info, visit PrayTheFilm.com.
Images: Courtesy Father Donald Calloway, MIC/Family Theater Productions
Don't miss a thing: Subscribe to all that I write at Authory.com/KateOHare