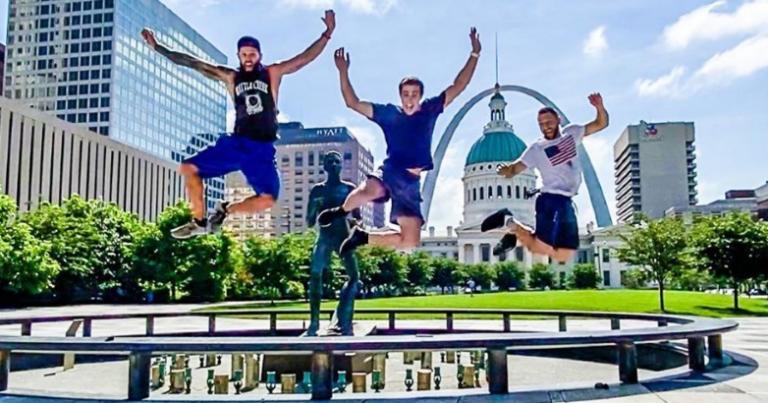 NBC's American Ninja Warrior is back, and so is Sean Bryan, the Papal Ninja, who brought along a couple of holy friends for Qualifier #3, which aired Sept. 21.
This season, the reality-competition show is not traveling the country for tryouts but staging all of the competition for a shortened season in a stadium in St. Louis.
Coincidentally, it's the same one that Saint John Paul II visited during his whirlwind 1999 trip to the city.
So, here's part one of an email interview with Bryan about his return from ankle and shoulder injuries, and teaming up with a pastor and a priest to form the "Hounds of Heaven."
What has it felt like to come back for a new season of ANW after all that's happened?
With respect to coming back after another serious injury, it is difficult to put my finger on how it felt. The recovery was slow, and it was complicated further by the social unrest of 2020. It seems as though nothing this year is particularly easy to

AMERICAN NINJA WARRIOR — "Qualifier 3" Episode 1203 — Pictured: Sean Bryan — (Photo by: Elizabeth Morris/NBC)

describe apart from Covid-19, the polarization of society in issues of race and politics, riots everywhere, the fires in California, etc.

To combine all the social unrest the world has been experiencing, on top of my personal physical trials, although the world is far from returning to a familiar manner of socially relating, competing again, it did bring a bit of tangibility to the hope of returning to some level of normalcy.

It was refreshing to get back on the main stage to compete, as well as to connect with Ninja friends again, in spite of the rather stringent safety guidelines we all agreed to follow. In spite of the social distancing, the regularity of uncomfortable COVID-19 nasal swabs, the health surveys we had to fill out every day, the longer days on set due to the complications of health and safety precautions, the Ninjas found ways of overcoming.

We derived modified socially-distanced versions of the "normal" Ninja-shenanigans that seem somewhat of a ritual while in Ninja-holding (the place where we have to sit for hours at a time while patiently enduring the hurry-up-and-wait experience of any large production).

We brought lots of disinfectant with us while scooting around St. Louis to see the sites. There were regular outdoor workouts, and distanced outdoor dining at newly re-opened restaurants. I was able to visit the Cathedral Basilica of St. Louis, which is absolutely stunning.

But, best of all, I was able to have Mass daily with Fr. Stephen Gadberry.
How did it work out that you, Father Stephen Gadberry and Pastor David Womelsdorf came together in one episode?
Many people who watch the show assume that I'm an ordained priest. It doesn't bother me personally, but it did inspire me to look for an actual Catholic priest who fits the bill.

I thought I met the right one when I was visiting Bishop Robert Barron in Santa Barbara, and met Fr. Steve Grunow, the CEO of Word on Fire Catholic Ministries.

AMERICAN NINJA WARRIOR — "Qualifier 3" Episode 1203 — Pictured: Father Stephen Gadberry — (Photo by: Elizabeth Morris/NBC)

He's very much into fitness, and I tried convincing him to apply. Instead, he connected me with Fr. Stephen Gadberry.

When I looked him up, I knew he was right. Fr. Stephen has a military background, is the strongest Crossfit priest in the games, as well as the Crossfit Games chaplain. He has a strong social-media presence, and is great in front of a camera.

When I first contacted him, he was quite enthusiastic, and after a short time discerned that the Lord was in fact calling him to apply to the show. As soon as I heard that he was asked to be on the show, I booked a flight to be able to support him.

Shortly after his debut in season 10, he became a pastor, which prevented him from applying the following season. When I found out that the producers were teaming people up based on storyline, I knew Fr. Stephen would be who they first suggested, and I'm glad for it.

They also suggested David Womelsdorf for my team. I knew of him, but never had the pleasure to get to know him. All I knew was that he was a 2-time veteran from the Chicago area, and that he is a pastor of Christian church in the city.

He, Fr. Stephen, and I connected via Zoom, and hit it off immediately. We wasted no time getting right to it; after introducing ourselves, we promptly dove into the important questions: how as a team can we best glorify God through our presence on

AMERICAN NINJA WARRIOR — "Qualifier 3" Episode 1203 — Pictured: David Womelsdorf — (Photo by: Elizabeth Morris/NBC)

the show? What narrative ought we run with during the interviews? How is it that we can be a sign of hope, in very concrete ways, in both word and deed? How are we to witness Christ in these trying times? After brainstorming this, we prayed together, and made a commitment to holding these questions in our hearts until we met in St. Louis.

We committed to an even more intentional witness throughout our time in St. Louis. If we we're cognizant of the significance of our presence throughout the day, it would be all the more difficult to rest in the providence which brought us there to being with, and it would be much more difficult to bring it to mind when the cameras were on.

We reminded each other that no matter how we perform, that the Lord is with us, and the Holy Spirit will act in us and in the viewers, so long as we remain in Him. With this in heart, if any of us were to fall into the water, we would come up with a smile, delighting in the fact of our calling, and not on the apparent failure.

This is just one example of how our witness on the show not only sheds a good light on Christianity, but hopefully helps people see that our hope is in the Lord, and on the imperishable crown, and not on a prize that fades.
Are you inspiring young Catholics to take up fitness, especially Ninja skills?
I regularly receive messages from all sorts of people thanking me for getting them into fitness, or back into church. It's not something I have been directly aiming for, but being aware of it is quite encouraging.
There's a new wave of priests who take fitness seriously and display that on social media. What effect do you think that has on young people?
Social-media movements can be quite powerful, and priestly or Catholic fitness platforms are no exception. I've met a few priests who have been inspired by the community surrounding @priestfit, as well as a number of Catholics motivated by @swole.catholic.

It is a reminder of the importance of community, and points at the effect we have on one another; a little bit of effort in encouraging a friend, or even a stranger, can go a long way!

But to directly answer your question, all the baptized are called to witness Christ; this should be the norm. The sad thing is that we don't have a proper imagination for real lay agency within Christ's mission, whom our Lord has bestowed on everyone through baptism.

Every person in every circumstance is called to witness Christ through living a holy life of devotion, and ordering temporal affairs to the plan of God. If this were the case, then a priest being fit and even "swole" would not be surprising.

Priests, who are charged with the pastoral care of the baptized, and who participate in Christ's threefold munera of teaching, sanctifying, and governing, ought to do these things in a way that afford the baptized an imagination for their vocation, their particular participation in Christ's mission.

Thus, to care about physical fitness ought to be one way in which they do these things. This has a huge impact on the imagination of young people. When a young person sees a priest, they should not imagine him to be a guy who prays all day and separates himself from the world, rather, they should see a man who is holy, wise, honorable, caring, and a man worthy of trust who stands in the place of our Lord  through sacramental ministry.

Physical fitness is one small aspect of rightly informing a person's imagination that to be holy ought to be the norm, and normal people too, ought to be holy.

The trouble comes in when these priests are perceived to be ego-centric and worldly. Whether it is true or not, perhaps only the priest and God will know, but it is important for the priest to not only check his ego at the door when engaging with the world, but also always be mindful of what he is intending to communicate, while having his finger on the pulse of the social media platform in a manner that helps him understand if in fact it is being received in that way.
We're thrilled to have you back on ANW, but what are your long-term goals?
It's simple: total victory is the goal. Perhaps for many total victory equates to being the grand champion and bringing home  the million-dollar prize. For me, that's just the bonus prize for possibly winning. I know in my heart though that total victory has already been won through our Lord Jesus Christ's life, death, and resurrection.

So how is this the goal if it has already been won? The goal is ever-present. Through baptism, I have received total victory. Through baptism, I entered into Christ's life, His death, his resurrection, and was given a very particular manner of living out his mission.

The goal then, both in the immediate and in the long term, is to live out my baptismal calling in every moment, and celebrate that total victory. Thus, whether I win or lose the perishable crown, the imperishable one can never be taken from me, so long as I keep running the race til the end.

That may look like five more seasons, that may look like a season 12 retirement – that is yet to be seen. But what is certain is that I shall not have run the race in vain.
Stay tuned for part 2 (and I recommend you see the episode before reading), and keep watching for the Papal Ninja to return on American Ninja Warrior, airing Mondays at 8 p.m. ET/PT on NBC. It can also be watched at NBC.com, On Demand for those who have cable, and streamed on Hulu.
Images: Courtesy Sean Bryan (top); and Elizabeth Morris/NBC (photos in body copy)
Don't miss a thing: Subscribe to all that I write at Authory.com/KateOHare