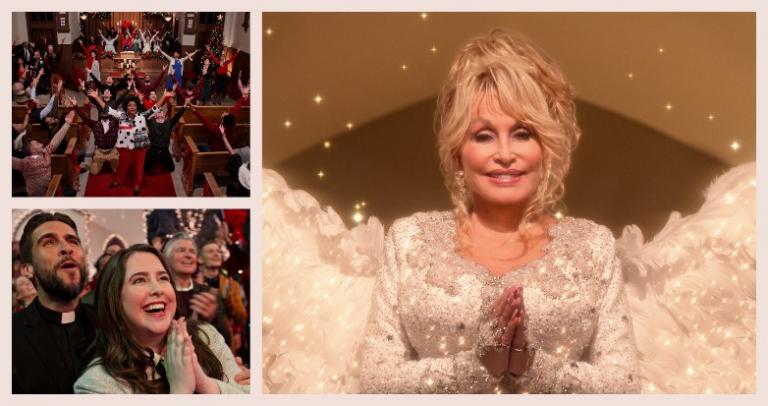 One may wonder how an old-fashioned, sparkly, sweet, faith-filled Christmas musical like Dolly Parton's Christmas on the Square, premiering Sunday, Nov. 22, ever wound up on Netflix, but the answer is a petite blond powerhouse. Nobody says no to Dolly.
What Dolly Wants …
For example, here's a bit from a press release for her other holiday-season special, A Holly Dolly Christmas, airing on CBS on Dec. 6, featuring Parton in an intimate, candlelit set, performing faith-filled hymns and Christmas songs, along with recollections and personal stories.
When Dolly Parton calls and tells you she wants to do a Christmas show, you don't hesitate," said Jack Sussman, Executive Vice President, Specials, Music & Live Events/Alternative & Reality for CBS. "A special with the multi-Grammy Award-winning, prolific song-writing, epic live performer of all time? She had us at hello. There's only one Dolly Parton, and we are so excited to be bringing her to viewers this holiday season."
Or in the case of the Netflix musical, shot in Atlanta in the pre-pandemic summer of 2019, here's a quote from her friend, former agent and the film's executive producer, Sam Haskell, from the Atlanta Journal-Constitution:
Haskell had written a successful memoir in 2009 and as a sequel, he thought of writing a fictional Christmas story. When he told Parton about the idea, she scoffed and said he should turn it into a musical. On her own, over the years, she wrote the music. Last year, Parton and other singers performed a 45-minute version of "Christmas on the Square" before Netflix executives.

"Netflix executives bought it in the room," Haskell said.
What's Dolly Parton's Christmas on the Square About?
Christine Baranski (The Good Fight) stars as rich and nasty Regina Fuller, who, after her father's death, returns to the hamlet he founded (and named after himself) — to sell it all to a land developer and evict the tenants in the quaint small businesses around the lantern-ringed town square.
But, with the help of a guardian angel (Parton), encounters with the townsfolk and an old love (Treat Williams) — along with a secret tucked into a Bible — Regina's frozen heart is thawed.
Parton wrote all 14 songs, and she even quotes G.K. Chesterton in one, saying, "Angels can fly, because they take themselves lightly." The film has about as accurate a theology of angels as in It's a Wonderful Life, but hey, at least her angel doesn't claim to have any name other than Angel.
At the center of the story are Pastor Christian (yes, that's his name), played by Josh Segarra (he's the one in the Roman collar up above, but he's definitely not Catholic) and his wife (Mary Lane Haskell), who are undergoing unspecified fertility treatments. There's also a little-girl bartender, played by Selah Kimbro Jones (she pours chocolate milk for herself) and her widower dad (Mack Johnson).
Tagging along after Regina is her assistant Felicity (Jeanine Mason), who is revealed to have a heavenly side hustle.
Debbie Allen did the choreography and directed, so expect mass quantities of dancing.
So, Is It All So Sweet That It will Make My Teeth Hurt?
The presence of acting heavyweights like Baranski and Williams, along with Broadway/film/TV star Jenifer Lewis as Regina's hairdresser and oldest friend, just about keeps this cotton-candy story from tipping over into treacle.
Parton is, as always, a warm and charming presence, and she just might have a future (as if she needed another one) challenging Disney in the family-musical sphere.
BTW, in case you needed another reason to appreciate her, Parton donated $1M to Vanderbilt University Medical Center's COVID-19 research efforts, which helped lead to Moderna's promising new vaccine.
Speaking of COVID-19, the big plot point in Christmas on the Square that Regina has sold the town to make way for the biggest new mall in the Midwest. Along with watching in wonder as all these singers and dancers perform in close proximity, I'm left pondering whether new malls will even be a thing in the future.
But mall or no mall, virus or vaccine, Christmas will endure, and Christmas on the Square has pro-marriage, pro-family and pro-faith messages sprinkled throughout, without ever getting too preachy. That alone sets it apart from most of today's Christ-free Christmas fare (which I wrote about here).
The musical is a cheerful sprinkling of warmhearted tinsel, and proof that, if you have a big enough star involved, even Netflix will air a movie where someone says, "It's written in a Bible, so it must be true."
To which I say, amen.
Image: Netflix
Don't miss a thing: Subscribe to all that I write at Authory.com/KateOHare.