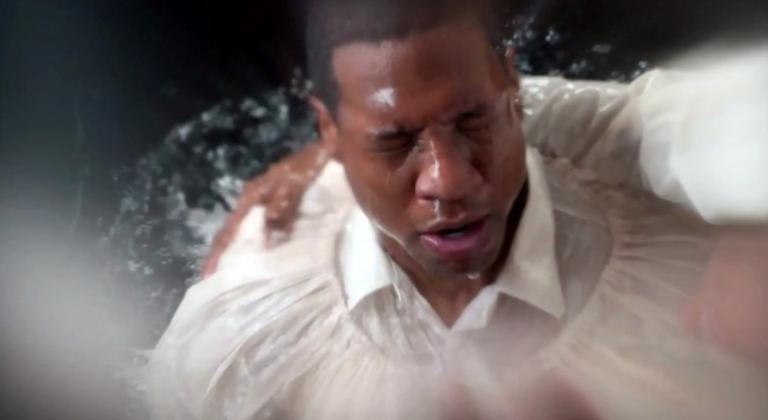 Season one of HBO's Lovecraft Country is a ton of bonkers stuffed into a 10-episode bag. By far, it's the most wildly inventive, bizarre, confused, occasionally clunky, occasionally compelling, nutso thing I've seen in a long time — and at least one character believes in God.
It's a Hard Show to Describe, But I'll Give It a Try
Lovecraft Country is based on the 2016 novel of the same name by Matt Ruff, which blended the phantasmagoric horror fiction of H.P. Lovecraft and Jim-Crow-era racism. I haven't read it — actually, don't think I've even read more Lovecraft than a short story — so I'll leave it up to others to explore how faithful the series is to the book.
Also won't do me much good to describe the series in any great detail, because I've watched it twice through, and I'm not really sure what all goes on. But, in brief, it centers on Korean War veteran Atticus Turner (Jonathan Majors), a lifelong sci-fi/horror/fantasy fan, who returns to his Chicago hometown because of a letter from his estranged father.
With his uncle (Courtney B. Vance) and childhood friend Leti (Jurnee Smollet) by his side — both are also genre devotees — he gets drawn into a staggeringly convoluted tale of monsters, mayhem and magic, which reveals family secrets, travels through time, expands into alternate dimensions, and even throws in a Korean fox spirit for good measure.
Lovecraft Country and Watchmen Both Pass Through Tulsa
Despite coming from different producers, there are places where Lovecraft Country looks a bit like HBO's comic-inspired Watchmen. The bold titles indicating different locations are similar, as are the general visual styles of the shows. Both also include the 1921 Tulsa Massacre — a vicious racist attack on a prosperous neighborhood called the "Black Wall Street" — as a major plot point.
(BTW, I'm happy to report that this important bit of underreported history is getting long-overdue documentary treatment, from LeBron James' production company and CNN Films. There's no airdate yet, but Dreamland: The Rise and Fall of Black Wall Street is expected to be completed early next year.)
The Good News and the Bad News
Misha Green (Underground) developed Lovecraft Country, and among the producers is Get Out writer/director Jordan Peele. The companies involved are Peele's Monkeypaw Productions, J.J. Abrams' Bad Robot Productions, and Warner Bros. Television Studios.
Despite Lovecraft Country's high-end pedigree, the seams frequently show as the series attempts to wrestle its sprawling, ramshackle story into shape. While its depictions of racism aren't exaggerated as compared to the reality of Jim Crow America — I had a couple of "oh, come on," moments, then Googled and, yup, it happened — they do come extraordinarily thick and fast, with no attempt at nuance or amelioration.
The show intends to Make a Point, and in doing so, it sometimes relies on on-the-nose dialogue and caricature. Unfortunately, this too often overshadows the show's interesting characters and excellent performances (especially by Smollett).
The violence is graphic, brutal and frequent, there's plenty of bad language, and a fair amount of sexual content (though not as much as in some other HBO shows).
As a lifelong science-fiction fan, though, I did enjoy seeing fellow fans depicted as two-fisted action heroes.
Where God Comes In (SPOILERS AHEAD!)
In my last post, about Netflix's The Queen's Gambit, I pointed out instances where Christianity and faith were denigrated and portrayed inaccurately. Strangely, in the midst of all the craziness in Lovecraft Country, faith actually gets respect.
At one point, Leti, who has led a wild life, goes into a Christian church and earnestly prays for herself and those she loves.
This comes to a head in the finale, when Leti, now pregnant with Atticus' child, takes him to a white-walled church to be baptized (teased in a vision in an earlier episode). They're both wearing white robes, so both of them may be baptized — I'm not sure — but definitely Atticus is. Leti had been given a "Mark of Cain" on her skin, which made her invulnerable, but it was magically removed before this scene.
Here's the exchange:
MINISTER: Praise the Lord, sister

LETI: Thank you

To Atticus:

LETI: Thank you for doing this for me. Do you need a moment?

ATTICUS: I need a lifetime (puts his hand on her baby bump).

LETI: We're going to be OK.

ATTICUS: But you don't have your invulnerability anymore.

LETI: God's going to look after us.

ATTICUS: I wish I believed that.

LETI: You know what I realized? All this time, I've been chasing faith, when I should have been discovering it in myself. 'Cause that's where He is … in all of us. (The camera focuses on a Cross on the wall beyond them.). I see Him so much in you. And He's in our baby. And you gotta believe in us.

They kiss.
Atticus is later strapped in a crucifixion position and sacrificed in a ritual, but Leti and her unborn baby survive. As to whether Atticus is truly dead — well, that'll have to wait for a possible second season.
No, This Isn't Faith-Based TV
Now, don't misunderstand me, all the magic, spells and curses in Lovecraft Country have nothing to do with Christianity, and a child character does something at the very end which is deeply disturbing, so I'm not holding this show up as an example of faith-based storytelling. Far from it.
But it's so rare that a mainstream show like this, on a top premium cable, and especially in the sci-fi/horror genre, includes moments of honest prayer and sincere Christian belief, and actually says something positive about both, that it's worth noting.
Not sure right now if I'd watch a second season, but I haven't firmly decided against it.
Lovecraft Country is currently available on HBO On Demand and at streaming service HBO Max.
Image: HBO
Don't miss a thing: Subscribe to all that I write at Authory.com/KateOHare.