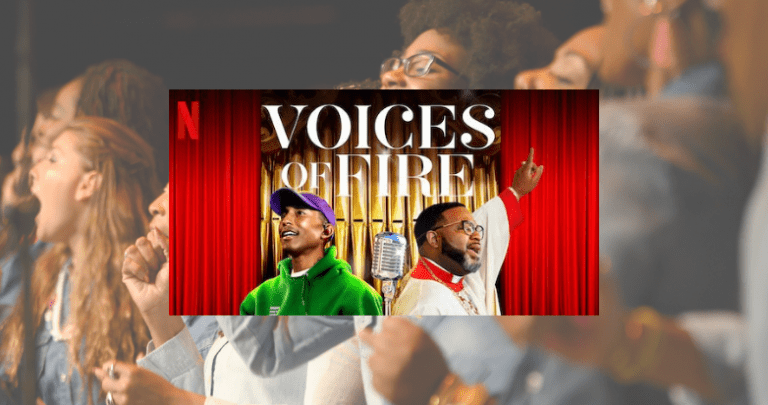 How do you get Voices of Fire, with six episodes showcasing people singing God's praises, on Netflix? Have megahit singer Pharrell Williams be one of the executive producers and make guest appearances, and have his uncle be the main character.
In my last post, on Dolly Parton's Christmas in the Square, I concluded that you can get a faith-centric Christmas movie on Netflix, if entertainment icon Dolly Parton is the star and executive producer.
There's a pattern here. Get a big enough name, and even Netflix gets the Spirit.
Voices of Fire, available now, is a hybrid of a docuseries and a singing competition, centered on Bishop Ezekiel Williams of the Faith World Ministries International Assemblies, in Norfolk, Virginia. I'm not quite sure what denomination Williams is a bishop of, but he does walk into his church wearing elaborate, embroidered vestments and a mitre, and carrying a crook.
In the picture accompanying this bio, he's dressed rather Episcopalian, but I don't think that's it.
Anyway, a lot of his background is in music, and he's determined to create the world's best gospel choir. It will feature singers who either live or have moved to the Hampton Roads area of Virginia. On hand to help are legendary local vocal coach Peggy Britt and choir leader Patrick Riddick.
Williams' nephew Pharrell shows up a few times, but he's not involved in the day-to-day auditions process or rehearsals for the choir, dubbed Voices of Fire.
At the beginning of the show, Williams expresses his desire to create a multiethnic group, to unite different people from disparate cultures together in worship, as Christ intended.
We like to call that the Catholic Church, but I digress.
He's on the lookout for sopranos, altos and tenors — apparently contemporary gospel music is three-part harmony — and many of the voices he uncovers are extraordinary. Some of the singers have professional backgrounds and others don't (the same goes for backgrounds in singing gospel, which not all have). Several share heart-tugging testimonies of overcoming adversity, which reality TV loves.
The current style of gospel singing, with lots of riffing, improvising and vocal gymnastics, is not my favorite. It's sometimes hard to discern the actual melody under the fireworks. But, there's no denying its emotional content and power, especially coming from a large choir.
Faith is at the forefront, as the singers all appear to be sincere believers, and there is much talk about the power of God in people's lives. No one is bashful or reluctant to be openly Christian, and that's refreshing.
It all ends with a concert that's as much a revival meeting as a performance.
If you need your spirits lifted and an excuse to sing loudly around the house, binge away on Voices of Fire.
Image: Netflix
Don't miss a thing: Subscribe to all that I write at Authory.com/KateOHare.