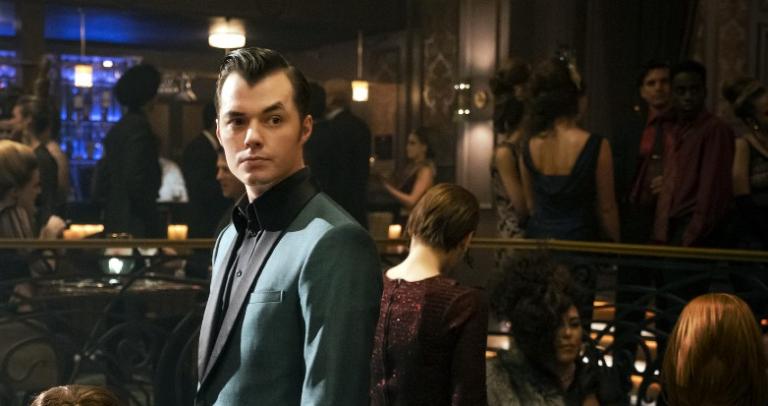 EPIX's DC Comics-inspired Pennyworth, which launched its second season on Dec. 13, exists in a world of "what if?", an alternate universe that veers from history somewhere around the 1950s and never looks back.
Creating an Alternate England for Pennyworth
Airing Sundays (and available online and on the EPIX app) Pennyworth, starring Jack Bannon as the title character, is the purported backstory of Batman's faithful butler Alfred Pennyworth, as he was portrayed in movies by Michael Caine and on Fox's Gotham by Sean Pertwee — with a working-class British accent and a background in wartime special operations.
Pennyworth executive producer Bruno Heller (Rome, The Mentalist) was the creator of Gotham (the backstory of Batman's pal Commissioner Gordon), and he set it in a time and place that freely mixed styles and technology from different periods in history.
After all, in the DC Universe, Gotham is meant to represent New York City (being as Gotham is another of the Big Apple's nicknames), but it's not New York; and in Heller's imagination, the country it was in was America, and also not.
He's taken the same tack with Pennyworth. It tracks with British history until roughly midcentury then takes a sharp turn. Alfred Pennyworth is a veteran of a not-entirely-recognizable post-WWII conflict. He's in 1960s London, but it's a London with cars, telephones and public executions in the streets.
The never-named Queen (Jessica Ellerby) is young and brunette (as QEII was at the time), but she's flighty, snooty, chain-smokes and is not above a roll in the hay with Alfred (there's no visible Prince Philip analogue). She's more Queen (former Princess) Margaret than Queen Elizabeth (fun for The Crown fans who wonder how that might have turned out).
Heller's Alt-English War
Heller's England is embroiled in civil war. There's the utopian/neo-fascist Raven Union, led by torture victim Lord Harwood (Jason Flemyng), which has the military on its side and controls much of the country; and the utopian/"liberal" English League, led by the Queen. which has a tenuous grip on London.
The American side, represented by cynical stealth CIA officer Thomas Wayne (Ben Aldridge) — yes, that's Bruce Wayne/Batman's dad — claims neutrality while playing both sides. Wayne has an off-again/on-again romance with Martha Kane (Emma Paetz) — Bruce's future mom — an idealistic photojournalist who's now a self-righteous fighter for the League.
Pennyworth runs an underground club, while still hiring out himself and his wartime best pals Bazza (Hainsley Lloyd Bennett) and Daveboy (Ryan Fletcher) for special-ops jobs, especially for Wayne and the League.
The fun part of this is that Heller has unmoored Pennyworth from actual history, so he can play with the elements and take characters in unexpected directions. The Raven Union is the apparent villain of the piece in season two (season one was murkier on that score), but the League also has some unsavory elements (and Her Majesty, perpetual tiara firmly in place, does not inspire confidence).
Pennyworth's Blurred Lines
Heller's most interesting creation is Raven operative Bet Sykes (Paloma Faith), a cheery psychopath who visits uncontrolled brutality on her enemies but can turn on a dime to be sweet and nurturing, especially to a female she fancies (lesbianism strongly hinted at but not yet overtly shown).
Presumably a victim of abuse in her past, Bet swings in the blink of an eye from unexpected but still somehow twisted kindness to mindless murder and back again. Somehow, Faith, who is primarily a singer, manages to pull it off.
As for Pennyworth, he's a deeply wounded and compromised character, whose hopefulness in season one has been utterly crushed (and gets stomped on a few more times in the four episodes I previewed).
Haunted (visibly) by those he has lost, Pennyworth hopes to escape to America, where his fate someday is to become Bruce Wayne's guardian. In this telling of the Batman story, one might wonder if the Dark Knight's demons came entirely from his parents' murder or were partly a product of Pennyworth's influence.
Blurring lines between right and left, good and bad, kind and cruel, not just in Sykes but several characters, seems to be one of Heller's hallmarks. The same balancing act was on display in Gotham (the only comic-book TV show I followed faithfully). Both shows have a manic, off-kilter energy, with flashes of real heart, that have kept me interested.
Both shows are also very violent. Despite being on a premium cable, though, Pennyworth was and continues to be relatively light on sexual content and language (relative to the levels at HBO, Showtime, etc.).
Did the Devil Do It?
There were not-unsympathetic faith elements in season one, and that continues here. Also, at the end of season one, it was hinted very strongly that there's a literal demon at play — perhaps the Devil himself.
Real-life occultist Aleister Crowley (Jonjo O'Neill) is a character, portrayed as a famed magician entwined with apparently supernatural evil. This season, he goes after an Anglican archbishop, and we're left to wonder whether he's wielding old-fashioned temptation or something more sinister.
The Anglican church gets a tweak or two along the way (the archbishop sports a '60s peace-symbol pin), but again, not without sympathy, for both the man and his faith.
Blurred Lines, Not Bright Ones, Please
At this point, I hope that Heller veers back toward the season-one path of juggling audience sympathies between the Raven Union and the English League. If the Ravens are just mustache-twirling, jackbooted thugs, while the League are all nice and noble, that won't be nearly as dramatic, challenging or interesting.
It would also waste the opportunity that an alternate history offers to ponder where the lines really are.
Image: EPIX
Don't miss a thing: Subscribe to all that I write at Authory.com/KateOHare