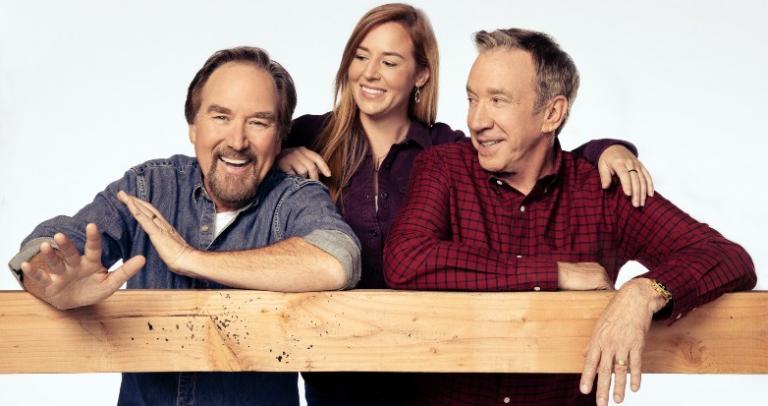 So, the guys who co-starred in a sitcom inspired by a real-life show about builders now star in a reality show featuring real-life builders. In a nutshell, that's History's Assembly Required, premiering Tuesday, Feb. 23 at 10 ET/PT.
Assembly Required Is a Home Improvement Reunion
Back in the '90s, comedian Tim Allen and actor Richard Karn played Tim Taylor and Al Borland, stars of a home-improvement show called Tool Time, a fake show within a real ABC sitcom called Home Improvement. It was a parody of host Bob Vila and master carpenter Norm Abram of the real PBS show, This Old House (Bob's long gone, but Norm's still there).
On Feb. 23, Taylor and Karn — who are real-life pals — reunite for Assembly Required, a reality-competition show for folks who make and build things.
Because they're shooting during the COVID-19 pandemic, Allen and Karn interact remotely with the contestants, who have components for gadgets (with some tenuous connection to history) sent to their home shops.
The final results are then sent back to Allen and Karn, who have some serious boys-with-toys fun while testing them to determine a winner.
Joining them is April Wilkerson, who built YouTube fame on being a self-taught DIY maker. While car enthusiast Allen and homeowner Karn have experience working with their hands — both draw the line at plumbing, though — Wilkerson supplies the show's actual hands-on expertise.
Even Pros Can Become Rookies
Karn has been a game-show host, and Allen has spent decades on the comedy stage, but Assembly Required marks their first time as executive producers and hosts of a reality show.
Allen said he had developed and pitched the show a while ago but didn't think Karn would be interested.
Last week, at a virtual session for the show as part of the TV Critics Association Press Tour, Allen explained:
And never would I consider Richard would be interested, for some reason. I see Richard socially. I never even thought about it and then one of my management team says, "Why don't you ask Richard to host it with you?"

The only hesitation was I didn't want to embarrass myself by going, "Would you mind doing, a kind of … look at … fix it?" And he jumped at the chance.

Then all of a sudden, it became, the two of us, kind of a live version of  Tool Time, if you will. We're very similar to the characters we play in that show.
Karn added:
My dad was a builder; my grandfather was a builder. I've always really respected that part of our society, our minds, being able to do that. … We've all kind of had forms of this show in our heads, but Tim was able to bring it to fruition.
Social Distancing Actually Made Allen's Life Easier
Some upsides of the remote format are that we get to see where these makers actually do their stuff — and the hosts don't have to vote somebody off the island while they're standing right in front of them.
This was a bonus for Allen, who said:
It got pretty emotional. I'm not a big fan of judging art, movies or anything, and this was really difficult because the interest and the dedication for these men and women was unbelievable.

However, we set the show up to have winner and it got very difficult for me personally to go — they all did great.  I don't want to be in the position to judge people.
Said executive producer Brent Montgomery:
We would not normally have been inside these peoples' shops, and it probably would've been even harder for Tim to eliminate people seeing them six feet away.

We really think being able to highlight these people in their own environment started at a really nice baseline. They're using a lot of their own equipment. They're on home turf.  But it gives us I think an incredible foundation to maybe do some new and cool stuff in subsequent seasons.
Making Makers of the Next Generation
Allen, who spends a lot of time building and tinkering with cars in his shop in North Hollywood, California, has been passing the love of doing it yourself to the next generation.
My older daughter, she was in my shop one day and I said, "Well, just take the shock off your own Jeep." And she did. And to watch the look on her face … it seems formidable because it's just dirty, and then it's unusual to use — she used a pneumatic wrench to get it off.  Taking stuff apart, getting past the courage and, "Gosh, I'm gonna screw this up." And you generally do.
Getting Some Tool Time Flashbacks
Having Karn, with his game-show-host experience, as a partner was helpful to Allen, who said:
I could tell you that none of this would've happened when I was coming unglued on the set.  I'm not used to being — as the director said, "You haven't done this before, have you?"

I've done a lot of movies.  I've of course done television and concerts and theater.  I've never been in this live format, and Richard was able to go, "OK, OK, OK."

He's a consummate professional and a genuinely calm-hearted person, and it was a perfect match to pull me out of having to go insane. … [He] was able to bring it back down and be exactly like we were in Tool Time.  It's amazing how this is an expansion of that relationship.
So, if you love Tim Allen — a Christian who refers to God as the Builder — and his most recent show, Last Man Standing (currently in its 9th and final season, Thursdays on Fox), you can tune into Assembly Required and watch this showbiz pro learn on the job.
Image: History
Don't miss a thing: Subscribe to all that I write at Authory.com/KateOHare