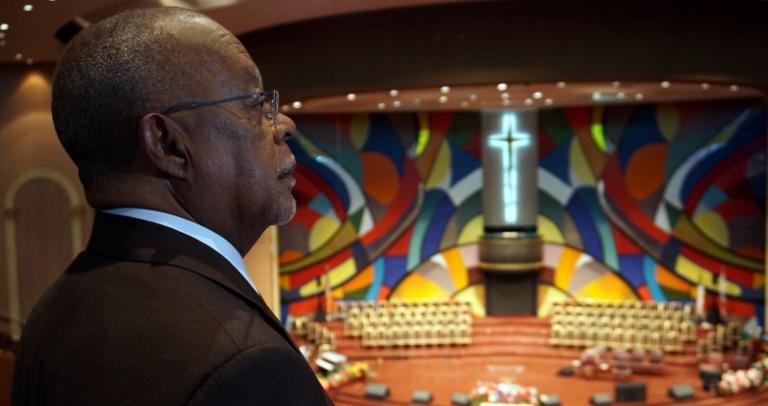 On Feb. 16-17, at 9 p.m. ET/PT (check local listings), PBS presents The Black Church: This Is Our Story, This Is Our Song, an impressive, sweeping survey of the rise of Christian institutions rooted in the experience of enslaved Africans and their descendants in America — or at least the ones that weren't Catholic.
Scholar, literary critic, filmmaker and journalist Dr. Henry Louis "Skip" Gates Jr. is host for the four-hour presentation from McGee Media, Inkwell Films and WETA Washington, D.C. He's also the author of the companion volume of the same name, which comes out Feb. 16 from Penguin Press.
Gates travels the country to discover how Christianity spread among enslaved people and developed its own unique culture and traditions, eventually leading to the creation of distinct Christian communities.
These communities, most of which had their beginnings in Methodist, Episcopalian, Baptist and Pentecostal traditions, grew from informal gatherings to formal structures that were enormously important for social support and education. Many later became major forces in the Civil Rights Movement and politics (where they remain influential to this day).
The Black Church relates how slaveholders encouraged Christianity (or at least parts of it) among their slaves, often in the hopes of making them easier to control. But keeping the true meaning of the Gospel from them ultimately proved impossible.
As Gates said at the recent (virtual) TV Critics Association Press Tour:
We fashioned a Christianity with a liberating God at its center. And Black Christianity was redemptive for a nation whose original sin was found in our ancestors' enslavement through the Middle Passage. … Often religion is dismissed as being otherworldly. But Black people clung to the church so they could believe in the future of their descendants here on Earth, that by and by there would be a better day, by and by your grandchild would be free, your great‑grandchild would be free.  …

And what kept our people from either killing themselves or rising up and killing everybody around them?  It was the church. And it wasn't only one day I am going to get to heaven to see Grandma and the streets are paved with gold. It is, we are going to see a future this way, a future in time when we're going to be free and when we are going to be empowered.
Raised in a Christian family, Gates now says of himself:
I describe myself as being spiritual.  If the doctor called me and said, "You are going to die from cancer," I am going to be the most devout Christian that you ever saw.  No doubt about it.  Sorry, y'all, I gotta go to church.
But Gates' affection and affinity for the faith of his youth comes through strongly, as the documentary becomes a kind of personal journey. The Black Church doesn't concern itself so much with the theology of the communities it surveys but more with their social, cultural and more broadly spiritual effects.
In the final hour, which covers the contemporary legacy of the Civil Rights Movement, The Black Church becomes primarily about social justice and politics. Gates interviews such polarizing clerics as Al Sharpton and Jeremiah Wright. The film acknowledges controversies surrounding them but does so without judgment.
Other interviewees include Oprah Winfrey, Jennifer Hudson, Bishop Michael Curry (you may recall him from the wedding of the Duke and Duchess of Sussex), Dr. Cornel West, Pastor Shirley Caesar, gospel-music star Yolanda Adams, Dr. Michael Eric Dyson, Bishop TD Jakes and singer-songwriter John Legend (who's also one of the executive producers).
Raised in the Pentecostal tradition (though admittedly not practicing now), Legend said at the same Press Tour session:
Learning about the resilience and the community that was built in the Black church is an essential part of us understanding how Black folks have made it this far in this country, when there were so many forces that were conspiring against us doing so.
In the trip of The Black Church through history, sociology, anthropology and culture — especially the rich legacy of spirituals and gospel music — there is one glaring omission.
Over the course of the TV presentation, Catholicism is only mentioned in reference to the syncretic religions of Vodoun and Santeria. But, the Catholic Church has roots in Africa that go back to the beginnings of Christianity, and among Africans and their descendants in the Americas since the 16th century.
So, I sent off a question to the production team about this, and here are the answers I got.
Producer/director Stacey Holman:
Due to time, we were unable to dive deep into the history of Black Catholics. In fact, we had a shoot scheduled with Skip to visit the Oblate Sisters monastery in Baltimore, Maryland, but our trip was cut short. We did, however, have a short window to film Skip visiting Saint Sabina Church in Chicago, Illinois.
Co-director Shayla Harris:
As someone who was raised a Black Catholic in upstate New York, I was eager to include the important history of Catholicism in the black community — particularly in places like New Orleans, Baltimore and Chicago, where Black Catholic orders and churches took the lead on issues like education.

But, over the course of the production, we made a concerted decision to focus on the historical development of a religious institution whose denominations and central theologies were shaped by the experiences of Black people in America. And, unfortunately, because of time, we couldn't include everything in the documentary series. But, Skip does delve into some additional depth on the history of Black Catholics in his remarkable companion book.
Click here for the show's homepage, which features additional educational material and video. The full documentary is also for sale on DVD/BluRay, and should be available for streaming through the PBS app (but you may need to be a member).
Image: PBS/WETA
Don't miss a thing: Subscribe to all that I write at Authory.com/KateOHare