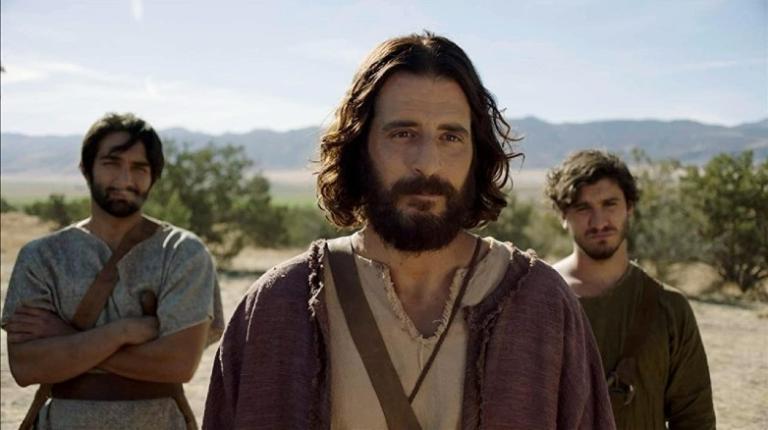 Christians of all sorts love The Chosen, the crowdfunded episodic series that creates an imaginative narrative around the Gospel stories of Jesus, the Apostles, other disciples, and the people they encounter.
What Is 'The Chosen'?
Currently in its second season, The Chosen is about as ecumenical as something like this can be. It's the creation of Dallas Jenkins, an Evangelical; its first season had Protestant, Messianic Jewish and Catholic advisers (including my boss at Family Theater Productions, Father David Guffey, C.S.C.); and Catholic Jonathan Roumie stars as Jesus.
Also, the series is distributed by Angel Studios, owned by members of the Church of Jesus Christ of Latter-day Saints.
How 'The Chosen' Came to 'Jerusalem' in Utah and to BYUtv
Opinions vary among Christians about whether this particular church belongs in the fold (click here to see Catholic Answers' discussions on that topic), but The Chosen wouldn't exist without some of its members. And now, more Latter-day Saints are helping the series get to whole new audiences.
Last October, BYUtv, the family-oriented entertainment channel owned and operated by Brigham Young University (itself operating under the auspices of the Church of Jesus Christ of Latter-day Saints), based in Provo, Utah, announced that it had acquired the broadcast and video-on-demand rights to the first two seasons of The Chosen.
The show is available for free (viewers can make donations) via its own app and as part of YouTube presentations. Season one can also be streamed on Peacock. But BYUtv is the exclusive broadcast-TV outlet. The ad-free channel is carried on many cable and satellite systems and also offers programming via its website and free app.
In addition, a huge, elaborate set of the city of Jerusalem, located in Goshen, Utah, south of Salt Lake City — built by the church for its own use — was home to many scenes in season 2 of The Chosen, marking the first time a non-LDS entity was allowed to use it.
From a blog post at KSLTV.com, here's a statement about the deal:
"The Church of Jesus Christ of Latter-day Saints has approved a lease agreement for the use of the Jerusalem set at Goshen for the filming of episodes for Season 2 of 'The Chosen.' The lease agreement is not an endorsement from the Church, and 'The Chosen' is not a Church production, but we are pleased to see this setting used for quality, faith-based productions that are designed to build faith in Jesus Christ, His divine mission, and the miraculous events surrounding His life," said Irene Caso, a media relations manager in the communications department of The Church of Jesus Christ of Latter-day Saints.
Among many other shows, the channel's slate features the internationally syndicated family-fantasy show Dwight in Shining Armor, the comedy series Studio C, and the unscripted The Wizard of Paws (which I wrote about here), profiling a man who makes prosthetics for animals.
BYUtv's Michael Dunn Helped Bring 'The Chosen' to 'Jerusalem'
Michael Dunn is currently the managing director of BYU Broadcasting, overseeing the university's radio, TV and digital channels, including BYUtv. "We're non-commercial," says Dunn. "So, we're not beholden to any commercial interests. We steer clear of divisive social issues that we don't want to get into as well."
The university has impressive production facilities but doesn't manage the Jerusalem set. Dunn, though, was instrumental in the deal that allowed The Chosen to use it.
"It was the ideal location," Dunn says, in a recent phone interview. "Dallas … had seen it on an earlier thing. He just said publicly, 'This could be the best Jerusalem set in the world.'
"So, we, as a non-commercial, general family-entertainment network, talked to the Angel Studios folks about what it would take to get that done. There were just a lot of negotiations on that.
"Of course, we were interested in airing The Chosen. So, we were able to broker a deal where they would be able to use the sets — and we obtained the exclusive broadcast rights to The Chosen."
It's also been a financial boon to The Chosen, which, up until now, has relied entirely on crowdfunding. Says Dunn: "We're helping them out in terms of, we pay a license fee to them for (the show). So, that's a big help to what they're doing. We would certainly be open to helping to fund future seasons of The Chosen, if that opportunity came around."
The Challenges of The Chosen's Ecumenical Approach
As an Evangelical, Jenkins has addressed some concerns about working on a Bible-based series with Latter-day Saints (and Catholics, etc.), and there probably are also concerns on the other sides of the theological divide as well.
Speaking for BYUtv, Dunn is looking for common ground.
"I think it was really best summed up by Dallas Jenkins," he says. "If you think about it, he's the one that, as the creative force behind this, really had to take a look at this, and ask, 'What does this mean to be aligned with the Church of Jesus Christ of Latter-day Saints?'
"His statement was really interesting. He said, 'We found out that they' — meaning the church — 'worship the same Jesus that we do.' It really just is not that different. This is a story of the Christ of the New Testament. I think Dallas has been very, very true to the Biblical accounts of that.
"What it illuminated is there really aren't huge differences between the way we worship and that other people worship. That there's a lot of very, very common ground to get together and to help tell the story of Christ, maybe in a way in terms of reach and scope that has never, ever been possible before."
(Jenkins discusses that in more depth in a podcast; click here.)
What BYUtv Gets Out of Airing 'The Chosen'
It's also a good business decision for a channel that — aside from coverage of the church's biannual general conference and devotional content on Sundays — is looking to position itself as a place for clean, wholesome family-oriented, faith-friendly entertainment.
"We want to create high quality entertainment." says Dunn. "You've seen that, as you mentioned, with Wizard of Paws. These are just good, good shows that families can enjoy. By the way, we say families, we're not going after really young children. We think PBS serves that audience really well.
"We think older young adults, obviously that's where everybody's going after — this tweens element, kids 8 to 15 and their parents. We just think there's great opportunities for them to consume entertainment together. We just want to be a part of it.
"The Chosen, just with the traction that's gotten particularly with young people around the world, is phenomenal. We're just so happy to be a part of telling that story."
Image: Angel Studios
Subscribe to all that I write at Authory.com/KateOHare