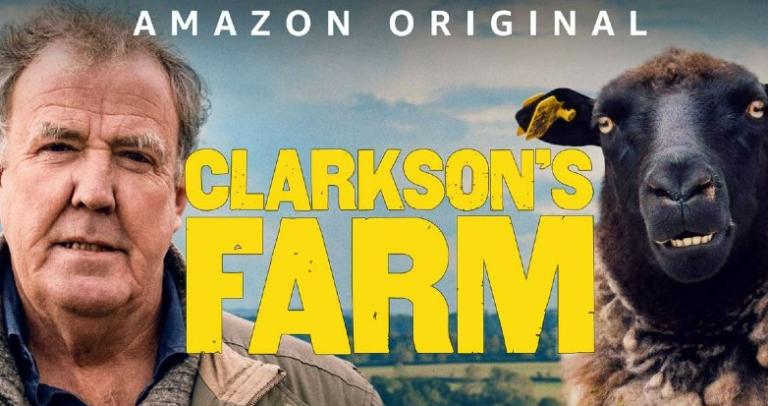 If you watch nothing else unscripted between now and the end of the year, let it be Clarkson's Farm.
(OK, as I say here, HGTV's Home Town is also great — and from a salty-language standpoint, is vastly more family-friendly — but I stand on the above statement.)
As a fan of Jeremy Clarkson's previous shows — the BBC's auto-centric Top Gear, and Amazon's globe-hopping (and auto-centric) The Grand Tour — I had a pretty clear idea about Clarkson.
He's big, British, bombastic, belligerent, and the proud owner of fast cars, terrible teeth, politically incorrect opinions, and only intermittently justified but still generally unshakable self-confidence. He's also incredibly funny.
But then Clarkson discovered farming, and a whole new side of him appeared.
Out of that has come Clarkson's Farm, the eight-episode first season of which is available at Amazon Prime Video.
NOTE: Happy renewal news! Clarkson and company will be plowing again in season two. More below.
How Clarkson Came to Diddly Squat Farm
Having earned pots of money from TV hosting and book-writing, Clarkson already owned the farm — a 1,000-acre spread in the staggeringly bucolic Cotswold Hills of West Oxfordshire (where, for The Grand Tour, he once blew up his house). It's near the picturesque town of Chipping Norton (which still minds him having blown up his house).
Previously, a local man had farmed the land, which produces barley, wheat and rapeseed (Yes, that's its name. It has another one, oilseed rape, which is kind of even worse. It's generally referred to as "rape" in the show. You just have to get used to it.).
The farmer retired in 2019. The 61-year-old Clarkson, having some time on his hands, and with his smart, competent (and, as he called her, "height- and age-appropriate") Irish girlfriend Lisa Hogan at his side, decides to try his hand at cultivating his own land.
The Trials of Job (if Job Was British and an Incompetent First-time Farmer)
Along with Lisa, Clarkson has his land agent Charlie Ireland (always ready with the latest bad financial or legal news), incomprehensible but knowledgeable local Gerald Cooper, and entrepreneurial farmhand Kaleb Cooper (no relation), barely out of his teens but a whiz at all aspects of farming and farm equipment (but not well-read, having not even heard of Moses).
Together, they embark on a full year of fun down on the farm. This includes trying to plant during some of the most torrential rains ever seen in the ordinarily soggy British Isles, building a farm shop while navigating a labyrinth of local and national regulations, surviving the 2020 COVID-19 pandemic as essential (in Britspeak, "key") workers, enduring a long and dusty drought, and ultimately harvesting, despite more bouts of rain and headaches caused by Clarkson's poor planning.
In the middle of it all, Clarkson decides to buy a lot of sheep — a flock of ewes and two rams, which he names Leonardo di Caprio and Wayne Rooney (a British footballer, a k a soccer player). The result is chaos, lambs, some heartbreak, a taste (literally) of the reality of raising sheep, and some truly beautiful moments.
Clarkson also decides to return some of Diddly Squat Farm back to its natural state — or "re-wilding" — which is a much more hands-on process than one might expect.
Of Course, There Are Things With Engines
As befits a serious gearhead, Clarkson glories in driving farm equipment — including his absurdly big Lamborghini tractor — but, as any fan of Top Gear knows, things can go very wrong when Clarkson's behind the wheel … and they do.
Watching young Kaleb, who's hardly gotten out of his home county in his whole life, berate the worldly Clarkson for being a complete nincompoop is a rare treat.
Ultimately, it's time for the final reckoning, at which Clarkson, and all of us, come to have a true appreciation for the challenges of putting food on all of our tables.
Clarkson's Farm is hilarious, enlightening, surprising, touching and, did I mention, hilarious? It also examines something a lot of us came to realize during the lockdown — that perhaps life in the urban hamster wheel isn't all it's cracked up to be.
Finding Joy
Hearing Clarkson excitedly declare "I did a thing!" and "I grew a thing!" is to feel the joy of a man who's made hundreds of hours of television but never quite felt the satisfaction he gets from fixing equipment, birthing a lamb, or looking at a freshly dug-up potato.
Is Clarkson happier on the farm, hosting the U.K. version of Who Wants to Be a Millionaire, or gallivanting around the world with his Top Gear and The Grand Tour mates James May and Richard Hammond?
Tune in.
Warning: As I mentioned above, there is a considerable amount of un-bleeped profanity, but no nudity or sex (unless you count the rams and the ewes).
As I said up top, Clarkson's Farm is returning for a second season on Amazon:
Image: Amazon Prime Video
Subscribe to all that I write at Authory.com/KateOHare