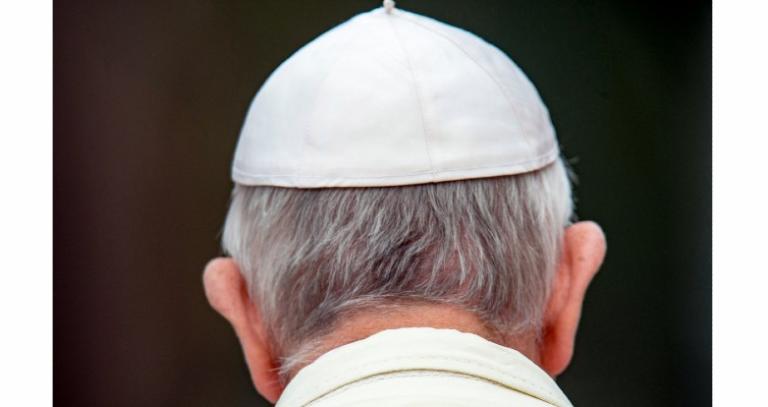 As part of a new group of In Their Own Words specials profiling prominent personalities, PBS tackles Pope Francis on July 20. One of the experts featured is Austen Ivereigh, a British Catholic journalist, commentator and biographer of the pontiff.
Pope Francis joins Chuck Berry (July 27) and Diana, Princess of Wales (Aug. 8) in the eclectic trio of summer specials. Coming this fall are profiles of former president Jimmy Carter, Tesla head Elon Musk and former German chancellor Angela Merkel.
More of the Same on Pope Francis
Not sure about the others, but the one on Pope Francis runs over ground already well covered in previous projects, most recently the documentary Francesco on Discovery+ (which I covered here).
Like Francesco, this special leans heavily into the pope's views on the environment, poverty, migrants, the sex-abuse scandals, and LGBT issues. Pope Francis also avoids the same ones that Francesco did: issues of life (abortion, euthanasia and contraception), and any of the supernatural aspects of the Christian faith.
Calling in from his farm in England — where he's very much enjoying the new Amazon Prime series Clarkson's Farm, calling it "hysterical" (I thought so, too) — Ivereigh says:
Actually, the most interesting thing, in many ways, about Francis's pro-life witness is how he has brought together life with, for example, ecology, and challenged … Catholics to be ecological, and ecologists to be pro-life, using the same logic, which is that life is a gift. That's in a way a great breakthrough of his pontificate

What happens with these TV profiles is that they try to aim at a very general audience, and they think that those sort of issues will put people off.
Of course, discussing these things likely won't put Catholics off, but I don't believe these sorts of films are aimed at believers. Like Francesco, Pope Francis is generally positive and complimentary — on the subjects the producers choose to discuss, that is.
The Francis Media Narrative
The narrative of mainstream docs like this is that Pope Francis is revolutionizing the Church, and that he will change its core teachings, such as, for example, the ones on sexual morality, the life issues described above, and the priestly ordination of women.
The fact that, so far, he hasn't actually changed these teachings does not deter the filmmakers.
Ivereigh has written two books about the pope: The Great Reformer: Francis and the Making of a Radical Pope (2014) and Wounded Shepherd: Pope Francis and His Struggle to Convert the Catholic Church (2019). He also collaborated with Francis on Let Us Dream: The Path to a Better Future, which came out in 2020.
Inevitably, there's always a media narrative around popes. That narrative is established fairly early on, and it's usually a distortion. …

So I think, who is Francis? In many ways, he is a radical, but he's a radical in that sense of, he's a spiritual radical, as Jesus was. And his reforms are all about enabling people to access the goods of God, to open hearts and minds to the grace of God, and to, as it were, rid ourselves in the Church of all those things which prevent that.

His war on clericalism really stems from that. It's the same as Jesus' opposition to the Pharisees and the Sadducees and the other religious elites of that day who sought to arrogate, control of the goods of religion and denied them to the people.

So in that sense, Francis is a Gospel radical because he goes to the people. He has a very, very strong notion of the Spirit speaking through the people of God.

That's what makes him a radical. But as I said, it's a traditional Catholic radical, not any other kind of radical.
Adds Ivereigh, noting both the Argentinian pope's personal and spiritual backgrounds:
He's a Latin American intellectual, but he's also a Jesuit intellectual, which is a very practical kind of intellectual. But I think he's an extraordinary thinker.

What I've tried to bring out in my books is the depth of his intellectual grasp, which is not just intellectual, it's spiritual wisdom in the kind of Ignatian way.

He really does see behind what's happening. He sees the movement of spirits in history which is actually extraordinary. There's a prophetic quality to it which he comes across in Let Us Dream.
Speaking of Jesus, We Discuss 'The Chosen'
Along with talking briefly about our mutual love of Clarkson's Farm, we also touched upon the Gospels-based scripted series The Chosen.
Created by Evangelical Dallas Jenkins but produced in a very ecumenical way, The Chosen weaves Bible-inspired but imaginative narratives around major incidents in Jesus' ministry, the lives of the disciples, and other people Jesus encounters along the way (watch this space for interviews with Catholic Jonathan Roumie, who plays Jesus, and Elizabeth Tabish, who plays Mary Magdalene).
The Chosen is free to view on many platforms. More on that here.
Says Ivereigh:
I really like it. First of all, the idea of giving the disciples backstories is brilliant. Secondly, I think they capture beautifully the way Jesus interacts with people — and that's extremely hard to capture. They've come quite close.

The other thing I really like about it, I love the attention to the Jewish detail. I mean, I didn't know enough — I'm no scholar — but it feels very authentic.

The other thing I really like about it is the way you get this sense of this is a movement, the excitement of it — these young people caught up in this thing. Here's a man with the power of God and just how exciting that is.

All that's captured really well. There's some lovely details in it.
In Their Own Words: Pope Francis airs Tuesday, July 20, at 8 p.m. ET/PT (check local listings for time and channel in your area). More on the show here.
Image: Shutterstock
Subscribe to all that I write at Authory.com/KateOHare