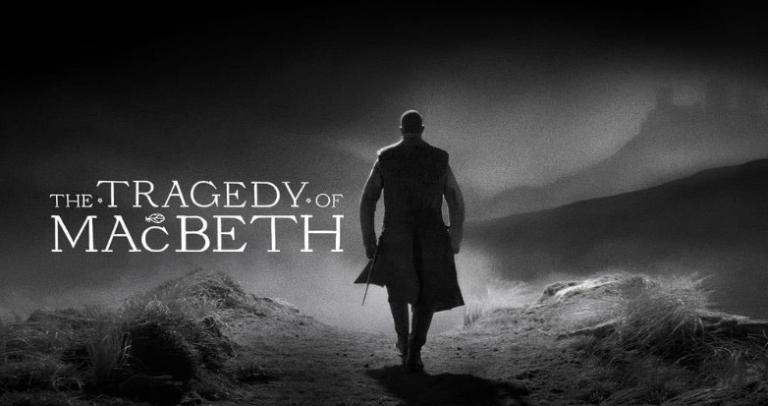 Did the world need another version of Macbeth? Absolutely, because, if done well, each Macbeth is just one more strand of DNA that makes up the whole living entity that we call Macbeth. And, AppleTV+'s The Tragedy of Macbeth is done very well indeed.
What is The Tragedy of Macbeth?
One reason Shakespeare's plays endure is their sturdiness, the strong essential structure that allows the stories to bear different actors, staging, costuming, etc., while never losing their intrinsic humanity and power.
Filmmaker Joel Coen's new, highly theatrical, black-and-white version strips the visuals down to their essences, while layering in top-notch acting talent.
Shot entirely on soundstages in Los Angeles, The Tragedy of Macbeth began filming in February 2020, and like the rest of the world, endured a production hiatus before being completed. Presented in a more square 1.19:1 aspect ratio, rather than widescreen, it premiered at the New York Film Festival in Sept. 2021, had a limited theatrical release starting on Christmas Day, and landed on AppleTV+ on Jan. 14.
What's different about The Tragedy of Macbeth?
Denzel Washington plays Macbeth with grizzled dignity, great presence and pathos, while Coen's wife, Frances McDormand, brings an edgy brittleness to Lady Macbeth.
For those not familiar with the play (Really? I hope you're very young.), it begins with Scotland's King Duncan (Brendan Gleeson) honoring Macbeth, an 11th-Century Scottish lord, or "thane," for a military victory. He hands Macbeth an additional title that belonged to another, disloyal lord, but that's not good enough for Macbeth or his wife.
Early on, Macbeth encounters the Weird Sisters (Kathryn Hunter, playing a role normally done by three actors), witches who prophesy that he will be king, while his companion, Banquo (Bertie Carvel), will not — but Banquo's descendants will be.
Haunted by the prophecy and prodded by his determined wife, Macbeth murders Duncan and seizes the crown. Duncan's son Malcolm (Harry Melling) survives his father's assassination and flees. But, when nobleman Macduff  (Corey Hawkins) goes to England to seek his help against Macbeth, Macbeth turns his fury on Macduff's wife and children.
Ultimately, Macbeth's victory is a hollow one, as neither he nor his wife can escape the psychological consequences of what they've done.
A Summer King versus a Winter King.
In the original play, Macbeth and his wife are decades younger than Washington, 67, and McDormand, 64. The possibility of children exists for Shakespeare's theatrical spouses, but they have none in the story.
In Australian director Justin Kurzel's equally good but very different 2015 version of Macbeth, starring the much-younger Michael Fassbender and Marion Cotillard, the film opens with the royal couple burying a toddler (you can watch this film on HBOMax).
But, by casting sexagenarians Washington and McDormand, Coen changes the dynamic of the characters. Rather than youthful ambition in hopes of a dynasty, Macbeth is in the winter of his years. While he still says Shakespeare's line exhorting his steely wife to bear only sons, biology closed that door long ago. Rather than  a young warrior grasping at the future, he's an aging champion grasping instead for a last chance at glory.
The road to the throne begins in blood and continues the same way, as the Macbeths lose their grip on power and, ultimately, their sanity.
A medieval tale that has worn many clothes.
Set in the Middle Ages, Macbeth was originally staged in the early 1600s, likely in some version of Elizabethan dress. Contemporary adaptations either aim for that, something closer to an actual medieval look or much further away from it. I once saw a stage version called Shogun Macbeth, with an all-Asian cast in Japanese dress, which worked beautifully with the original text.
Kurzel's version is stylized but aims closer to medieval reality in terms of the setting (it was actually shot in northern England and Scotland) and dress, with at least some actors doing a version of Scottish accents. It also remembers that Scotland was Catholic then, adding in religious ceremony and symbols.
Coen's The Tragedy of Macbeth eliminates all of that. The actors, whether English, American or other, use their native accents. While the costumes faintly evoke the medieval, they're clothes that no one ever wore in real life (especially a snug leather skirt worn by nobleman Ross, which he has to hike up to do anything physical).
The text is adapted for the screen but retains the story and flavor of the original play. But, visually, the film is lifted out of space and time, into a shadowy world of sharp angles, stark lighting and the ever-present imagery of crows.
It's more a stage play than a movie, if we could watch the play from any angle and move around the set with the characters.
A throne without an heir.
One undercurrent of Macbeth has to do with having, or not having, children. Macbeth keenly feels his lack of an heir and is jealous that Banquo has a son who may one day found a dynasty.
In reality, Scottish lore says that Banquo's descendants were the Stewart/Stuart kings of Scotland and, later, England, including King James I, who was on the British throne when the play premiered circa 1606.
A recent Internet meme made the point that many of Europe's current leaders do not have children of their own, and therefore no genetic stake in the future. You can argue whether that's important in the modern world, but it certainly was at the time of Macbeth.
Men and women often didn't just act for themselves, but for the sake of generations to come. While this could magnify their successes, it did the same for their failures.
When King Henry VIII broke England away from the Catholic Church — beginning with discarding his Catholic wife, Catherine of Aragon — it was over the lack of a male heir. When his daughter Elizabeth took over, she died without an heir. This led to James, the son of her cousin, Mary, Queen of Scots, coming to England and uniting its crown with that of Scotland.
So, reality and fiction were truly intertwined when this play made its debut, likely to an audience including the king or those close to him.
Click here if you want to read the original Macbeth, but whether you watch Kunzel's Macbeth or Coen's The Tragedy of Macbeth, you're going to get a satisfying Shakespearean experience.
Image: AppleTV+
Don't miss a thing: Subscribe to all that I write at Authory.com/KateOHare