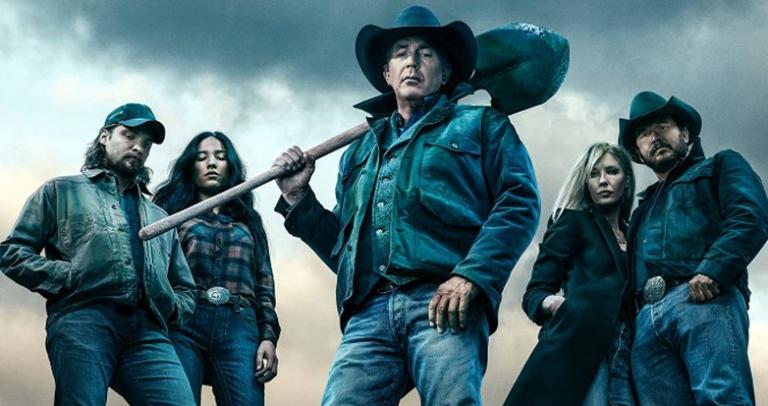 Four seasons in, Paramount Network's Yellowstone is a big ol' hit. It's certainly dramatic, soapy and violent, set against magnificent Mountain West vistas and featuring lots of horses, but is it worth your time? And, does God make an appearance?
As to the first question, the show is far from perfect, but it has some merit; as to the second, in very odd but sometimes Catholic ways.
(SCATTERED SPOILERS AHEAD)
So, what is Yellowstone?
When Yellowstone closed its fourth season earlier this month, simulcast on Paramount Network and CMT (the show also streams seasons 1-3 on Peacock, and season 4 on the Paramount Network app), the modern Western drama — starring and executive-produced by Kevin Costner — hit a series-high rating.
It garnered 9.3M total viewers in Live+Same Day (those who watched it live, and those who recorded it but watched in 24 hours), marking a 1.3M increase over the season-four premiere.
Created by Texas-born writer/director/actor Taylor Sheridan (who plays horse-trainer Travis on the show), Yellowstone is the saga of John Dutton (Costner), long-widowed owner of a massive Montana cattle ranch bordering the Yellowstone National Park.
He starts the show with three sons and a daughter, but after the pilot, that's whittled down to two sons: buttoned-up, perpetually worried-looking lawyer Jamie (Wes Bentley), and soldier-turned-horse-trainer Kayce (Luke Grimes), whose facial hair is stuck in the late 1800s and who seems way more averse to shampoo than to shooting people.
Jamie starts out with no visible social life, but Kayce is married to Monica (Kelsey Asbille), an eternally dissatisfied woman from the neighboring Native American reservation, and they have a young son (Brecken Merrill).
The daughter, Beth (Kelly Reilly), is a corporate raider with an impressive potty mouth, a fondness for booze and plunging necklines, and the emotional intelligence of an enraged bull. She is the quintessential piece of work.
Much of the kids' myriad psychological problems originate in the accidental death of their mother when the oldest were teens.
The ranch also picks up odd strays, including Rip (Cole Hauser), a troubled teen who murdered his abusive father and grew up fiercely loyal to Dutton. As an adult, he manages Dutton's randy, rowdy bunkhouse, and romances Beth.
Yellowstone is not your grandfather's Western.
I recently binged my way through the show (which also has an extensive country soundtrack). Now, I'd watch Kevin Costner sit on a horse and squint toward the horizon all day long, and that's what really kept me coming back.
John Dutton is not just a rancher, he's the Montana equivalent of a Mafia boss, enforcing his edicts on the ranch and beyond it with force, up to and including cold-blooded murder (hint: there aren't a lot of his ex-ranch hands wandering around alive).
In fairness, Dutton's surrounded by equally ruthless opponents, including the local tribal chairman, cattle thieves, shady politicians, compromised law enforcement, rich transplants and ambitious land developers.
He's also the Livestock Commissioner, which, in Montana, apparently means you get your own police force. Handy, that.
While writer Sheridan may have intended to create an antihero in Dutton, the sheer presence of Costner just makes that impossible. No matter how awful things get, all cowboy-hatted Costner has to do is arrive on a horse, and all makes sense.
Sometimes, Yellowstone is either Sons of Anarchy or Succession — with cows.
In his acting career, Sheridan appeared on Kurt Sutter's ultraviolent and nihilistic biker drama Sons of Anarchy, and that show is not entirely distinct from Yellowstone in its story of high-casualty family power struggles.
For that matter, Yellowstone also bears a strong resemblance to HBO's current "prestige" series Succession, a deeply perverse family melodrama supposedly based on the corporate machinations of the Murdoch media empire (or a screenwriter's overheated notion of whatever that actually is).
Interestingly, both Succession and Yellowstone feature families with powerful fathers, multiple less-than-admirable sons, and one strawberry-blond daughter, who is the sharpest-tongued and most ruthless of the bunch.
Both of the daughters heap verbal abuse on their siblings, who stand there and let them do it.
Can't count the number of times that Beth Dutton has chewed scenery for an entire nasty monologue — hair draped over one eye and the remnants of one facial injury or another (which is weird in itself) — while some (usually, but not always, male) person just stands and takes it.
I'd probably leap out of my chair with joy if someone finally said, "Oh, shut it, Beth. You're boring me," and stomped out.
Also, Yellowstone costumers, does it never seem odd to you that Beth is often essentially wearing a slip when the men around her have hats, flannel shirts and jackets on? No? OK.
Yellowstone has gorgeous scenery, beautiful horses and Kevin Costner, and those are what kept me watching. But I was frequently irritated by lazy storytelling that left gaping plot holes.
Here's just one: Beth's corporate assistant gets shot in the head during an attack on her, and all we hear about it is her asking, "What are we going to tell Jason's parents?" Apparently, the folks were good with nothing, because I'm not sure what story would have papered over his blatant execution.
The only character I've really found to root for is Jimmy (Jefferson White), a hapless, scrawny jailbird who becomes a reluctant ranch hand and eventually grows up and finds his feet as a man and a cowboy. Then he got the heck out of the Yellowstone, which was a wise move.
So, where is God in Yellowstone?
I don't know what percentage of cattle ranchers are Christian, but I'd reckon it's up there. However, the faith background of the Dutton family is peculiar and may reflect bits of its creator's background.
In a review of Sheridan's film Sicario, TheHindu.com said of him:
Texas-born and farm-raised, he struggled with loneliness when moving to Hollywood. He sought solace, unsuccessfully at first through the Catholic Church and the Krishna Center, and more fruitfully by reading Cormac McCarthy …
In a review of another film, Hell or High Water, in The Guardian, Sheridan praises Native American spirituality:
After rejecting "self-realisation" and various modes of non-orthodox spiritualism – "I just thought bull****, bull****, bull***" – he visited a sweat lodge with a Native American friend and became enamoured with the Lakota belief in the Great Spirit, an abstract higher power that looms over all. "I was like, that is the most ridiculously beautiful religion I've ever heard," he says.
In the course of Yellowstone, John Dutton goes to a Catholic church that he apparently helped build but doesn't attend (interestingly, the father in Succession was raised Catholic). Dutton extracts a favor from the priest, whom he says owes him one (it's nothing illegal, just a useful homily).
While he doesn't overtly profess Christian belief, Dutton does mention God from time to time and kind of prays. But, he's not so conscious of the Almighty that he lets Him get in the way of what he needs to do to save his ranch.
Kayce, though, declares "There is no heaven" before shooting someone in the face but winds up going on a Native American vision quest.
All the Duttons, at one time or another, make nihilistic pronouncements on the futility of existence and the folly of believing in right and wrong. In a later season, Dutton sides with an environmental activist, darkly joking that God will wipe us away and start over.
Most strangely, when Beth wants to get married, she abducts a priest at gunpoint to do the ceremony, although her father protests that she's not Catholic. Of course, there are zero repercussions for this because … whatever.
Is there good in Yellowstone?
For all its ridiculousness and excess, Yellowstone is set squarely in a part of contemporary America almost entirely overlooked by Hollywood. It deals with the Mountain West and the business of agriculture — not corporate "agri-business," but the daily grind of a family enterprise.
Unlike most Hollywood depictions of farming, the Duttons are not poor and struggling — they are successful and prosperous.
But outside forces threaten both their land and their future — and by extension, the futures of the less prosperous Montanans around them.
The most powerful forces are the government, in the way of regulation and taxes, and out-of-state imports looking to build luxury second homes and experience the fantasy of the West without the inconvenience of its reality.
These forces — big government and its taxes, and fleeing the coasts to invade and urbanize beautiful wildernesses — are particular favorites of wealthy coastal types, especially Hollywood bigwigs (as anyone in Park City, Utah, and Jackson Hole, Wyoming, can attest).
Even crusading journalists are not safe, especially around Jamie.
Someone needs to speak for the farmers and ranchers of the heartland, and as flawed as the characters in Yellowstone are, they are doing just that.
Through the course of the show, Sheridan shows some sympathy for the political and social views of his fellow filmmakers, but his heart seems to be with the rural folk who are often the objects of the elites' contempt.
Hard, often merciless men built the American West, and there's an argument to be made that only a hard man like Dutton could prevent paradise from being paved over or turned into an expensive resort. If Yellowstone's ratings are any guide, a lot of Americans sympathize with that argument.
UPDATE: Executive producer David Glasser tells Variety that production should resume in May for a season 5 launch in the fall. Origin story spin-off 1883 continues on Paramount+, with future spin-off 6666 to come. From the story:
Glasser talked to Variety from the 6666 ranch in Texas, where "1883" wraps production on Season 1 this Saturday, and work on "6666" is well underway.
Image: Paramount Network
Don't miss a thing: Subscribe to all that I write at Authory.com/KateOHare