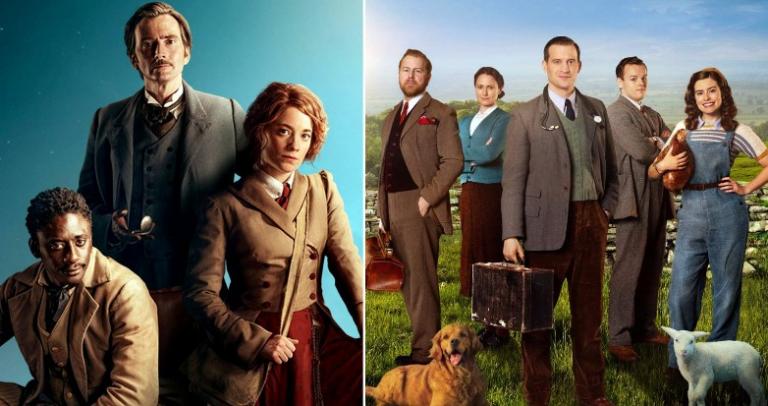 After recent forays into more contemporary themes, PBS' Masterpiece is back on form, with two Brit-centric costume dramas to ring in the new year — and I've watched all of both.
On Sunday, Jan. 2, at 8 p.m. ET (check local listings on all PBS programming), Masterpiece launches a new eight-episode adaptation of Jules Verne's Around the World in 80 Days, starring (and executive-produced by) former Doctor Who David Tennant.
Then, on Jan. 9, that's joined at 9 p.m. by a seven-episode second season — again concluding with a Christmas special — of All Creatures Great and Small.
First up, All Creatures Great and Small. Nothing new to report (and that's a good thing).
I reviewed All Creatures' first season last year, saying:
Not only does it respect the original source material — James Herriot's (real name Alf Wright) novels inspired by his experiences as a veterinarian in northern England [in the 1930s] — but it holds up well against the first TV adaptation, which ran in the late '70s and again in the late '80s.

…

Set against the harsh but rugged beauty of northern England, All Creatures Great and Small has drama, warmth, lots of animals and (blessedly chaste) romance. I watched all seven episodes, radar up for any attempt to "modernize" the story and bring in values and ideas that would have been antithetical to the spirit of the original.
Note: Didn't find any.
Has Anything Changed in Season 2?
My thoughts this year haven't changed. There are hints that a couple of characters might be up to some sexual mischief, but it's never explicitly talked about or shown.
While the show straightforwardly takes on the challenges of a vet dealing with farm animals — little children who freak at seeing animals in distress might best be ushered out of the room — it treads gently with its human characters.
There's no nudity; no language; as I said, no visible hanky-panky; just warm, affecting human drama about basically good people trying to do the right thing. There isn't even any irony.
The female characters are pushed more to the fore than in the source material, but not in a way that's obvious or self-conscious. The Yorkshire Dales might be slightly more diverse in this than in the real 1930s, but again, no big thing is made of it.
If you want a vacation from wokeness, despair, negativity, meanness and derision, here's your safe space. The only downside is that the late Diana Rigg is no longer with us to play Mrs. Pumphrey, the wealthy owner of a pampered Pekingese. Replacing her is Patricia Hodge (A Very English Scandal).
UPDATE: On Jan. 8, PBS announced that All Creatures Great and Small has been renewed for a third and fourth season.
From The Wrap:
Seasons 3 and 4 will each have seven episodes, with location shooting beginning in Yorkshire in Spring 2022.
Now, Around the World in 80 Days — It's Complicated
There's a lot to like about this extensively expanded iteration of French writer Jules Verne's classic tale, if it wouldn't keep tripping over itself trying to check all the P.C. boxes.
David Tennant stars as Phileas Fogg, a London gentleman in the 1870s who accepts a bet to see if the world can be circumnavigated in 80 days. Since his valet is ancient, he hires the French Jean Passepartout (Ibrahim Koma), who's plenty of things, but a valet isn't one of them.
Rather than a rescued woman from India becoming the third member of the band (and a possible love interest for Fogg), there's a plucky female reporter. Abigail "Fix" Fortescue (Leonie Benesch), the daughter of the editor of The Daily Telegraph, invites herself along for the trip,
It's Not Just an Adventure Tale Anymore
Each episode takes the three into a different destination (the itinerary closely tracks Verne), each of which is used to make some kind of political or social point. This wasn't Verne's intention, he was just more about adventure, colorful locales, technological advancement and new modes of transportation.
But, now is now, so simple adventuring becomes a journey into the human heart (and the primacy of love over duty, common sense, etc.), social injustice, colonialism, the American Civil War and the KKK, etc.
Also, with the reporter, we have the now tiresome trope about a wealthy, privileged young woman held down by the patriarchy who just wants to be free.
Don't get me wrong, none of this is so blatant that it entirely eclipses the story, which has some quite fun parts. Tennant does great work as the secretly brokenhearted, timid Fogg, who finds his courage along the way, as he uses his sharp mind (and large bank account) to help solve problems — one of which is the "friend" with which he made the bet.
When It's Color-Blind Casting — and When It's Not
But, Fogg can't solve one problem that the production made for itself. Koma, playing Passpartout, is a French native of African descent. Much is made of him being French in the script, but absolutely nothing is said of his race until the show reaches America. After that, it's mentioned more often (although an exact reference to his color is never actually made).
At first, I thought Koma was an example 0f color-blind casting, since his race would have been a topic of conversation in Europe of the late 19th Century, whether positive or negative (and probably negative). If it was color-blind casting, I would know that the race of the actor didn't mean anything about the character.
But in the American storyline and subsequently, Koma's race suddenly becomes germane. This was confusing
(And, by the way, the Native Americans who were prominent in the book are nowhere to be seen. But, since it wasn't a positive portrayal, that's understandable.)
The only hard-and-fast rule about color-blind casting is that, for the sake of the audience, you either commit to it, or you don't. If no one pays attention to an actor's race when, realistically, they would — or if it's immediately apparent that the actor is of a different race than the character — the audience knows not to care about it, as well.
For example, Denzel Washington plays an Italian nobleman in Kenneth Branagh's movie version of Shakespeare's Much Ado About Nothing. It's obvious that you're not to take note of that, and it causes no problems. Same with the multiracial casting in Hamilton, where all the characters are actually white.
But, you can't change tack in midstream and suddenly decide it matters. The only explanation I can come up with is that the writers thought race was too delicate or distracting a topic to bring up until the storyline actually called for it. But that's just not good enough.
Enough With the Spunky Female Characters
Also, I'm a bit tired of the aforementioned plucky female fighting the patriarchy and resisting the idea that she must marry and have children. Feminism has been beating this drum for decades.
Underlying it is the presupposition that a career and sexual liberation are always superior to a husband and children. Not all women think that, even now, so perhaps it's time to move to a more nuanced view of what women want.
But, Abigail's storyline does allow for some discussion of the "new" journalism, which eschews reporting facts for exploring the reporter's feelings about what's happening. It was definitely around in Victorian times, and it persists today. It has mixed results in Around the World in 80 Days, and it has mixed results today.
On a Faith Note
While the main characters display no particular religiosity, when the group hits France in the middle of a left-wing revolution, it's nuns who come to Fogg's rescue. Then, in Italy, a distressed father visibly prays, and a train engineer crosses himself. It's not a lot, but I'll take it. Oh, and like All Creatures, there's some flirtation but no sexual content or profanity.
Some Random Weirdnesses About the Balloon and the Horses
And, not to be nitpicky, but the trio crosses the Alps in a hot-air balloon that is quiet, easily steerable and has no apparent way of heating the air. I've been on a hot-air balloon and can testify that none of these things is actually true. Hot-air balloons are loud, can kind of be steered depending on the vicissitudes of the wind, and without constantly heated air (the heater makes the noise), you won't stay aloft long.
But, despite all this, Around the World in 80 Days is quite watchable and kind of fun, if you just don't think about it too deeply — or wonder why everybody in the American West is riding and driving what looked to me like Andalusian horses. The cowboys have gotten fancy.
Images: PBS
Don't miss a thing: Subscribe to all that I write at Authory.com/KateOHare