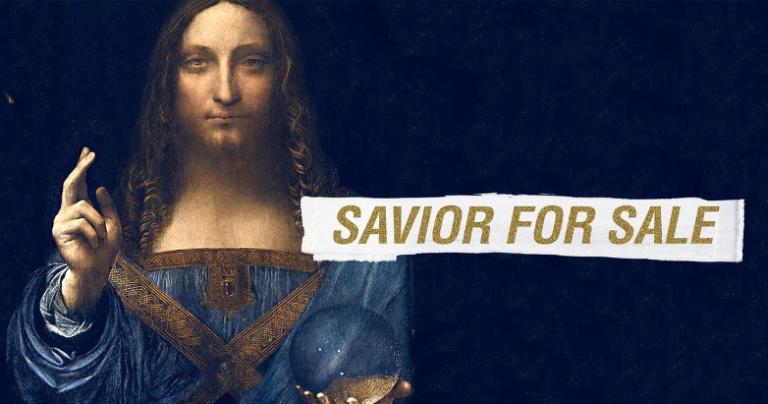 The 2021 documentary Savior for Sale: Da Vinci's Lost Masterpiece? examines the tortured and controversial history of Salvator Mundi, a painting of Christ as the world's Savior (as the name implies), attributed by many to Leonardo da Vinci.
It's a striking picture, whoever painted it. Christ, His hair hanging in burnished ringlets onto a gold-trimmed blue Renaissance robe, blesses with His right hand, and in His left, holds a clear orb.
The Controversy Surrounding Salvator Mundi
During the 2000s, the painting became the object of much speculation in the art world. Did Leonardo paint it? Was it done by an assistant in his workshop? Who over-painted certain areas? Was the restoration an improvement or a desecration? What about the possibly shady Swiss art dealer who sold it to a Russian oligarch, and did the buyer get swindled?
In 2017, high-end auction house Christie's sold Salvator Mundi for a record $450M to an at-that-time-unknown buyer.
Here's the auction house's rather over-the-top sales video (featuring another Leonardo, diCaprio this time):
In December 2017, The New York Times, committing an increasingly rare act of excellent investigative journalism, concluded that the buyer was a Saudi prince, reportedly acting on behalf of Saudi Crown Prince Mohammad bin Salman (the guy President Biden fist-bumped with on his recent visit to Saudi Arabia).
MBS (as he's called in the press) supposedly bought it for Abu Dhabi's (capital of the United Arab Emirates) Department of Culture and Tourism, to be displayed at the Louvre Abu Dhabi.
To date, Salvator Mundi hasn't been seen since the sale. It might be in a vault. It might on MBS' yacht, cruising around the Red Sea. Nobody knows.
Many Questions, Some Answers, in Savior for Sale
The film, which can be streamed on Hulu and rented on Amazon Video, is a well-done retelling of the whole saga (be aware, there is a lot of subtitled French).
It ends with a rather amusing compilation of bizarre knock-offs of Salvator Mundi, including one featuring Elon Musk in a space suit.
Apparently there's another, very similar documentary, called The Lost Leonardo, which streams on STARZ (to which I don't subscribe, so I haven't seen it).
Savior for Sale: Da Vinci's Lost Masterpiece? raises all kinds of questions about the modern art world, sketchy international finance, and the art and science (and sometimes educated guesswork) of authenticating works.
The Unasked Question About Salvator Mundi
But there's a question it doesn't ask — and it's one that popped into my mind immediately upon hearing the news.
Why would a Saudi prince, part of the royal family from a leading Muslim-majority nation, shell out so much money for a portrait of Christ as the Savior of the world?
There are some possible answers.
It's a beautiful picture (which it is).

It could be a rare "new" Leonardo, and therefore a big draw for art lovers in general, considering there are fewer than 20 extant works solely attributed to the artist.

Sometimes rich people want to own something just to know that they own it.
I grant you all those, but it still makes me wonder — especially because the artwork still hasn't been exhibited.
Of course, Christians can admire the beauty of Salvator Mundi while bringing an entire additional spiritual dimension to it.
Others, especially potential tourists from the increasingly secular populations of Western Europe and North America, may be happy to just appreciate art as art, religious connotations aside.
But I'm not sure about the local elites or even the general population in MBS' home area, if that's where the picture eventually goes on display.
After all, it's not a scene from the part of the Scriptures that is the common inheritance of the three Abrahamic religions. It's explicitly and unequivocally Christian, emphasizing Christ's singular position as Lord of Creation.
I've no idea what the reaction could be if Salvator Mundi winds up in the Louvre Abu Dhabi or thereabouts, but it could get interesting.
Image: Hulu
Don't miss a thing: Subscribe to all that I write at Authory.com/KateOHare.