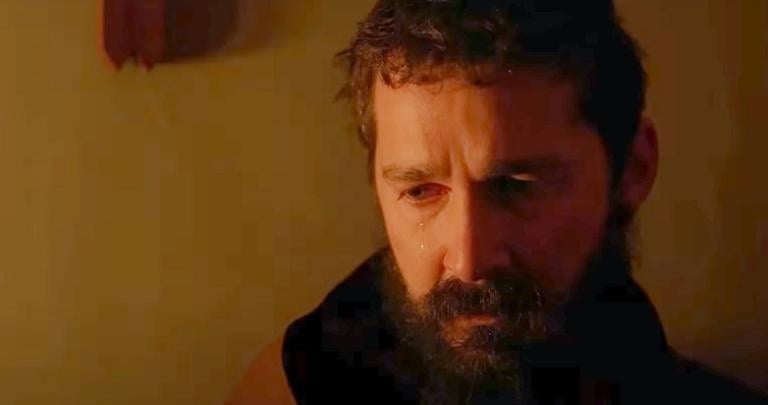 Says Shia LaBeouf, who plays the title character of Padre Pio: "My message to a non-believer would be, I wish you profound extended pain, the kind of pain that destroys all your plans, that allows you to open up to an incredible life full of joy and harmony, and happiness, and purpose, and connection, unlike anything I've ever experienced before."
Doing Padre Pio Changed Shia LaBeouf's Life
LaBeouf's ongoing conversion to Catholicism (which I reported on extensively here) since playing the part have become big news, in both Catholic and secular media.
It began as LaBeouf immersed himself in research for the part of Padre Pio, an Italian Catholic saint, with Capucin Franciscan friars in California.
Eventually, the journey led to a remarkable video conversation with working cleric and media personality Bishop Robert Barron (whom LaBeouf told me he hopes will perform his Confirmation, once the actor completes his preparatory studies).
Beginning as a child actor in the 2000-2003 Disney Channel series Even Stevens, LaBeouf has had an up-and-down life.
I go into it in more detail here, but he had an unconventional, sometimes abusive upbringing. As an adult, acting success was interspersed with serious brushes with the law and seeking treatment for alcoholism.
So, when LaBeouf talks about pain and ruined plans, he's speaking from personal experience — and playing Padre Pio became far more than an acting job.
What Is Padre Pio About?
In theaters on June 2, Padre Pio — co-written and directed by American Abel Ferrara — centers on Francesco Forgione, OFM Cap. (1887-1968), better known as Padre Pio and Saint Pio of Pietrelcina.
UPDATE 6/2/2023: The film is also available (for a fee) June 2 on the following digital platforms: Amazon (Prime Video), AppleTV, VUDU, Google Play, YouTube, Microsoft Movies & TV, Sony PSN, Redbox Digital, Row8, Kaleidescape
He was a Capucin Franciscan friar known for his intense piety, spiritual gifts and visions — and reportedly bearing the stigmata, the wounds of Christ, on his hands and his side.
All of these things made him controversial, both in his home area in southern Italy, and in the Church itself. Ultimately, though, the doubt and criticisms about him were overcome, and, as his official Vatican bio recounts:
On 2 May 1999, in the course of a solemn concelebrated Mass in St. Peter's Square, Pope John Paul II by his apostolic authority beatified the Venerable Servant of God Padre Pio of Pietrelcina, naming 23 September as the date of his liturgical feast.
The film is a biopic of sorts, set (and filmed) in the Italian town of San Giovanni Rotondo, where Pio spent much of his life, in the immediate aftermath of World War I.
It switches back and forth between Pio's struggles with darkness and temptation and the concurrent struggles of local farmworkers caught between warring fascist and socialist factions.
The cast is mostly Italian (and local), but speaks in English.
LaBeouf doesn't attempt an Italian accent, saying, as quoted in a Fox News story, "The movie had become too personal and too important to wear a 'mask' as LaBeouf described it to Barron."
Released at the Venice International Film Festival in Sept. 2022, Padre Pio has received mixed reviews (scoring 36% among critics at review site Rotten Tomatoes).
Talking to Shia LaBeouf, Abel Ferrara and Franciscan Friar Brother Alex
On May 30, I had a video interview with LaBeouf, Ferrara and Brother Alex Rodriguez, OFM Cap., a Capuchin who became LaBeouf's friend and spiritual advisor (or, as he puts it in the interview, "my roll-dog").
Brother Alex also consulted on the film and appears onscreen.
You'll want to watch the whole thing, but here are some highlights:
LaBeouf on what the Faith has given to him (and more of his message to nonbelievers):
A lot of the "nons" that exist just haven't experienced the amount of pain that opens you up to being able to receive faith. Kant says a very powerful quote, he said, "I had to give up on knowledge in order to receive faith."

And the only way that you give up on knowledge is when all your plans have failed. And so a lot of people still got a plan, they still got a couple of plans, even though they're in pain, and that's because their pain is mediocre.

And I don't say this in a negative way or with any malice, I wish people profound pain, the kind of pain that allows you to open up to Christ and the love of this religion.

It's the very literary religion. It's the religion for second chances and new opportunities. It's salvation for the lost. It's a relationship with a father, it's like coming back home.
LaBeouf on what attracted him most to Padre Pio:
His ability to suffer quietly and patiently.
Ferrara on his experience of making the film:
From the moment I took on this gig it's been a blessing.

The people I've met, the attitude I've gotten, what I've learned, my spiritual journey along the way too. Shia started, and I was early in recovery when I began this, so it was something I really needed.

And it just kept getting better, man, and it keeps getting better now. The filmmaking process for me is a joy. It's a joy, really.

And this one really was all that, because of the place, we were there in the actual place he was, the people around us, the friars there, the people in the town, the kids who were in the movie.
And Brother Alex, on his unexpected trip from the friary into the movies:
And me becoming the center stage of all of this, obviously there's temptations or thoughts about this or that, but the main goal of all of this in my head was, we're putting something I knew out there for the world to know, that Padre Pio is a saint because of these events, particularly when it led to the stigmata.

Padre Pio, who we know now as one of the greatest saints in the Church, this is who he was when he was in his 20s.

And me becoming a part of it, and becoming part of Shia's life, it's a great gift. That's all I can say, a great gift that I didn't expect.
Watch the Video Interview:
Note: The film is rated R for Brief Nudity|Some Violence|Language. This is definitely not a film for the whole family. As the rating notes, there are violent confrontations and flashes of nudity (including a woman who appears to Pio in a vision).
And the trailer:
Image: Screenshot of the 'Padre Pio' trailer; credit: Gravitas Ventures
Don't miss a thing: Subscribe to all that I write at Authory.com/KateOHare