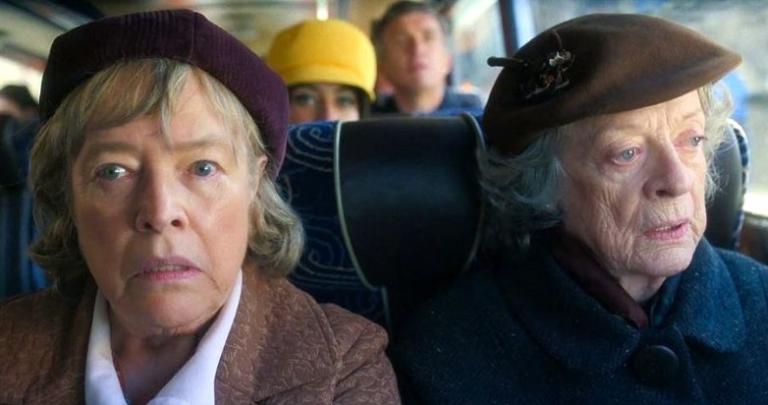 There's an old Hollywood saying that movies are not so much made as forced into existence, as filmmakers struggle to assemble cast, crew and financing. But all films begin on the page, and for The Miracle Club, that was the hurdle that took 18 years to clear.
I recently talked to director Thaddeus O'Sullivan about the film (official site here), which hits theaters on June 14. Here's how Sony Pictures Classics describes it:
Set in 1967, THE MIRACLE CLUB follows the story of three generations of close friends, Lily (Maggie Smith), Eileen (Kathy Bates), and Dolly (Agnes O'Casey) of Ballygar, a hard-knocks community in Dublin, who have one tantalizing dream: to win a pilgrimage to the sacred French town of Lourdes, that place of miracles that draws millions of visitors each year.

When the chance to win presents itself, the women seize it. However, just before their trip, their old friend Chrissie (Laura Linney) arrives in Ballygar for her mother's funeral, dampening their good mood and well-laid plans.

The women set out on the journey that they hope will change their lives, with Chrissie, a skeptical traveler, joining in place of her mother. The glamour and sophistication of Chrissie, who has just returned from a nearly 40-year exile in the United States, are not her only distancing traits: Old wounds are reopened along the way, forcing the women to confront their pasts even as they travel in search of a miracle.

Directed by award-winning Irish filmmaker Thaddeus O'Sullivan, THE MIRACLE CLUB is based on a story by Jimmy Smallhorne, with a screenplay by Smallhorne, Timothy Prager and Joshua D. Maurer.
My full interview with director O'Sullivan is embedded below, but here are some excerpts (edited for clarity).
The Problem Was on the Page
It was the script, as ever. It's always the script. I think that the issue: was, is it a comedy or is it a drama? In the earlier drafts, it was very much focused on the comedic aspect of it, and people were looking for more of a drama as well.

When I first talked to HBO about it, they wanted me to engage with it and see what I would do with that aspect of it. Then we ran into problems with some legal issue and I stepped away. I thought it had been made, and then it came back to me.

There was a writer involved who had brought a lot of the drama to it in various drafts. So I engaged with him on this new iteration, which really pleased me because that's what I like about it. And that's what the actors really engaged with, the mixture of drama and comedy.
The Stubborn Faith of Maggie Smith (who, with Bates, was attached the project early on)
The film was very hard to finance. We willed it to happen … Because somebody has to say it will happen. And when I said that, I had Maggie Smith at my back.
Doing an Irish Film With Non-Irish actors
Why non-Irish? The answer has to be on the screen, in a way, because it could have gone badly wrong. But they were so good with these characters. I can't tell you the amount of thought and efforts, intellectual analysis of these characters, that they've put into this engagement is amazing. I was bowled over.
Is The Miracle Club a Good Film for Catholics?
While each of the women has an idiosyncratic way of relating to the Faith (as I mention in the interview, catechesis in Ireland — and other places — up until recent years wasn't exactly nuanced), the film is sympathetic to their beliefs and to their doubts.
The Church is not depicted as the enemy, which is unusual these days for Irish films. Nor is this a pie-in-the-sky film, where embracing faith suddenly makes everything OK. The women's issues are deeply personal, and sometimes quite painful, but they're universal human ones.
The Miracle Club has both dark and light, faith and doubt, hope and fear — a perfect mix for the both/and of Catholicism.
Each woman goes to Lourdes seeking something, and each finds something — but not necessarily what each expected. It's a film about the miracles you want, and the ones you get.
The Miracle Club has comedy in it, but tragic events drove Chrissie out of Ireland to America, and their revelation is traumatic. But overall, the film retains a balance between drama and comedy — with some heart-tugging thrown in.
Hitting that balance was one of the reasons that the film took 18 years to get to the screen. Rated PG-13 for language and some thematic elements, The Miracle Club isn't really a film for the whole family. I'd say it's best for high-schoolers and up, or a great night out for some adult friends.
First up, here's the trailer:
And now, the full interview video:
Image: Sony Pictures Classics
Don't miss a thing: Subscribe to all that I write at Authory.com/KateOHare