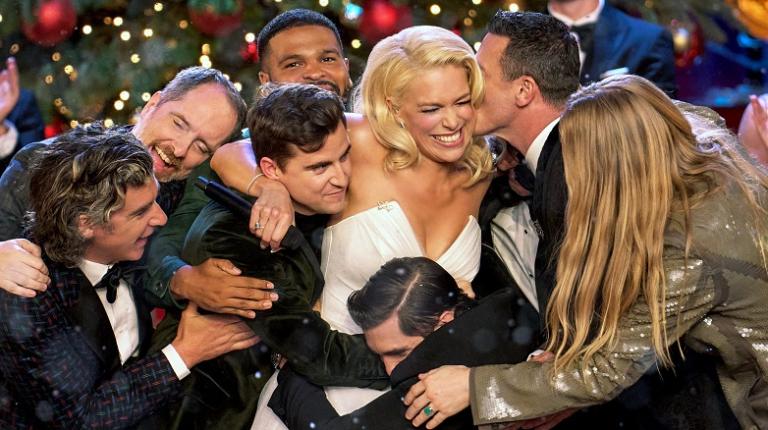 If you want to know what a 20+-year overnight success is, look no further than Ted Lasso star Hannah Waddingham.
The statuesque British blonde not only showed off her superb comic and dramatic chops as English soccer (football) team owner Rebecca Welton on the Apple TV+ series, American — and global — audiences got to discover what denizens of London's West End theater had known for decades.
Hannah Waddingham can sing.
Just one example, from the Ted Lasso Christmas episode:
Hannah Waddingham Throws a Musical Christmas Party
Now, starting Nov. 22, Apple TV+ presents Hannah Waddingham: Home for Christmas, a concert special showcasing Waddingham's vocal skill and range — and tossing in a few comedy bits with her Ted Lasso co-stars.
Take a look at the trailer:
Hannah Waddingham: Home for Christmas was recorded last spring at The Coliseum in London, a 118-year-old venue where Waddingham's mother, Melodie Kelly, sang with the English National Opera — the chorus from which joins Waddingham on stage for a stunning rendition of "O Holy Night."
Kelly was on hand, as was Waddingham's father and daughter (who was sitting in the same box where Waddingham used to watch her mother perform) — and several Ted Lasso regulars.
Not Your Usual Christmas Special Performers
Apple TV+ offered Waddingham a glittering array of possible musical guests, but the final lineup reflects her personal favorites. Among those joining her are British singer Sam Ryder, Welsh actor/singer Luke Evans, the London Gay Men's Chorus, and the Fabulous Lounge Swingers (who are also godparents to Waddingham's daughter).
The last two presented an opportunity for camp fabulousness and perhaps some inappropriate humor, but everybody pretty much colors respectfully inside the holiday lines — and the special is rated TV-PG.
For American audiences, there's Leslie Odom Jr., well-known from his long stage career, including Hamilton.
For one more taste, here are Waddingham, the Fabulous Lounge Swingers, and Phil Dunster from Ted Lasso.
Talking to Hannah Waddingham
Waddingham recently did a virtual press conference for the special, with reporters' questions relayed to her by a moderator (mine was first, BTW).
I wanted to know how it felt to have her vocal talents now fully presented to a global audience. She said:
Yeah, that's the greatest thing because, the thing I was most known for was my range on the musical stage. So that was also a big pressure that I put on myself for this special. I wanted to find songs where I could do what I like doing with songs, and pick songs that are very famous, but to kind of reinvent them in my own way.

And thankfully, my brilliant musical supervisor, Dave Tench, was totally down for that. And I love the fact that the artists that I have joining me, they aren't just, like, famous singers. They are musicians. And that was the prerequisite for me. Everyone on that stage has to have music in their bones. And I think that's very obvious.
Regarding whether the Ted Lasso cast members had any hesitations about being in the special:
There literally was not one of them that went, "Oh, I'm not." They were all just like, "Absolutely, when are we doing it? Oh God. Oh God, what are you gonna ask me to dance? Are you gonna ask me to sing?" And I was like, "Hold, hold. Hold on, hold on." Everyone was so keen outta the gate.

And Nick Mohammed, I said to Nick, "Would you come and do this for me? Would do this for me?" "Absolutely. What are we doing?" And I said, "Well, we've got this idea that, you would be trying to distract everyone so much that eventually we put a hook on your back and have you, flying out into the fly floor." And he went, "Yeah, and I should stay there for the entire performance just with my legs dangling." And I thought, "Oh, you are so up for it." It's just great.
On what it meant to have her family there:
Probably my favorite moment was singing "O Holy Night" to my mom and to my daughter. The unbelievable timing of the fact that my daughter was eight when we shot this, and she was sitting in the box where I sat from the age of eight.

It's kind of weird that she was eight sitting there and observing, with her little spirit and her little heart, seeing her mommy standing there when I had sat there and seen my mommy.

And then my mom is sitting at the back of the stalls. To have my mom there at all when I didn't even know she was gonna make it, she's heavily inflicted with Parkinson's disease, bless her. And it was a big deal for me to get her there in her wheelchair.

And my father. who had gone through quintuple heart surgery while I was shooting the third season of Ted Lasso, to have them both there and to have my daughter, if I never did anything again, this special would be my greatest achievement.
And, lastly, on missing her Ted Lasso character, Rebecca Welton:
The heart of Rebecca is something that I miss on a daily basis. I miss that girl like an old pal that I don't see anymore. I love the fact that she's trying. She's trying. She's trying all the time. Like, so we don't know the amount of things that people are trying to get through on a daily basis. And that was what I would always go back to, the root of Rebecca is trying to claw her way back, always.

So I do miss her terribly. The singing on Ted Lasso is a hundred percent thanks to [star Jason Sudeikis]. Although I will say that him, Brendan Hunt, Brett Goldstein, they are all big musical-theater nerds, far more than I am.

So they would come up with songs and I would just be like, guys, I don't know the words to that. And they would look at me horrified and clutch their pearls, because they just love musical theater. Jason grew up going to the theater in Kansas with his mom.

So, I think when I rocked up, he was just like, "Guys, we've got this person that's got all this wealth of experience. We're having her singing."

And I remember Jason saying to me, "So, you are gonna be singing this?" And I was like, "Right. Can I just ask why is a football club owner singing?" And he was like, "Yeah, we are not having this conversation. You're just singing." And I was like, "OK." It was not a subject for debate.

And then when I'd said the next season, I was just like, "I'm not singing this season." Joe Kelly, one of the main writers was just like, "No, you're singing twice."
Again, Hannah Waddingham: Home for Christmas begins streaming Nov. 22 on Apple TV+.  A companion soundtrack album comes out the same day on all major music-streaming platforms.
While the look of the special and the musical choices are geared more for an adult audience, the special is suitable for middle-schoolers and up.
Image: (L-R) James Lance, Brendan Hunt, Billy Harris, Kola Bokinni, Hannah Waddingham, Phil Dunster, Luke Evans and Sam Ryder in "Hannah Waddingham: Home for Christmas" PHOTO: Apple TV+
Don't miss a thing: Subscribe to all that I write at Authory.com/KateOHare