I found myself thinking of a Sunday homily this morning. Because it is still Easter. And we can still meet the Risen Lord in our daily lives. There is no time like today.
At Saint Patrick's in Manhattan on Easter morning, Timothy Cardinal Dolan was preaching to his flock, what he prefers to do than talk presidential politics on Face the Nation. The pull-out quote from his talk would be:
Jesus Christ is alive … He's not just a dream. He's just not a memory. He's just not an historical person that we say "Wow, what a great life he had way back then and thank God the spirit of that life is still kind of alive for us.." No. That's true, but it doesn't stop there.
Jesus Christ is alive now. Here and now. He is present with us. He heals us. He teaches us. He loves us, He forgives us. He invites us. He consoles us.
You see: Jesus Christ is alive and he is the most influential person in our lives.
Remember what the angel said to the two holy women who came that Easter Sunday morning, looking for Jesus? And the angel said: "Why are you looking for the living among the dead?"
I would propose to you that that's the great temptation of life, to look for the living among the dead. We very often look for happiness, for fulfillment, for meaning in the things that are passing away, in the things that are dying, and the angel says: "Do not look for the living among the dead."
Do our hearts burn with zeal for Christ? Did what happened Friday really register? Is the Risen Christ our reason for giving thanks and rising again each morning with him? It's probably worth asking, given
Love so amazing, so divine,
Demands my soul, my life, my all.
That is, if we believe it. If we truly seek to be who we claim to be.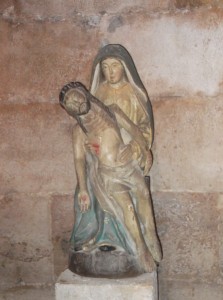 (Photo taken in Emmaus, March 2012.)
Video of the homily here. And full transcription below:
A couple of weeks ago I had an interview with a journalist, and the journalist said to me: "Cardinal Dolan would you tell me the most influential person in your life?" And I said "sure, what do you mean by the most influential person?"


"Well, the person who most guides you, the person who has most formed you, the person you most look to for inspiration and direction, the person you most trust, who's had the most impact on you."
And I said: "Oh that's easy, Jesus Christ. Jesus Christ is the most influential person in my life."
And then –and here's my point — the journalist said: "Oh I'm sorry, it's got to be somebody alive now."


I said: "it's still Jesus Christ because my faith tells me he is alive here and now."
Now that, my friends, is what Easter Sunday is all about, Right? Jesus Christ is alive, He is risen from the dead. He is with us. He is with us as powerfully, as strongly, as influentially, as tenderly, as lovingly, as he was those 33 years he was alive in Palestine.
Jesus Christ is alive — see — He's not just a dream. He's just not a memory. He's just not an historical person that we say "Wow, what a great life he had way back then and thank God the spirit of that life is still kind of alive for us.." No. That's true, but it doesn't stop there.
Jesus Christ is alive now. Here and now. He is present with us. He heals us. He teaches us. He loves us. He forgives us. He invites us. He consoles us.
You see: Jesus Christ is alive and he is the most influential person in our lives.
Remember what the angel said to the two holy women who came that Easter Sunday morning, looking for Jesus? And the Angel said: "Why are you looking for the living among the dead?"
I would propose to you that that's the great temptation of life, to look for the living among the dead. We very often look for happiness, for fulfillment, for meaning in the things that are passing away, in the things that are dying, and the angel says: "Do not look for the living among the dead."


Jesus Christ is alive. He is the Lord. Pope Benedict XVI has a beautiful question that I think is most appropriate this Easter Sunday morning. Listen: "The pivotal question in life," Pope Benedict XVI says, "is this one: whether Jesus was or whether Jesus is."
We might add to it the questions we ask ourselves this Easter Octave and daily the question that was raised in Luke, from Emmaus yesterday: "Were not our hearts burning within us while he spoke to us on the way and opened the Scriptures to us?"