Gloria Purvis is a young, dynamic mother and volunteer with Catholic Voices USA. She wraps us a Fortnight series of interviews about faith, freedom, and this moment we're in.



What does the Fortnight mean to you?
The Fortnight is a wake-up call. I do not mean to sound alarmist but we have become complacent in terms of defending our religious liberty and we have lost sight of what it means to be faithful practicing Catholics. Now we need to spend this time regaining our sight and reclaiming our voice in the public square.
What are you doing to make these days different?
I am spending this time meditating on the sufferings of martyrs, particularly the Blessed Carmelite Martyrs of Compiégne:
As the French Revolution entered its worst days and became a serious threat to religion, the sixteen Discalced Carmelite nuns from the monastery of the Incarnation in Compiegne offered their lives as a sacrifice to God, making reparation to him and imploring peace for the Church. They were imprisoned on June 24, 1794, and they inspired their fellow prisoners by their joy and abandonment to God. They were condemned to death for their refusal to betray the Church and their religious vocation, and for their devotion to the Sacred Hearts of Jesus and Mary. Having renewed their profession in the hands of their prioress, Teresa of St Augustine, they went to the scaffold in Paris, singing hymns, on July 17, 1794.
The political climate in which they lived quickly turned into an openly hostile atmosphere for all believing Catholics, with deadly consequences. Could I respond as they did?
I am offering little sacrifices since that is what I can do. Offer up every annoyance, ache, and discomfort and add whatever else you have discerned you can bear.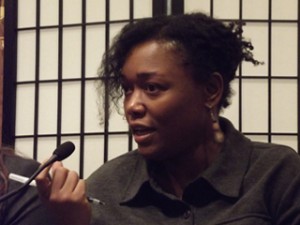 What about religious liberty and protecting it resonates with you?

This is such a heavy question.

I love this country and as a descendant of Native Americans and enslaved Africans, and as a woman, I cannot remain silent while the government, or anyone else, tries to roll back the clock in terms of religious freedom. My ancestors had their freedom stripped away and were not even recognized as persons under the law. I do have a responsibility to preserve all the hard-won freedoms that were gained for me.

As a believer, I have a strong desire to defend my religious liberty because of my love for God. How can the government tell me how I must love Him or worse yet demand that I aid and abet acts that wound His Sacred Heart?




What do you wish everyone would appreciate about this moment in our history?

I want everyone to realize that our freedom must be not only cherished but actively protected. We must be active guardians before we become victims.

What's your reaction to what the bishops have been saying and doing?

A big AMEN!
What made you step up to be a Catholic Voice?

I am not fearful of speaking in front of crowds, particularly when it comes to sharing our faith. I believe this is a gift, at least that is what friends, family, and others tell me.
So when the opportunity presented itself, the Parable of the Talents in Matthew 25 and Luke 19 came to mind.
I pray the little I have may multiply and please the Lord.
What do you wish everyone could know about your Church and why?

Our Church loves women. It does not ask us to check our fertility at the door in order to have full membership. The Church, founded upon Christ, is a protector of God's female children. She recognizes our dignity and invites us to live a life that is fitting of that dignity.
Whereas society tells us to treat our bodies as merry-go-rounds, and when we follow that false notion we find there is lots of go-round but very little merry.
Women's true liberation cannot be found outside of Christ and the Church, our Mother, leads us to Him.

¡Viva Cristo Rey!