"The house of Nazareth is a school of prayer where one learns to listen, meditate on and penetrate the profound meaning of the manifestation of the Son of God, following the example of Mary, Joseph and Jesus," Pope Benedict XVI told an audience gathered on the Feast of the Holy Family, just days after Christmas, in 2011.
Getting to know Christ through the context of a family — knowing God as a loving Father and accepting the intercessory help and model of Mary and her courageous "yes" and Joseph and his quiet trust and leadership — can be challenging at a time when what exactly family is is a matter of some confusion and contention in the public square and foreign to the lived experiences of many (a point Mary Eberstadt explores in her How the West Really Lost God).
"The family is the privileged setting where every person learns to give and receive love," Pope Benedict said in another talk. He continued:
The family is an intermediate institution between individuals and society, and nothing can completely take its place…. The family is a necessary good for peoples, an indispensable foundation for society and a great and lifelong treasure for couples. It is a unique good for children, who are meant to be the fruit of the love, of the total and generous self-giving of their parents. … The family is also a school which enables men and women to grow to the full measure of their humanity…. "O God, who in the Holy Family left us a perfect model of family life lived in faith and obedience to your will. Help us to be examples of faith and love for your commandments."
In knowing Christ, we can rebuild family life, and in rebuilding family life, we can bring one another closer to Christ within families. This is an aspect of the renewal that is ongoing, necessary, and urgent in churches, communities, and popular culture. It is the road to a healthier politics.
People who know and love Christ discern the common good in illuminating ways.
Their purpose is not temporal power, but eternity, their surrender is not to client politics but to God.
This fall, a Frenchman, Pierre-Marie Dumont, president of the Magnificat Foundation and publisher of the multi-language devotional, Magnificat, transformed the convention center and very streets of Philadelphia for a day, for a Day of Faith (as I mentioned in my syndicated column recently here and here). At the heart of it was a renewal of faith, obviously. Family was integral to the picture. And so was art.
(Full disclosure: I've long been addicted to Magnificat and have done advisory work for the Magnificat Foundation.)
Sometimes, with eyes on temporal success and benchmarks, we fail to remember the power of the beautiful. Even in our pain and struggles, we seek God and some of the most stirring art reflects the desire for the Divine and His inspiration. It can remind us more compellingly than most opeds and many sermons, that the point of the humility of the manager scene is "The kingdom of this world is become the kingdom of our Lord, and of His Christ; and He shall reign for ever and ever."
Speaking of Christmas, Handel's Messiah was interspersed throughout the Day of Faith. Beauty was ever-present. The sacrifice of the Mass, a theatrical presentation of the sacrament of Confession were part of the program, as well as the first public presentation of relics of a holy Catholic family in a reliquary created by a young French sculptor, Fleur Nabert.
The Martin family of Liseux included both a husband and wife canonized by the Catholic Church as well as the world-famous Doctor of the Church, St. Thérèse of Liseux, often referred to as "The Little Flower." Nabert, herself pregnant with her first child as she built a celebration of family, faith, and faithfulness, recently discussed faith, family, saints, and art.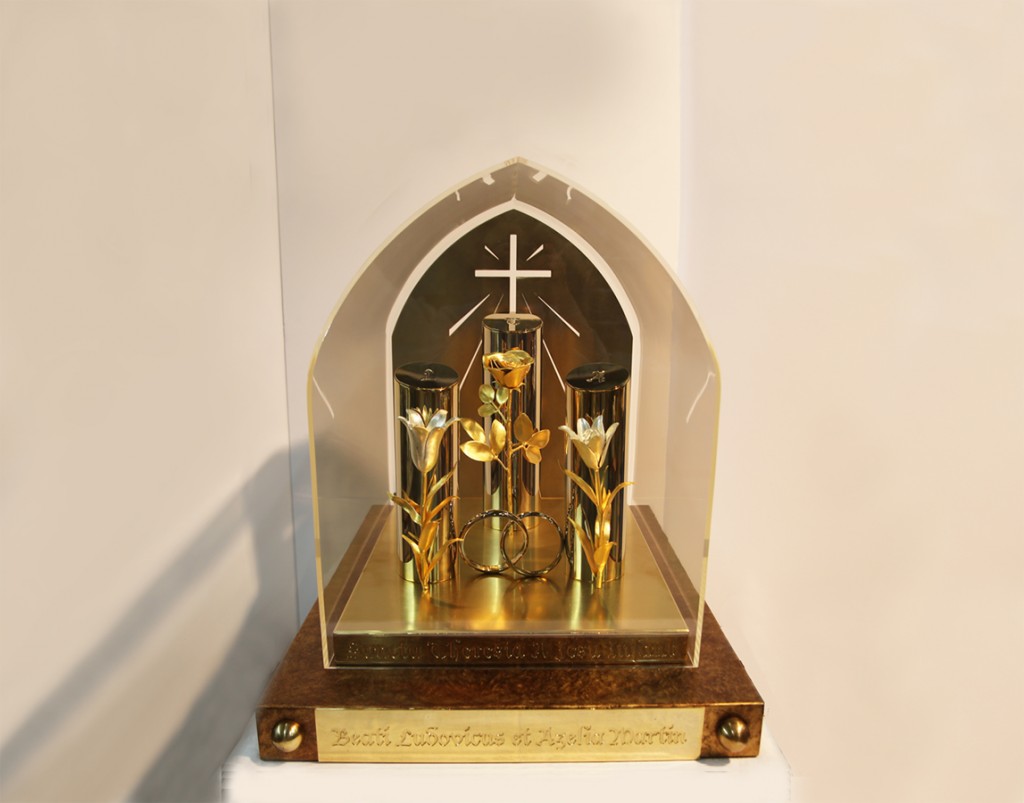 KJL: You consider Thérèse of Liseux a friend, don't you? Why? How?
Fleur Nabert: I spent the last two years working for her: first by building The Chapel of Our Lady of the Smile in Lisieux, and then on The Martin Family Reliquary commissioned by the Magnificat Foundation. I tried to embody her story and spirituality in bronze, and I will spend the coming year working on a meditation space about mercy in the basilica of Lisieux, drawing on the episode of Henri Pranzini's conversion. To properly do this, I had to read many books from and about her and started to deeply discover who she was. But the greatest experience I had throughout this time was the feeling of her presence. She entered my life; I felt she asked for things, sometimes very demandingly — but she also helped me at the same time. I dare to say that I have never felt before such an intercession with any other saint.
That's why I feel comfortable referring to her as "friend." When someone is asking you a lot, and gives you back a lot of joy, when you want to surpass yourself for someone's sake, this is definitely friendship.



KJL: Why are Thérèse of Liseux's parents important at this point in French history?

Nabert: Louis and Zélie are the first French couple declared "blessed" by the Church. Their story is very moving because it was a true human story marked by many sorrows and ordeals. They lost four children out of nine. Zélie had to struggle with a breast cancer, which eventually overtook her. They were also hard workers: Louis as a watchmaker and Zélie as a lacemaker.
Their lives are very close to ours.
They succeeded in experiencing sanctity in marriage, sanctity in family, without losing confidence in God. They kept their hope and faith, even raising five girls who would became nuns, one among them becoming one of the world's most popular saints. Today, the family is suffering everywhere but they are a true example that it is possible to live a life on earth truly related to heaven.



KJL: Why was it important to bring these relics to America?
Nabert: I think that the rector of Lisieux made that bridge because he admires and supports the work of the Magnificat Foundation, evangelizing and revitalizing faith in the United States through good, truth, and beauty as we saw with the Magnificat Day in Philadelphia. Don't forget also that Saint Thérèse is the patroness of missions. Even when she was cloistered, she always had that intuition that her mission had no boundaries.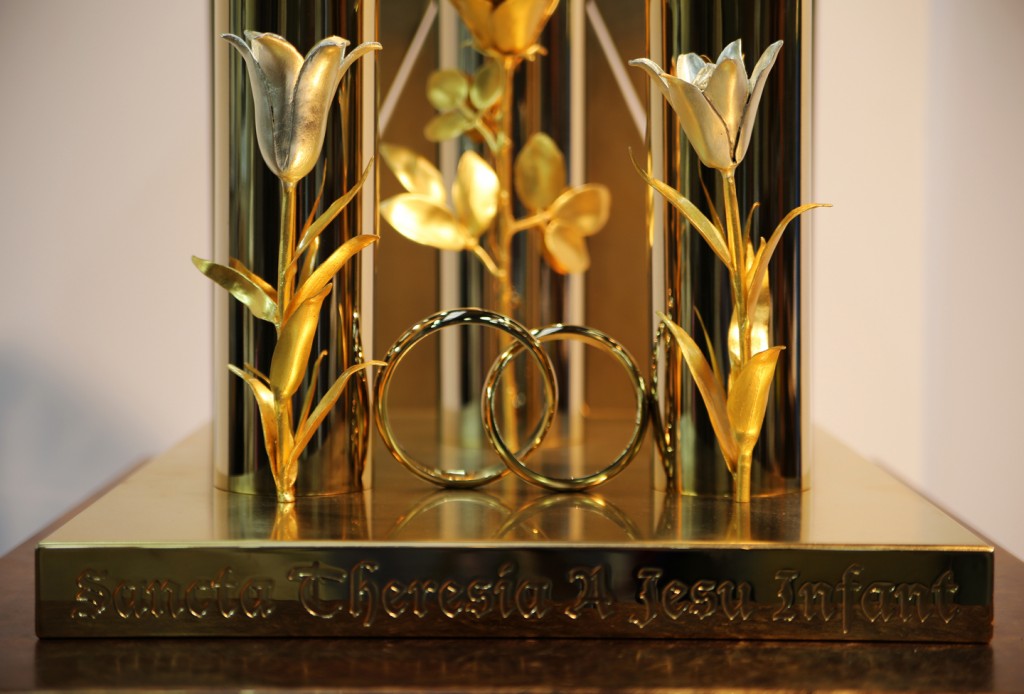 KJL:
What was your favorite part of making the reliquary? What is your favorite part of the reliquary?
Nabert: I loved making the flowers. They required preparing a thin sheet of wax in which one cuts pieces of different shapes that will become petals, leaves, and stems. One needs to model them after warming them and squeezing them with the fingers, with patience and silence. One by one, one assembles the petals of a rose for example, like a natural crown, and opens it at the very end. At that point, what the artist experiences, is like being a spring — in direct contact with nature. To recreate nature is a way to contemplate the unreachable perfection of God's creation.
But my favorite parts of the reliquary are the big wedding rings. I wanted them to be a reminder: through the sacrament of marriage we can experience a window into heaven. It is the treasure of married life — the fountain of graces from which we can share our love — with God's love — on children and all around our family. Marriage is more than a mere contract or or status or fact, marriage is a miracle to protect everyday.



KJL: You watched in Philadelphia as hundreds approached your work of art for the first time, venerating the relics within. What was going through your mind?
Nabert: That is quite simple: I am nothing in it! I built the body but the relics are the soul. The body is nothing without the soul. I just had the opportunity to represent their special charisma, but it doesn't belong to me anymore. It belongs to the faithful, to the Church. I knew that Thérèse and her beloved parents would attract many people, but my husband and I were astonished to see how many people spontaneously turned up. I have seen married couples coming hand in hand to venerate the relics, families with many children, widows thinking about their beloved husband, singles hoping for love, and even a very young severely disabled girl. Thérèse, Louis and Zelie have something to offer to each of us.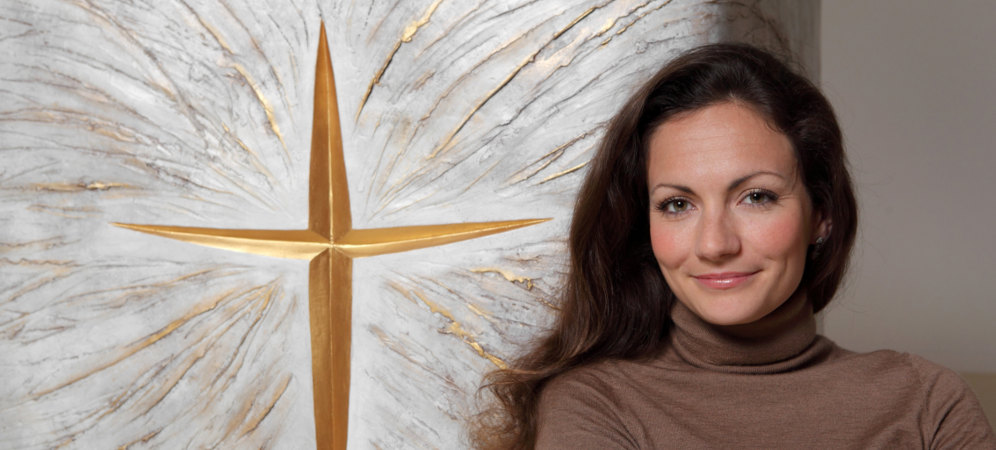 KJL: Did anything surprise you in Philadelphia?
Nabert: I was deeply moved by the Eucharistic procession through the streets of "The City of Brotherly Love." I am used to candlelight processions — in Lourdes, among other places. However, it was a very new spiritual experiment to see the monstrance stopping the traffic at night, with skyscrapers in the background. Only in the United States!




KJL: When did you know you would be sculptor?
Nabert: I was 15 years old. Clay chose my hands that summer. I don't know why or how, but it was mandatory for me to sculpt, as much as breathing is. And when I mixed sculpture and the senses, art and spirituality, I found the purpose of my life.



KJL: Is prayer an important part of your life as an artist?
Nabert: Of course it is. How could I try to draw God's face without kneeling first? If my spiritual life is dry, my hands are empty. But I struggle with the same problems as everyone: lack of time, fragmentation of activities, tons of e-mails, etc. The Magnificat magazine helped me, for years, to balance my spiritual life. Each monthly issue is like a small oratory I can have in my pocket or on my iPhone when I am traveling. The Word of God is always available, surrounded by prayers and meditations to go deeper. It's a path, the only thing we have to do is not to forget to follow it. It's a choice and daily question: What really deserves to fill that day?



KJL: A few times during the Magnificat Day of Faith, people talked about "the Magnificat way of life." What does that mean to you?

Nabert: In my mind, it is a way to keep related to spiritual life through liturgy and beauty. This is the special signature of Magnificat — both the magazine and the Foundation, which are two separate entities — to magnify prayer by all means, to give our best to God, to serve and celebrate Him in the most appropriate way. God deserves the most beautiful, the best, and the truth we are capable of, doesn't He?



KJL: How does a busy person such as yourself come to Magnificat, the devotional and its publications? Why is this important to you?
Nabert: The very first issue of Magnificat was a gift from my mother. She started in with a strong spiritual life after her conversion and immediately fell in love with Magnificat. She shared it with me and now it is like an anchor for both of us.



KJL: Does motherhood bring with it prayers you never imagined would be in your heart before?
Nabert: When I was finishing the Lisieux chapel, I asked Thérèse's intercession to have the chance to become a mother. And she heard my voice.
My husband Emmanuel and I are expecting a little girl due on January 2nd, which is Therese's birthday! I am only a beginner at motherhood, but what I feel is that this very new life and soul I am carrying everyday in my body is like a perfect landscape covered by snow — pure, silent, untouched. And I want to show her the beauty of creation. I started with music because she can hear; I am longing to show her the beauty of nature and arts. And, of course, to expose her heart to the very simple and essential truth of the Gospel. My prayer is to be made trustworthy to welcome a new life on earth.



KJL: What's your prayer for America?
Nabert: I love America! I would like the American people to teach us their enthusiasm and strength — that very special way that you can be so deeply committed to causes you believe in.
****
May the renewal of family live, in love and mercy be at the heart of the causes we Americans believe in!



This year on the feast of the Holy Family, Pope Francis lead us in a new, renewed, urgent prayer toward that goal, in Christ:
Jesus, Mary and Joseph,
in you we contemplate
the splendour of true love,
to you we turn with trust.

Holy Family of Nazareth,
grant that our families too
may be places of communion and prayer,
authentic schools of the Gospel
and small domestic Churches.

Holy Family of Nazareth,
may families never again
experience violence, rejection and division:
may all who have been hurt or scandalized


find ready comfort and healing.

Holy Family of Nazareth,
may the approaching Synod of Bishops
make us once more mindful
of the sacredness and inviolability of the family,
and its beauty in God's plan.

Jesus, Mary and Joseph,
graciously hear our prayer.