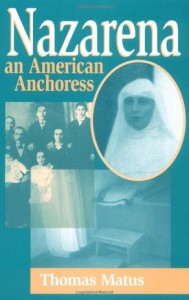 On November 21, Pope Francis visited the cell in a Camaldolese monastery in Rome where American recluse and mystic Sister Nazarena of Jesus had lived for 45 years, until her death in 1990. The Holy Father was visiting the Sant'Antonio Abate Monastery at the foot of Rome's Aventine Hill, to mark the Day for the Contemplative Life, one of the final events in the Year of Faith.
During a private meeting with the nuns in their Chapter Room, Pope Francis was presented with a letter handwritten by the American contemplative.
* * * * *
Who was this American woman who embraced the simple life of a cloistered nun?
Sister Nazarena was born Julia Crotta in Glastonbury, Connecticut, on October 5, 1907. She was the last of seven children born to a farmer, Luigi Crotta, and his wife Maria, who had emigrated from Italy. Young Julia studied at the Hartford Conservatory, and then studied piano, violin and composition at the Yale School of Music, and was briefly a chorus girl in New York City. She graduated from Albertus Magnus College.
On retreat during Holy Week in 1934, Julia had a vision of Jesus calling her to the desert—and she sought to enter monastic life. But it took her eleven years to finally find her way to the desert. Every priest she told about her vision judged it to be an illusion, a dream, or a psychotic symptom.
She first joined the Carmel of Our Lady of Mount Carmel and St. Thérèse of the Child Jesus, in Newport, Rhode Island. After only three months, however, she left in search of a more solitary way of life.
Next, at the urging of a Jesuit priest in New York, she traveled to Rome, where she entered the Monastery of Sant'Antonio Abate; but again, she left after only a short time.
In the fall of 1938, Julia entered the Carmel of the Reparation, also in Rome; and there she professed simple vows as a Discalced Carmelite nun. However, in 1944—just before professing her final vows—she again heard the voice of Jesus. "Julia, I called you to the desert," he said. "What are you doing in a convent?" Finally, Julia left the Carmel.
Julia met privately with Pope Pius XII, and the two discussed her search for the monastery best suited to her calling. After that meeting, on November 21, 1945, she once again entered the Camaldolese monastery. She was permitted to enter immediately into the life of a recluse—a practice which is usually permitted only after a number of years of living in the religious community. Finally, she took her new name, Nazarena of Jesus.
Nazarena was an anchoress, and led an intensely prayer-oriented, ascetic life. She remained secluded in her cell in that monastery for the rest of her life, hearing Mass through a grille. She received her food and messages from the Mother Superior and the other nuns through a slot in the door to her cell. She spoke to no one directly, except during an annual meeting with her spiritual director. That meeting could last for an entire day, during which time Nazarena talked for hours.
Nazarena pronounced her simple vows as a Camaldolese nun on December 15, 1947. Almost six years later, she professed her solemn vows on May 31, 1953. On Ash Wednesday of 1966, Pope Paul VI visited the monastery and blessed Nazarena, who was veiled in black for the occasion, through the grille of her cell.
Near the end of her life, Sister Nazarena wrote to her mother abbess,
"Severity, scolding, punishment had no effect on me. I always felt the deep need—and I feel it more strongly now than ever—to act with total freedom, out of love. Love alone enabled me to overcome difficulties and to do things that required great sacrifice."
On February 7, 1990, after 45 years of solitude, Sister Nazarena of Jesus died in her cell at the age of 82.
The story of her struggle to live her extraordinary vocation to a life of total silence, solitude and hiddenness is told by Thomas Matus, a Camaldolese monk, in Nazarena, an American Anchoress
, published in 1998 by Paulist Press.