What do you think Pope Francis would say to the U.S. Congress?
Today, on the one-year anniversary of Pope Francis' election to the papacy, House Speaker John Boehner (R-OH) has invited the pope to address a joint session of Congress next September, during the pope's anticipated visit to the United States.
Boehner, who extended the invitation in his capacity as the constitutional officer of Congress, represented both House and Senate leaders in making the request.  Shortly after the announcement, House Minority Leader Nancy Pelosi (D-CA) said that she was pleased to join in making the invitation.  Both Boehner and Pelosi are Catholic.
Here is Representative Boehner's letter in its entirety: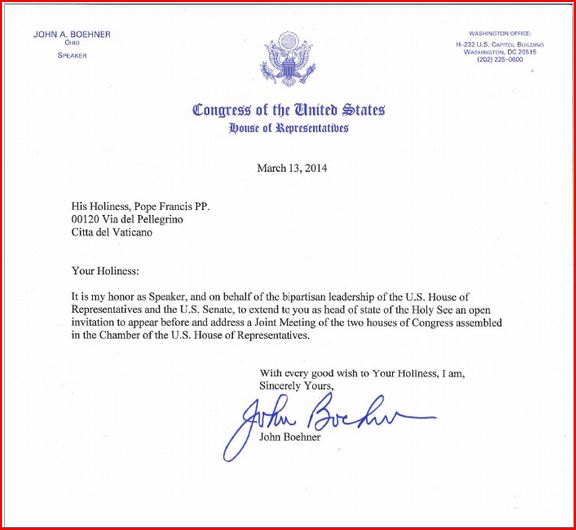 It is hoped that Pope Francis will visit the United States in September to attend the World Congress of Families in Philadelphia, an event which was announced by his predecessor Pope Benedict.  Later this month, Philadelphia Archbishop Charles Chaput will lead a delegation to Rome from Philadelphia, including Pennsylvania Governor Tom Corbett and Philadelphia Mayor Michael Nutter.  The group will meet personally with the Holy Father to extend a personal invitation to their city for the September event, which is expected to draw up to two million people to the City of Brotherly Love.
Boehner, in a statement released today, noted that Pope Francis's ascension to the papacy and his social teachings in the past year
"…have prompted careful reflection and vigorous dialogue among people of all ideologies and religious views in the United States and throughout a rapidly changing world, particularly among those who champion human dignity, freedom, and social justice."
According to a report by USA Today,
"His address as a visiting head of state before a joint meeting of the House and Senate would honor our nation in keeping with the best traditions of our democratic institutions," Boehner said in a statement.  "It would also offer an excellent opportunity for the American people as well as the nations of the world to hear his message in full."

Boehner, who is Catholic, said Pope Francis has inspired millions of Americans with his "pastoral manner and servant leadership" to reflect on matters of human dignity, freedom and social justice.

"These principles are among the fundamentals of the American idea," Boehner said, "and though our nation sometimes fails to live up to these principles, at our best, we give them new life as we seek the common good."
Nancy Pelosi, in a separate statement, said that she had been inspired "by his message of peace, compassion, and brotherhood."  She added:
"Whether inspired by St. Francis of Assisi, who cared for all of God's creation, or by St. Joseph, protector of the church, Pope Francis has lived his values and upheld his promise to be a moral force, to protect the poor and the needy, to serve as a champion of the less fortunate, and to promote love and understanding among faiths and nations." 
Rev. Gerald Fogarty, a professor of Christian history at the University of Virginia, has said that he believes this is the first time that a pope has been invited to Congress.  Several popes have visited the White House–including Pope Benedict XVI, who met with President George W. Bush at the White House during his 2008 United States visit.