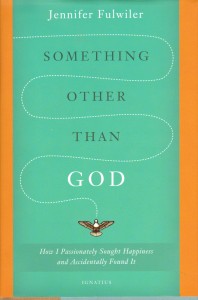 "What was wrong with me that I had to leave a place that I loved in many ways because I couldn't be around religious people?  Why was I always so close to an existential crisis that I couldn't function like a normal person?  

Nobody struggled with that kind of thing.  The other atheists I knew didn't seem to have any problem with the fleetingness of human life.  I'd never met anyone else who seemed troubled by the insanity of religious fervor, or who had their thoughts constantly drifting in the bleakest directions."

–Jennifer Fulwiler, Something Other Than God

*     *     *     *     *
In Surprised by Joy
, the the Irish writer and scholar C.S. Lewis wrote,
"A young man who wishes to remain a sound atheist cannot be too careful of his reading."
That was the problem, it seemed, for Jennifer Fulwiler.  Jen tells her story in her candid autobiography, Something Other Than God: How I Passionately Sought Happiness and Accidentally Found It
, released this year by Ignatius Press.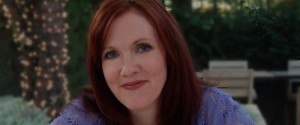 Raised in a happy atheist home, Jen Fulwiler looked at believers with skepticism, finding their faith untenable and their contentment simplistic.
But something was wrong.  She had a successful career, a smart wardrobe, was upwardly mobile.  What could be missing?
Jen's spiritual journey took her to some surprising places:  Not content to know only that saints were in heaven, she wondered, What about rapper Tupac Shakur?
Her careful study led her from feminism and a strong support for abortion, to realizing that the tiny life in the womb was, indeed, a human being created by God and deserving of life.
And all the while, it seemed that God was tugging on her sleeve.  In fact, it was the little coincidences that showed God at work in Jen's life that left me smiling at the end of the story.  This is what I mean:
When I faced a new problem with the possibility of getting this house, I decided to give prayer a shot.  I did a mental comparison of what we had in our storage facility and what was lacking if we were seriously going to be homeowners, and I came up with a specific list:  We'd need a refrigerator, a lawn mower, a washer/dryer, and a bed.  A coffee table and a couch for the second family room upstairs would be helpful, too.  And we could afford none of those things.

Okay, God, that's what we need, I said after reciting the list.  I assume that if we need them, you'll show us how to get them.   If you don't, I'll assume we don't really need them.

That night at dinner, we told my mom about the house over bowls of spaghetti topped with a meaty sauce she'd simmered all afternoon.

She used her fork to point to the west.  "Did you say it was in Oak Brook?  The neighborhood right over there?"

"Yeah.  It's about twenty blocks from here," I said.

…My mom thought for a minute, then looked up from her plate.  "You know, if you do get this house, could I give you my refrigerator?"

"What?" I said.  I remembered the prayer I'd said just hours before.  I'd told nobody about it, not even Joe.

"This house came with black appliances, and I've been wanting to get a matching refrigerator for a while.  I just didn't know what to do with this white one.  Could you use it?"

…The next morning, Joe sent me an email saying that Allan had called.  Allan said that his new place in Dallas was a master planned neighborhood where the lawn care was taken care of by the homeowners' association.  He planned to leave us the lawn mower, weed eater, and leaf blower as gifts if we bought the house.

…A few hours later, the phone rang.  Nothing showed up on the caller ID, and as soon as I heard the low hissing in the background, I knew it was my dad calling from Abu Dhabi.

…We chatted for a while, making jokes about the challenges that he would face while living on Cayman Island, like sunburn and melted pina colada.  And then, just as we were about to end the call, he added, "Oh, by the way, this apartment is furnished, and I have a bunch of stuff in storage that I don't know what to do with."  He asked me if I had any use for a series of items, which included a washer/dryer, a couch, a bed, and a coffee table.
I heartily recommend Something Other Than God
.  Well written and full of fun, it offers insights for those who might be exploring faith, and heaps of encouragement for those who have already taken the step toward the Catholic faith.