Back in 2011, the U.S. Postal Service issued a Christmas stamp titled "Madonna of the Candelabra." The stamp, which is still available for purchase today, is sold in books of 20 self-adhesive "Forever" stamps. It features Mary and the Christ Child, with a lantern behind them.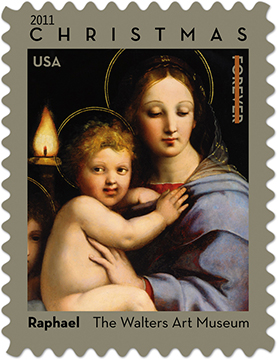 The stamp may have shown up on cards and letters in your mailbox; but you may not be aware that the image was edited to fit the standard size postage stamp, and that in editing for size, the USPS omitted some of the painting's theological significance.
Painted by the Italian renaissance artist Raphael in about 1513, the work is a "tondo"–the Renaissance term for any round work of art. The Madonna of the Candelabra includes not just one candelabra, as seen on the stamp, but two. In using this traditional symbol of royalty and ancient Roman emperors, Raphael is telling us about the roles of Christ and Mary as the king and queen of heaven.
Also visible in the full painting (but not on the postage stamp) are two angels. Art historians believe that the angels were painted, not by Raphael himself, but by student assistants from his workshop.
The use of strong light and shadows, called "chiaroscuro", is a familiar technique in Raphael's works–and it gives his figures a soft, delicate appearance.
The original painting was purchased in 1901 by art collector and philanthropist Henry Walters, and is the first of Raphael's Madonnas to find a home in North America. It is currently in the collection of the Walters Art Museum in Baltimore.