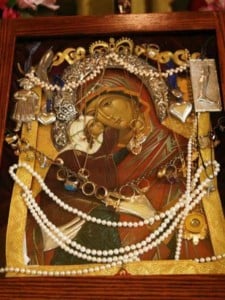 We've had an interesting visitor in my hometown of Detroit this week.  An icon of St. Anna, the mother of the Holy Virgin Mary, was displayed on Saturday at historic Holy Trinity Orthodox Church in Detroit. The Icon, which is considered to have miraculous properties, is currently on a tour of religious centers in the region.
On Saturday, the Very Rev. Lev Kopistiansky, rector at Holy Trinity, and  Archimandrite Athanasy, rector of St. Tikhon of Zadonsk Monastery in Pennsylvania, conducted a prayer service and anointed the faithful.
The image was commissioned by Father Athanasy in the 1990s, in the Mount of Olives Convent in Jerusalem. In 1998, when the Icon was completed, it was blessed at the Sepulcher of our Lord in the Jerusalem Church of the Resurrection, and brought to Philadelphia.
On Mothers Day in 2004 the Icon, which was then displayed at the Russian Orthodox Church of Our Lady of Joy of All Who Sorrow in Philadelphia, began to stream myrrh. On that Sunday one of the parishioners mentioned to Father Athanasy, the pastor, that the Icon of St. Anna seemed to be "perspiring." Father Athanasy was able to confirm that there were visible liquid streams and droplets–first on the cuff on her left hand and on her left shoulder veil, then on other parts of the Icon.  Since then, many have reported healings after being anointed with the substance.
According to the Detroit News:
"Many miracles have occurred from the anointing of this particular icon," said the Very Rev. Lev Kopistiansky, longtime rector at Holy Trinity. "The healings that have occurred are varied, whether heart conditions, broken arms mended, tumors removed — all kinds of things have happened."

…"It's appealing especially to people who are sick because there have been miraculous healings," said David Adrian, a reader in the church and parish council member. "It's nothing you can prove scientifically, but that's what people say. And that's what I'm sure a lot of people who attend would be hoping for."
Although the Icon is not currently weeping, it exudes a sweet fragrance. Since 2012, it has been permanently installed at St. Tikhon's Monastery.
Very interesting: The image of the icon is covered with items left behind by the devout–rings, medals, even strings of pearls–"as a reminder and thanksgiving of the prayers of the righteous Anna." It reminded me of similar expressions of piety, medallions and other gifts left at shrines in the city of Rome–a sign of gratitude for favors rendered and prayers answered.
Just last month, three Catholic churches in metropolitan Detroit were included in a tour of the remains of St. Maria Goretti, the youngest canonized saint in the Catholic Church.