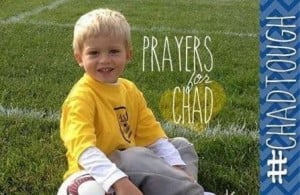 Chad Carr, the five-year-old son of former University of Michigan quarterback Jason Carr and the grandson of former Michigan coach Lloyd Carr, died at 1:21 this afternoon.
It had been fifteen months since Chad had been diagnosed with an inoperable brain tumor. The Detroit News reported:
Just days before his fourth birthday, Chad was diagnosed with Diffuse Intrinsic Pontine Giloma (DIPG), a tumor located in a small area of the brain stem. The median survival rate is nine months from diagnosis, and the only known approach for treatment is radiation, which shrinks the tumor and offers temporary relief.
Little Chad's story received wide attention in November, after his mother Tammi Curtis Carr announced via Facebook that she and her husband Jason had made the difficult decision to start Chad on hospice care.  Using the #chadtough hashtag and writing on a special "Pray for Chad Carr" Facebook page, Tammi chronicled Chad's illness and spotlighted the fun times, surrounded by the love of family and friends.
The family planned an early Christmas this year, celebrating on November 13 since Chad's illness made it unlikely that he'd be able to celebrate in December. On November 11, after hearing the news that Chad would be leaving the hospital to spend his last days at home, coaches and staff from the University of Michigan basketball team and the Ohio State basketball team set aside their rivalry, coming together to decorate the Carrs' home with holiday lights. Tammi shared a video of Chad discovering a mischievous "Elf on a Shelf" who had left quite a bit of toilet paper around the dining room. She also posted photos and  videos of an early Christmas party on November 13.  
But today, Tammi announced that Chad, the youngest of three sons, had gone to be with the Lord. She wrote:
 "#chadtough gained his angel wings today. Please pray for peace for our family.

…He left the earth peacefully and is now running and jumping in heaven. It is well with his soul."
Throughout Chad's brief illness, Tammi Carr used their family's tragedy as an opportunity to raise funds for medical research, and to raise awareness about Diffuse Intrinsic Pontine Giloma (DIPG), a tumor located in a small area of the brain stem. The median survival rate for DIPG is only nine months from diagnosis, and radiation to shrink the tumor offers only temporary relief.
Her social media posts have reflected the family's faith and offered a glimpse of the positive, loving environment in their home.
Following is the November 11 Facebook post on which Tammi announced to the world that their precious son would not recover from cancer. She wrote:
So this is the update I have been putting off, trying to change…..but I can't and I promised to be honest and forthright from the very beginning. I do these posts for many reasons, to vent, to ask for prayer and to help people realize the realities of pediatric cancer….so here we go.

Jason and I made the very difficult decision yesterday to start Chad on hospice care. His breathing and swallowing have been getting worse not better, he can no longer walk and his speech is sporadic. We kept waiting to see improvement, kept waiting to see things turning around, but the reality is that they aren't. We are taking him off of steroids because they make him ravenous and we don't want him to be starving and not have the capability to eat…that is torture. The treatments we started him on in June, including the panobinostat, they did help. He was going downhill quickly in June and once we started the treatments, he really did get better…and we've had another almost 6 months to enjoy our family. But now we believe it's time to stop fighting and to let him relax and be at peace.

We are stil praying for a miracle because we know the power of God and it is infinite. But we are also praying that if it is God's will to take him home, that he not suffer. This is so very hard, but it is also hard watching your baby with such extreme limitations…we want him to be whole and well.

The older boys know…and they are doing ok. We think CJ has really understood for a while but the realization for Tommy has been more difficult. Please pray hard for both of them.. Pray for them to feel peace and have amazing strength. they are such wonderful boys.

We have an amazing support system and we are so very grateful to all of you. Thank you for lifting us up and for being there through every moment of this journey. We are now entering the most difficult part but we know we can get through it. Please continue to pray…for our peace, for our

strength and for a miracle…. Today's Jesus Calling gives me peace…..

Jesus Calling Devotion For November 11-
Do not let any set of circumstances intimidate you. The more challenging your day, the more of My Power I place at your disposal. You seem to think that I empower you equally each day, but this is not so. Your tendency upon awakening is to assess the difficulties ahead of you, measuring them against your average strength. This is an exercise in unreality.

I know what each of your days will contain, and I empower you accordingly. The degree to which I strengthen you on a given day is based mainly on two variables: the difficulty of your circumstances, and your willingness to depend on Me for help. Try to view challenging days as opportunities to receive more of My Power than usual. Look to Me for all that you need, and watch to see what I will do. As your day, so shall your strength be.

I pray also that the eyes of your heart may be enlightened in order that you may know the hope to which he has called you, the riches of his glorious inheritance in the saints, and his incomparably great power for us who believe. That power is like the working of his mighty strength, which he exerted in Christ when he raised him from the dead and seated him at his right hand in the heavenly realms.
—Ephesians 1:18–20

Look to the Lord and his strength; seek his face always.
—Psalm 105:4
Your sandals shall be iron and bronze; As your days, so shall your strength be.
—Deuteronomy 33:25 nkjv
 May God comfort the Carr family, and may He welcome little Chad to an eternity in His presence.
Image: From the "Pray for Chad Carr" Facebook page