When I heard that the Patheos Book Club was featuring Scott Lamb's new authorized biography of presidential candidate Mike Huckabee, I got in line for the chance to review it. During this campaign season, I intend to talk about the candidates, individually and together; and I want to be well informed.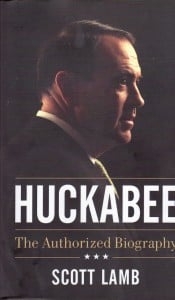 I'm so glad to have read this book–but perhaps not for the reasons I expected. Mike Huckabee is so likeable, and I found his life story to be an encouragement to Americans of ordinary means, people who have come from humble beginnings or have struggled to make a living in a challenging economic climate. It's also a testimony to how virtue shapes the choices one makes in all realms of life: family, education and career.
Until this point, my knowledge of Huckabee has been as the former Governor of Arkansas, and as a candidate on the broader stage of national politics.
But Scott Lamb, in his chronology, began at the beginning. He quotes Huckabee in a campaign speech during the 2008 Republican National Convention, talking about his early upbringing:
"My own father held down two jobs, barely affording the little rented house I grew up in. My dad worked hard, lifted heavy things, and got his hands dirty. The only soap we had at my house was Lava. Heck, I was in college before I found out that it wasn't supposed to hurt to take a shower."
He recounts how Mike Huckabee's sister Pat Harris, a seventh-grade teacher in Little Rock, remembers her brainy brother:
Harris remembers how, even as a boy, her brother read voraciously. "Sure, I used the World Book Encyclopedia when I'd have to do a report. But Mike was that kid who just read the World Book from A to Z. I thought that was a little creepy then. Actually, I still think that's creepy–but that's a true fact about Mike. Seriously though, Mike's always been big into reading–books, magazines, newspapers–all the time."
Huckabee's campaign has always emphasized his plain roots. "I stand for Wal-Mart Republicans," he would say, "not Wall Street Republicans." And Lamb spotlights the respect which Mike Huckabee shows toward the working class, because they are like his own parents. "Mike's higher educational and economic position," Lamb writes, "has not stripped him of remembering who he is–Dorsey and Mae's son."
By high school, Mike Huckabee had distinguished himself as leader of the student council, as well as in the field of communications. He earned praise as a musician, as a preacher, and as a best-selling author. He earned the respect of the people of his home state of Arkansas, who elected him Lieutenant Governor in 1993 and Governor in 1996. For seven years he had a respected talk show on the Fox News Network, ending the show in January 2015 to explore a potential bid for the presidency. In 2005, Time magazine named him one of the top five governors in the nation.
The book includes a colorful photo gallery, showing the popular Southern pastor and politician with his family, playing his guitar, fishing with friends, and much more.
But besides the Huckabee stories and memorabilia, the book brings back to mind many of the seminal events of the '60s and '70s. Huckabee looks back on the times when, as he expressed it, "the wheels fell off our nation":  the assassinations of Martin Luther King, Jr. and Robert Kennedy, the shooting of George Wallace, the Chicago Democratic Convention, the hippie movement, the war in Vietnam. He lived through the NASA space program and the first flight to the moon–as did I; and I enjoyed the walk down memory lane.
I understand, more than before, that Mike Huckabee is a good man, under whose leadership our nation could flourish.
But do I expect that Huckabee will emerge as the Republican nominee for the presidency? I am seriously concerned that Huckabee's candidacy faces an uphill battle. His deep Christian faith drives him to speak resolutely on the issues; but his unyielding rhetoric has yet to persuade unchurched Americans, a significant element in the population, of the efficacy of his positions on social issues.  A poll by RealClearPolitics showed that if the Clinton and Huckabee faced off in the 2016 election, Huckabee would pull 41.5% of the votes and Clinton, 49.0%. That doesn't bode well for those of us who want to see a limited-government, pro-life politician in the White House next year.
Whether Mike and Janet Huckabee move into the White House in January 2017 or not, I think you'd enjoy reading Huckabee: The Authorized Biography.
The book is a selection of the Patheos Book Club, where you can  find more information or read an excerpt.