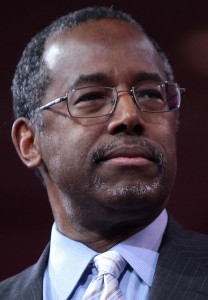 Pro-life Americans have been concerned this week about a statement by presidential candidate Ben Carson, seeming to say that the torturous euthanasia death of Terri Schiavo was "much ado about nothing." I wrote about it last week, noting that he had some explaining to do before I could endorse his candidacy.
His knee-jerk comment drew fire from Carson's pro-life base, and he apparently felt it necessary to explain what he really meant and to reassure voters that he is, as he has claimed, pro-life.
In an email to LifeNews.com, Carson insisted that his comments had been taken out of context and reaffirmed his opposition to euthanasia. He said:
"I am steadfastly opposed to euthanasia. I have spent my entire career protecting life, especially the life of children. I regret that my recent comments about Terri Schiavo have been taken out of context and misinterpreted. When I used the term 'much ado about nothing,' my point was that the media tried to create the impression that the pro-life community was nutty and going way overboard with the support of the patient.

"As I have said previously, it is very difficult to judge people who decide that they want to end their lives when they are afflicted with a terminal disease that is going to lead to a miserable death. There is usually a consensus between the family and the healthcare providers that treatment will be withheld—and the patient would be allowed to die naturally–when he or she develops an infection or other process that would end their life. The job of the healthcare provider would be to keep them comfortable in the meantime, and I support all measures of comfort."

"When the patient is not terminal, as Terri Schiavo was not, the treatment plan should be determined on the basis of the consensus between the family and the healthcare providers. Terri's case should have never been turned into the media circus that we witnessed.

"I respect the emotions of the Schiavo family and know that this is a painful and difficult issue for many who defend the sanctity of life. For me, defending life is not just a political polemic, it is who I am. I opposed euthanasia long before I was in the public eye, and I continue to do so today."
Indeed, Carson has been clear in his support for Life in the past. In an op-ed column he wrote for the Washington Times in 2014, he expressed his strong opposition to abortion:
"My entire professional life has been devoted to saving and enhancing lives. Thus, the thought of abortion for the sake of convenience does not appeal to me. I have personally met several people who have told me that their mothers had considered abortion, but happily decided against it.

"Most of us instinctively want to protect helpless creatures and sometimes go to great lengths to do so. The television commercials about abused animals are very poignant and as a society, we sometimes delay or cancel large construction projects to protect an "endangered" insect, amphibian or fish. Yet many of us turn a blind eye to the wanton slaughter of millions of helpless human babies who are much more sophisticated than some of the other creatures, when nothing is at stake other than the convenience of one or both parents. I am not saying that we should abandon our efforts to save baby seals and a host of other animals. Rather I am saying shouldn't we consider adding human fetuses and babies to the list?"
He minced no words, calling on society to turn away from the false compassion of the deceitful "war on women":
"As a society, we cannot be afraid to discuss important social and moral issues. Our heritage as a nation is built on compassion, forgiveness and understanding. Courage is also vitally important because those who stand on godly principles and values will be attacked. Attempting to characterize love and compassion for human life as a "war on women" is deceitful and pathetic. We the people must stop allowing ourselves to be manipulated by those with agendas that do not include regard for the sanctity of life."
*     *     *     *     *
So in fairness, Ben S. Carson is pro-life. 
LifeNews.com seems wary, dissatisfied by his email response. Their concern seems centered on the fact that this was not really a matter of "media bias" as he implied; rather, they think–and Terri Schiavo's brother, Bobby Schindler, concurs–that he remains confused about certain details regarding Terri's death.
*     *     *     *     *
MY MESSAGE TO PRO-LIFE FRIENDS, especially those who rolled their eyes, struck their breasts and exclaimed, "I'll never vote for him!":
In a little over a year, another person will sit behind the Resolute desk in the oval office.  That person, like the current occupant, will have a phone and a pen; and he or she will help to shape policy and American values for the next four to eight years.
And you will not agree with everything that he/she believes. You will not be satisfied with every policy decision, every speech, every new law. But hopefully, the person who is elected on November 8, 2016 and inaugurated on January 20, 2017 will have a deep respect for Life.
Cardinal Donald Wuerl, in advocating for passage of the revised Faithful Citizenship document this week at the U.S. Conference of Catholic Bishops' Fall General Assembly, reminded those who wanted a totally revamped document,
"Don't let the perfect be the enemy of the good."
Cardinal Wuerl understood that going back to the drawing board at this late date would have meant that the bishops could publish no helpful aid before next year's election.
And that's my message to LifeNews.com and to each of you: Don't, in your zeal for the pro-life cause, discount the candidates who support MOST of your choices, yet differ on minor points. Don't belittle good men whose only offense is to tangle their tongues, especially when they (unlike our current president) have sufficient humility to listen to the electorate and reconsider their views.
Because in undercutting a candidate who is "good" but not "perfect," you lend support to the other side–the candidate who thinks that abortion is about "women's health" and that we need more government intervention in our schools and our healthcare, and that taxes should be increased to support increased government spending.
I still make no endorsement. Now is a time to listen, to learn, and to pray.
 Photo credit:  Gage Skidmore [CC BY-SA 2.0 (http://creativecommons.org/licenses/by-sa/2.0)], via Wikimedia Commons