Yesterday it was announced that Pope Francis invited Sr. Cristina Scuccia, who catapulted to fame after her appearance on Italy's "The Voice", and American punk rocker Patti Smith to play at the Vatican's Christmas Concert on December 13.
The concert, which will be held December 13 at Rome's Auditorium Conciliazione, will be televised live.
* * * * *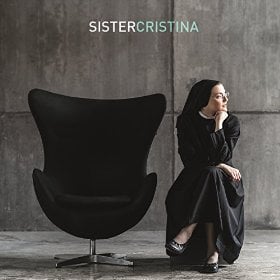 I love Sr. Cristina, and I look forward to the release of her first album.
But Patti Smith? I confess, I'm not much of a follower of punk rock. Actually, punk rock and I have never been in the same room together.
So I did what I could to learn about Smith, to understand the gifts she brings to the Church which would qualify her for this great honor. I went to YouTube and clicked on the first Patti Smith song that came up. This is what I heard–the first line of the first song:
Jesus died for somebody's sins, but not mine.
Immediately, my blasphemy antennae popped up. Patti Smith met Pope Francis last April in St. Peter's Square and shook his hand. That meant that she's changed, that she's a convert, right?
Well, no. Smith, I learned, is not Catholic. In fact, she
"…had a strong religious upbringing and a Bible education, but left organized religion as a teenager because she felt it was too confining."
At the age of eleven or twelve, she developed an avid interest in Tibetan Buddhism. She said of that period,
"I fell in love with Tibet because their essential mission was to keep a continual stream of prayer."
Now, though, as an adult she sees clear parallels between the different forms of religion, and has come to the conclusion that religious dogmas are
"man-made laws that you can either decide to abide by or not."
Religion, she believes, is too confining; and that controversial line about Jesus and somebody else's sins–well, that's an expression of her heartfelt sentiment.
* * * * *
So I know that some of my liberal friends are already popping out of their chairs, cheering this latest move by our Pope of Surprises. "She'll reach out to a new audience of young seekers," they'll tell me.
She has been an anti-American activist, leading protests against the Iraq War as President George W. Bush spoke before the United Nations, writing songs in 2006 to protest American and Israeli foreign policy.
Smith's music has, I learned, been a great influence on one group, the Russian anarchist punk band Pussy Riot. I wrote about how Pussy Riot's supporters, the bawdy feminist protest group FEMEN, attacked the Belgian archbishop here, and about Pussy Riot's desecration of the Russian Orthodox Cathedral of Christ the Savior here.
* * * * *
Here's where I come down on this: An invitation to perform at the Vatican is a great honor. There are many Catholic performers who are worthy of that honor, and the Godmother of Punk is not one of them. In fact, to my ears, her music is screechy bad.
Pope John Paul II, when he visited Denver in 1987, kissed the armless guitarist Tony Melendez, who played the guitar with his feet.
There's the Irish tenor group The Priests. Blind Italian tenor Andrea Bocelli.
Among popular young musicians, if that's what Pope Francis wants, I count Matt Maher, Marian Grace and the award-winning Canadian rock band Critical Mass. For funk, there's CRISPIN. Jazz and hip-hop? Try Fr. Stan Fortuna! John Michael Talbot. Marie Bellet. Aaron Neville. Casting Crowns.
That the Pope should have chosen, instead, to celebrate Christmas with such a controversial and squawky non-religionist demonstrates a lack of imagination and a lack of taste.