I really thought we had a chance.
One of my Christmas gifts for my husband this year was a raffle ticket for Pope Francis' January 8 raffle. First prize in the raffle, which was organized by the Vatican to help raise funds to help the poor, was the pope's new Fiat Panda 4×4. Other prizes in the raffle included four spiffy bikes, a Sony videocamera, a high-end espresso machine, an iPod and iPhone, and a Panama hat, along with some 30+ undescribed "consolation prizes."
Tickets for Pope Francis's first-ever fundraiser were available only in Rome, but I had help from the kindly Father Joe Roesch, a priest of the Marians of the Immaculate Conception who is living in Rome. Father Joe sent me this photo of the poster announcing the raffle.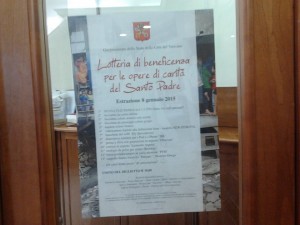 And since tickets were sold only at the Vatican Post Office and Vatican Pharmacy, Father Joe helped by purchasing my ticket and sending it to me. I happened to have a frame with a mat that perfectly fit the ticket–so my gift was ready to go.
Here is my ticket: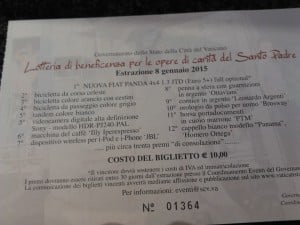 The raffle was held on January 8, and the Vatican has published the list of winners. But alas! There is no Ticket #01364 on the list. Too bad, too, because I was planning to lobby for a trip to Rome, to pick up our prize in person.
Want to see the prizes? Click here to see the Vatican's announcement. Scroll down to click on the list of winners.
Thanks anyway, Father Joe, for all of your help!