Radicals from the Islamic State (ISIS) have threatened to overthrow Rome and toss homosexuals from the Leaning Tower of Pizza.
Apparently, the Islamists don't realize that the tower in question is actually in the Italian town of Pisa, and that there is no food involved. The Italians, though, have taken the slip-up as an opportunity to mock ISIS over on Twitter, with great memes like this: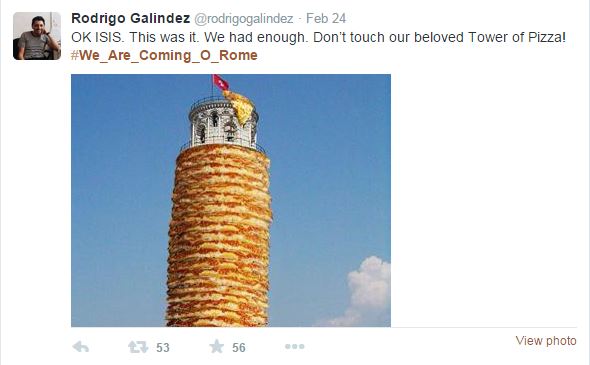 Some, like Guido Tresoldi, noted that they had also enjoyed too much pizza, and that there had been some nasty health effects.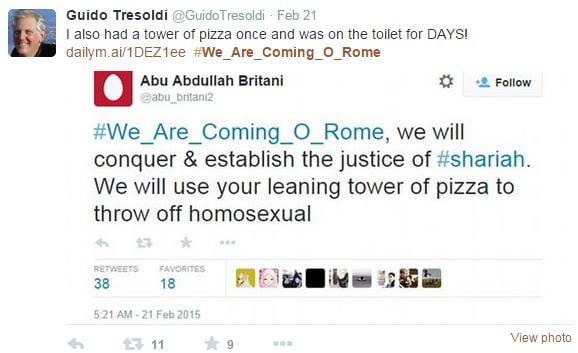 And oh, there's more! They joke that the fearsome warning by ISIS has compelled the Mona Lisa to convert to Islam.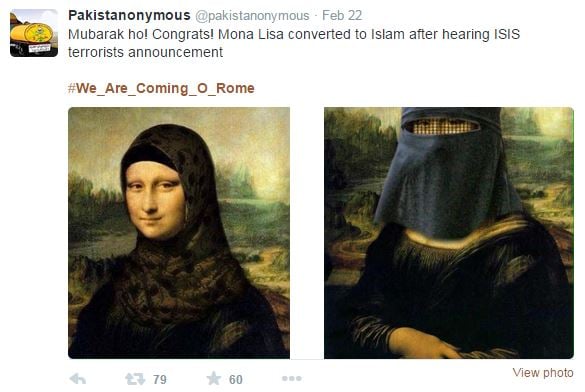 Some Italians have reminded ISIS that it didn't turn out so well the last time they attacked, when the Muslim suffered some significant losses in the Battle of Lepanto.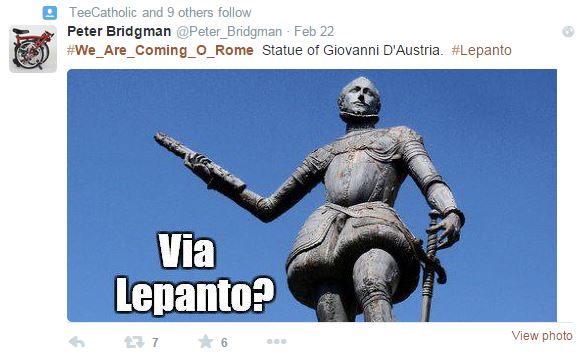 Some have taken off on the "Gladiator" theme to assure the invaders that the Italians are more than ready: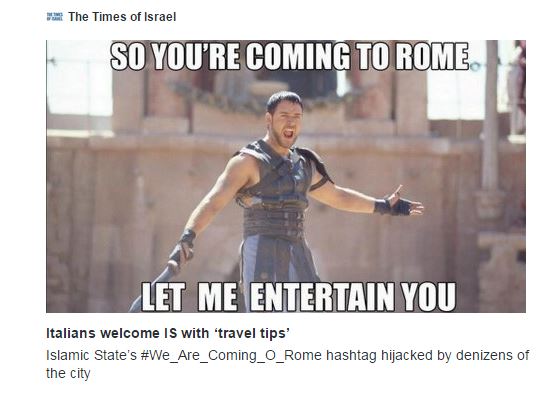 Italians have offered tongue-in-cheek warnings about Rome's snarled traffic, and some have posted helpful menu advice: where to get the best pork, for example.
You should check out the hashtag #We_Are_Coming_O_Rome. ISIS may have meant it for ill, but the Romans are having none of it. There are hundreds of hysterical responses, too many for me to share here.
* * * * *
But seriously, is the Vatican really capable of resisting an attack by militant Muslims?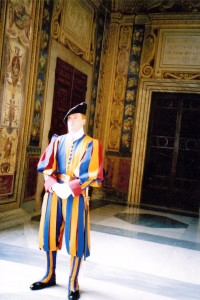 "We are ready to intervene," said Christoph Graf, head of the Pontifical Swiss Guard who is charged with defending the Holy Father against attack. The Swiss Guard is on high alert, after blustering threats from ISIS to attack Rome or, more likely, the worldwide Roman Catholic Church.
To which I want to say, "Hurray!" It would be great to believe that everything is under control in Vatican City, and the Pope and all his cardinals and staff are safe. But the Pontifical Swiss Guard has no ships, no airplanes or jets, no modern weapons.
At roughly 109 acres (.2 square miles), Vatican City is the smallest nation in the world. In 2006, the last year for which I found a firm number, there were only 135 men serving in the Pontifical Swiss Guard, which has as its task defending the Pope.
But the men who guard the small City-State and the pontiff are not just beefy window-dressing at the Wednesday General Audience. Their Michelangelo-designed uniforms are colorful; their swords and halberds are at the ready; but they're also a well-organized militia and are trained to use an arsenal of modern weapons. The Swiss Guard is a highly-skilled army of professionals, and their modern weapons include the SIG P220 (P75), Glock 19, Steyr TMP, Heckler & Koch MP5A3, Heckler & Koch MP7A1, SIG SG 550 and SIG SG 552.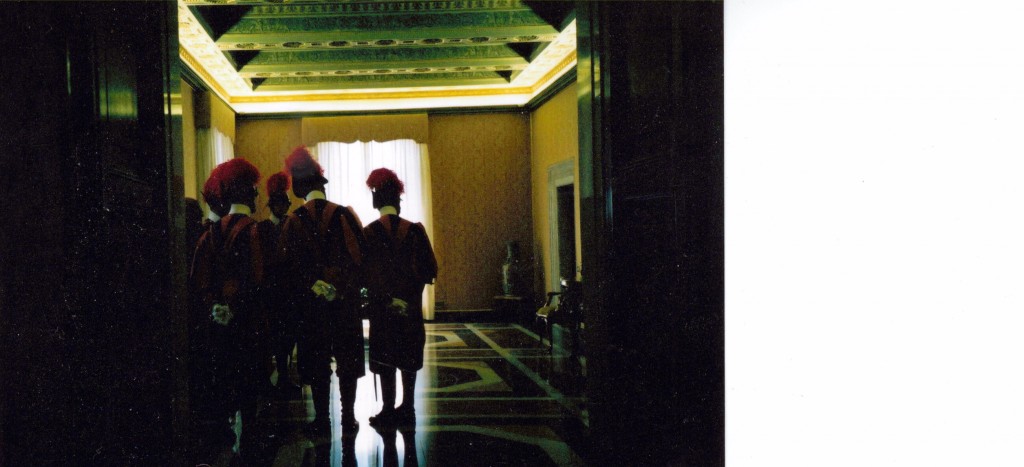 Members of the Swiss Guard take an oath to lay down their lives, if necessary, to protect the Holy Father. In fact, 147 Swiss Guards did sacrifice their lives during the Sack of Rome in 1527, when troops of Emperor Carlos V attacked. The surviving Swiss Guards led Pope Clement to safety along a wall which connected St. Peter's Basilica to Castel Sant'Angelo, the great fortress near the Tiber River.
Guard Commander Christof Graf reflected on his appointment as commander, saying,
"The Pope asked me if I was willing and I could have said 'no.' But I think this is a mission and I answered 'yes,' because I see this as the Lord's work. I know there are several crosses to carry but I trust in God's help."
I think the poorly trained ISIS ideologues are poorly prepared for combat with these guys.
And we haven't even talked about the Italian Carabinieri! Nope, I think ISIS had better just stay home.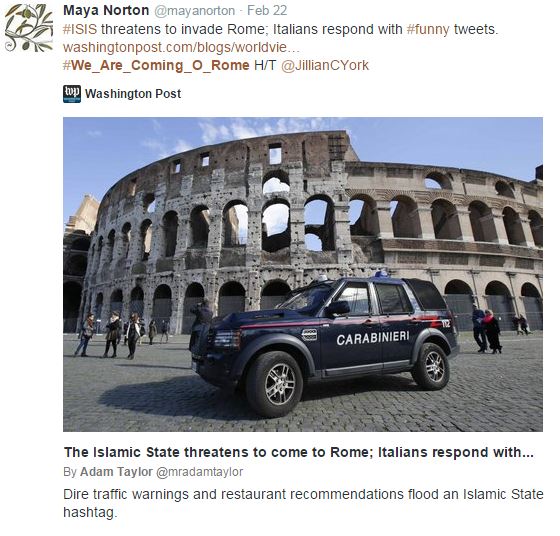 Photos of Swiss Guards by Kathy Schiffer. All other photos: Twitter.