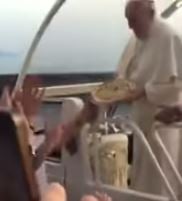 A few weeks ago, in an interview with the Mexican broadcaster Televisa, Pope Francis expressed his wish that he could wander incognito onto the streets of Rome and get a pizza. "The only thing I'd like to do," he said,
"…is to be able to go out one day without anyone recognizing me and go get a pizza."
Well, he finally got his wish! On his visit this week to the Italian city of Naples, a custom-made pizza was delivered to him in the Popemobile by Enzo Cacialli, co-owner of Pizzeria Don Ernesto. The white and yellow pizza featured yellow cherry tomatoes and buffalo mozzarella.
A YouTube video shows Cacialli waiting until the last minute, then climbing over a barrier and handing Pope Francis the pizza as his vehicle sped past. The Pope graciously accepted and said, "Thank you."