The word is out:  Pope Francis' upcoming encyclical on the environment may be titled "Laudato sii" (Praise Be to You).The phrase is drawn from the first line of the Canticle of the Creatures by St. Francis of Assisi, Italy's oldest known literary text.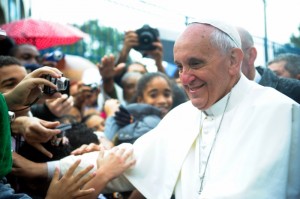 Vatican Insider reports that the tentative title has been reported in two media outlets: According to ANSA, the leading wire service in Italy, the news came from Fr. Giuseppe Costa, director of the Libreria Editrice Vaticana (LEV), the Vatican publishing house. And the Italian Catholic blog Is Sismografo, which has close ties to the Holy See and publishes Vatican-related news, repeats the title.
Remembering Francis of Assisi with all of those gentle animals, it's easy to understand how the title could work well for an environmental document.
Final word will be forthcoming from the Vatican.