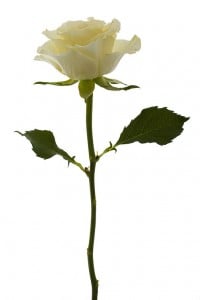 Visitors to the Vatican Gardens and the papal summer residence at Castel Gandolfo will soon enjoy the fragrance of roses. Two French rose growers have come together to cultivate a new variety of white rose, which they have named "Pope Franciscus" in honor of the pontiff.
Croix Dominique and Jacques Ranchon, horticulturists from Bourg-Argenal in the Loire region, developed the new rose. The breeders then sought permission to name the rose in honor of Pope Francis. In March 2014, they sent a letter through Bishop Dominique Lebrun, the bishop of Saint-Etienne, to the papal nuncio in France, Monsignor Luigi Ventura. In November 2014, Pope Francis responded positively–and the rose had its name.
The rose growers donated fifty of the Pope Franciscus rose bushes,which have been planted in the Vatican Gardens behind St. Peter's Basilica, and in the gardens at Castel Gandolfo.
Roses have a special significance for Pope Francis. Vatican Insider quotes an interview with then-Cardinal Bergoglio by Sergio Rubin and Francesca Ambrogetti in the book El Jesuita (The Jesuit):
In a description the two journalists give of Bergoglio's library in Buenos Aires, they write: "We pause before a vase full of white roses standing on a shelf in the library. In front of it is a photograph of Saint Thérèse. "Whenever I have a problem," Bergoglio explained to the journalists, "I ask the saint not to solve it, but to take it into her hands and to help me accept it and I almost always receive a white rose as a sign."

Pope Francis' devotion for the Carmelite mystic who died at the young age of 24 in 1897, was canonized by Pius XI and proclaimed a Doctor of the Church by John Paul II in 1997, is common knowledge. Francis himself told journalists about it on the flight back from Rio de Janeiro after World Youth Day. When she was still alive, Thérèse had promised that when she died she would shower "rose petals" down from the sky, a sign of her intercession. "A soul inflamed with love can not remain inactive … If only you knew what I plan to do when I'm in heaven … I will spend my heaven by doing good on earth." So during the peace vigil held in St. Peter's Square on 7 September, the mysteries of the rosary were recited along with passages from the Gospel and verses from a piece of poetry written by the saint.
In September 2013, just one day after the prayer vigil for peace in Syria, Pope Francis received a gift of a single white rose from a gardener in the Vatican Gardens. He was surprised by it and considered the rose to be a "sign." Archbishop Edoardo Menichelli, archbishop of Ancona and Osimo, told journalists about the Pope's devotion:
"The Pope told me he received the freshly-picked white rose out of the blue from a gardener as he was taking a stroll in the Vatican Gardens on Sunday 8 September. The Pope sees this flower as a "sign", a "message" from Saint Thérèse of Lisieux, whom he had turned to in a moment of worry the day before."