Thank you once again to my dear husband, Deacon Jerry Schiffer, for giving me permission to repost his homily for this, the 20th Sunday in Ordinary Time (Year B).
*     *     *     *     *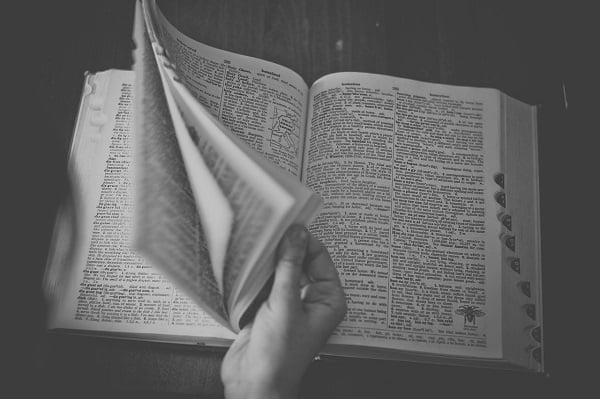 A Paraprosdokian That Christians Can Live By
 by Deacon Jerry Schiffer
I learned a new word this week that I thought I would share with you — "Paraprosdokian."
A paraprosdokian is a saying or figure of speech with an ending that makes you stop and think.
Like:
"Knowledge is knowing that the tomato is a fruit.

Wisdom is not using one in a fruit salad."
Or
"You do not need a parachute to sky dive.

You only need a parachute to sky dive twice."
The paraprosdokian that I found most appropriate this week, however, was this:
"Going to church doesn't make you a Christian

any more than standing in a garage makes you a mechanic."
I think we would all agree that there is truth in that last saying. Going to church is a good thing; it's a great thing. But truly participating in the life of Christ requires more than showing up for Sunday Mass.
What does it mean to be a Christian?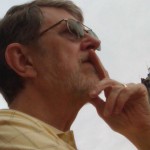 It means to be a disciple of Jesus Christ 24 hours a day, 7 days a week, 52 weeks a year for as long as we live. A disciple of Jesus wants not just to learn what Jesus taught but how he lived as well. It means to be in relationship with Jesus.
We hear that all the time, don't we? That we need to be "in relationship with Jesus." I'm afraid that we hear it so often that it begins to lose its meaning.
But we can't let that happen. Jesus is the answer to every question. If our participation in our faith means anything, we need to believe that in Jesus we can find love and mercy, truth and peace.
Not the truth that

the world teaches.

Not the peace that the world has to offer.

Not the false 

ideas of love that dominate our culture.
But the kind of love and truth and peace that will truly satisfy us for all eternity if we become true disciples.
*     *     *     *     *
Today's readings help us to understand why we need to be, and how we might become, disciples.
Inviting us to know the Lord, the Book of Proverbs urges:
"Come, eat of my food and drink of the wine I have mixed! Forsake foolishness that you may live; advance in the way of understanding."
The Letter to the Church at Ephesus also encourages right living: "Watch carefully how you live," Paul cautions us,
"…not as foolish persons but as wise, making the most of the opportunity, because the days are evil. Therefore, do not continue in ignorance, but try to understand what is the will of the Lord." 
But it is the Gospel that most clearly speaks to us about being in relationship with Jesus Christ.
Today's Gospel is the continuation of St. John's "Bread of Life" discourse that began three weeks ago with the miracle of the feeding of thousands with just five loaves and two fish. If we are attentive to the words of today's Gospel, we will hear the message that Jesus wants to implant in our hearts. We will also learn that Jesus' call to be in relationship with him is too demanding for some of his followers.
Jesus had an important message to offer. If we have something important to say, there are different ways that we can let people know that our message needs to be taken seriously. Like the use of repetition:
"Johnny, do your homework."

"I understand what you're saying, but you need to do your homework."

"Yes I know that's important, but you need to listen to me; your homework is more important, so go and do your homework now."
Repetition is useful. Persistence is vital if we want people to hear whatever message it is that we need them to understand.
Now listen again to the words of today's Gospel:
Jesus said to the crowds: "I am the living bread that came down from heaven; whoever eats this bread will live forever; and the bread that I will give is my flesh for the life of the world."

"Amen, amen, I say to you, unless you eat the flesh of the Son of Man and drink his blood, you do not have life within you.

Whoever eats my flesh and drinks my blood has eternal life, and I will raise him on the last day. For my flesh is true food, and my blood is true drink. 

"Whoever eats my flesh and drinks my blood remains in me and I in him. Just as the living Father sent me and I have life because of the Father, so also the one who feeds on me will have life because of me. This is the bread that came down from heaven. Unlike your ancestors who ate and still died, whoever eats this bread will live forever."
This passage is an invitation not just to receive the Eucharist at Mass–as important as that might be to be in communion with God and one another. It is a radical invitation to participate in the life of Christ as a committed disciple, as a true Christian.
Do we hear this message? Do we understand what it means in our lives? Does the reality of Christ's presence help us to become true disciples of Jesus, to be in true relationship with him or are we still on the outside looking in?
When this study of John's sixth chapter began three weeks ago, we learned that the followers of Jesus were ready to follow him anywhere after witnessing the feeding of the five thousand.
"When the people saw the sign he had done, they said,
'This is truly the Prophet, the one who is to come into the world.'

Since Jesus knew that they were going to come and carry him off to make him king, he withdrew again to the mountain alone."
It was just a short time ago that His followers were ready to make him king. And yet today, we hear these words about those would-be king-makers:
"The Jews quarreled among themselves, saying, 'How can this man give us his flesh to eat?'"
It appears that Jesus was calling his followers to be part of an intimate relationship that they were unwilling to accept. I don't think it will spoil the story to tell you that in next week's Gospel, many of these followers find such a relationship with Jesus to be too demanding and they turn and walk away.
Do we find discipleship too demanding? Are we comfortable coming to Mass on Sundays without becoming true disciples of Jesus? Do we believe the repeated words of Jesus that he is the true bread of life and that we must eat this bread and drink this cup – that we are to radically change our lives if we are to fully have His life within us?
The Church teaches us that the Eucharist is the source and summit of the Christian life.
The Eucharist is the source of all grace and spiritual nourishment, of all that is true and good and holy. Jesus in the Eucharist is the very source of mercy, the faithful shepherd who gave his life for his sheep.
Jesus in the Eucharist is also the summit of our faith.
Imagine being at the top of Mount Everest, the highest mountain in the world, at more than 29,000 feet. Many of us have been in planes that cruise at 35,000 feet–so that will give you some idea of the height of this mountain.
You don't simply wake up one day at the summit of this or any other mountain. If you want to be on the mountaintop, you have to want to be there and then intentionally climb the mountain until you reach its peak. That requires real effort and determination, and can be filled with great challenges and difficulties. But people accept that challenge because to arrive at the summit of such a mountain would be to see things as they have never seen them before.
To participate in the Eucharist as a true disciple of Jesus is to see things as we have never seen them before. It can enable us to think with the mind of Christ, to see with the eyes of Christ, to love with the heart of Christ, to be in relationship with Jesus as his true disciples.
Just as he did with his followers 2,000 years ago, Jesus is challenging us to go all in, to become intentional committed disciples who will believe what he taught us to believe, and live as he taught us to live. He wants us to know the fullness of life and the fullness of joy that comes from that discipleship.