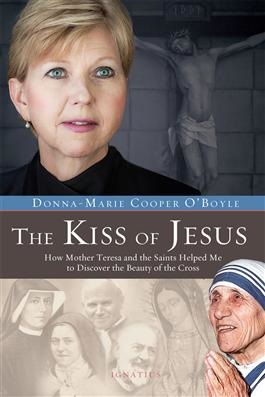 I remember the first time I saw Donna-Marie Cooper O'Boyle on EWTN. She seemed so delicate, so mild-mannered, so firm in her Catholic faith. Later I met Donna-Marie at a meeting of the Catholic Writers Guild, and her image as a strong faith leader and an inspirational speaker was reinforced in my mind.
Her writing is truly inspirational–reading her books, one can't help but resolve to be holier. When, in December 2012, I participated in the blog tour for Donna-Marie's book Rooted in Love: Our Calling As Catholic Women, I wrote:
"Donna-Marie brings to her writing a softness, a peaceful witness born of time spent in prayer."
Such grace-filled encouragement must, I thought, be born in a childhood of devotion, a youthful hunger for Christ, and a model family life.
That's why I was shocked–really, SHOCKED!–to read the earthy revelations about her earlier life in Donna-Marie's deeply moving memoir, The Kiss of Jesus. I learned for the first time that this woman, who has been an inspiration to many, has made mistakes. She has misjudged people, married the wrong man, and lived the painful life of a neglected and abused spouse.
I came away realizing that Donna-Marie, like the rest of us, had feet of clay–that her youth had been characterized by missteps and mistakes. And not small mistakes! Her mis-judgements led her to link up with three men who failed to provide the love and security she needed: an unstable drug addict who held her captive, an angry man who abandoned her and her children at the side of the road, an attorney who was still peripherally involved in a cult.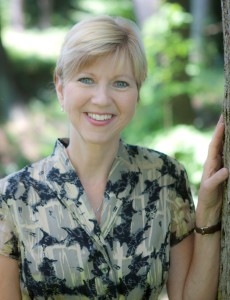 I realized that Donna-Marie's life, far from being the utopia I had imagined, had been fraught with very real struggles. She had faced the challenges of poverty, abuse, pregnancy loss, serious illness, divorce, a custody battle, and life as a single parent, yet emerged a peaceful, prayerful woman.
Fortunately, though, Donna turned for help to two of the strongest voices in the Church: She asked Fr. John Hardon, the Jesuit founder of Marian Helpers whose writings have inspired many, for prayer and advice. Father Hardon, in turn, introduced her to Mother Teresa, who became Donna-Marie's friend and confidante. In personal meetings over ten years and in twenty-two hand-written letters, Mother Teresa prayed for Donna-Marie's difficult situation, and taught her to offer her suffering in union with Christ's suffering on the cross. In one letter, the saint wrote:
"He is a God of love and does not want His children to suffer, but when you accept your pain, suffering, death and resurrection your pain becomes redemptive for yourself and for others…. Be assured of my prayers. Christ calls us to be one with Him in love through unconditional surrender to His plan for us. Let us allow Jesus to use us without consulting us by taking what He gives and giving what He takes."
I heartily recommend The Kiss of Jesus: How Mother Teresa and the Saints Helped Me to Discover the Beauty of the Cross. Donna-Marie's story is an encouragement to all of us whose lives are sometimes disappointing. You'll understand, as I did, that if Donna-Marie can find her way through the hardships in her life–if she can be the strong witness to faith and encourager of women that she is, despite the deep sorrows and dark valleys in her own life–then we, too, can grow in holiness in the midst of adversity.