Being an outlaw witch means that I practice magick that is far from the mainstream.  I'm most comfortable being on the margins and I'm not concerned with being popular. I do witchery in remote and wild places. Those are a few of my confessions. Another one? That confession is good for my outlaw soul. I think it's good for all of us, as is developing our own form of outlaw witchcraft.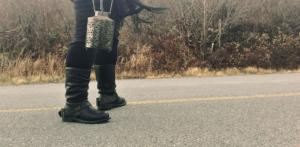 Confession is a Virtue
In my attempt to live a virtuous life, I contemplate what it means to be a decent human being which happens to be the same as being a good devotee to Hekate. I do this because while the idea of being virtuous is a central tenet of devotion to Hekate, there's no consensus about what this actually entails. There are no clear rules about living a virtuous life. In fact, there's no rule book for my version of Modern Hekatean Witchcraft at all. Here's my first confession: I really like it this way. 
I have a general disdain for any rule or law, especially if they don't make sense in a practical way or don't serve a higher purpose. A couple of years ago my youngest son made me a Mother's Day card at school that required him to list my attributes. Right at the top of the list was "rule breaker."
Now, I'm not advocating for bucking the system all willy-nilly. However, resistance is a natural to me as climbing mountains. It's in my blood. I've been an outlaw all my life.
My Comfy Spot
Growing up in an evangelical fundamentalist Christian home, I had to sneak occult books from the library. I was ratted out by a librarian who asked my father if he knew what I was reading. I'm an outlaw from my own family, so there's no wonder I'm most comfortable on the margins. It's here on the fringe that I've learned who I truly am and what I'm capable of. I must confess that there are things about myself that I'm not too happy with, but by being honest I can accept and change these aspects if I choose.
I've made my share of mistakes in life and witchcraft, too. By confessing my failures to myself, I can examine them and grow into a better witch. By sharing my experiences with you, we can all learn together. If something I write helps you, that's the whole point of writing these blogs. Confession is good for the soul of this outlaw witch.
Outlaw Witchcraft
What exactly does it mean to be an outlaw witch? I think outlaw witchcraft is practicing witchery that is outside of the norm of acceptable practices. It's about doing witchcraft that makes sense to me. But, it's much more than that. Being an outlaw is all about living according to my own rules. One of my rules is helping others, so having a blog as a personal confessional that could help at least one person fits into my outlaw witchery.
Some of the time my rules are different than those of mainstream witchcraft. I never could wrap my head around the idea of "harm none." Everything I do has the potential to hurt someone whether it's magick or driving down the road. Hexing is part of witchcraft. If you wrong me, watch your back. It's that simple.
What else goes into being an outlaw witch? For me, it's about doing magick in wild and remote places, and often going to these locations alone. It's about using found things in rituals and spells rather than buying fancy trinkets. And my gypsy genes don't have any problem appropriating things by any means necessary.  Fortunately, they're tempered by the other 50% of my DNA.
Regrets: I've Got A Few
While we're on the subject of blood, I've got to confess that I've done my share of this sort of magick. I've lived to regret some of the things I've conjured up. If you're considering using blood in your witchcraft, I urge you to really put a lot of thought into it. Or else you might end up in a sketchy Chinese restaurant listening to your Buddhist crush explain to you that he thinks you should start a polyamorous relationship with him and his ex-wife. To be clear, that's not what I intended when I did the spell.
You might be thinking that I lack a moral compass. Exactly the opposite is true. I have a very strict personal code of being honest and kind. Living a life of integrity is how I define a virtuous life, not one that follows someone else's rules. I'd never kill an animal for witchcraft, but if the squirrel is already dead, then he's fair game.
Being an outlaw witch means that I am comfortable taking risks. I feel comfortable pushing boundaries and delving further into the mysteries in my own way and on my own terms.I've been a devotee of Hekate for a very long time. It used to be a very outlaw thing. I was scouring ancient texts and obscure books back before it became trendy.
Keeping it Outlaw
My next confession is that I've actually become part of the trendiness of all things Hekate. Unexpectedly, people are reading my blog and expressing interest in my version of Modern Hekatean Witchcraft. Here's my final confession: I kinda like the attention, to a certain extent, but I don't want to lose my outlaw ways. Challenging boundaries by expressing my perspective, even if it's not popular is something I'm committed to doing. I think confession may never catch on as a pagan practice, but it should. Being honest about who we are and the things we do – especially the mistakes and regrets we have – builds character. It has the added bonus of helping us to see each other as real people. I'm asking you to think about confessing to yourself about the mistakes you've made.
Be Your Own Sort of Outlaw Witch
As paganism and witchcraft have become much more common, the outlaw aspect is rapidly diminishing. There are so many books, courses, websites, and blogs that are more than happy to take your money and supposedly reveal all you need to know. I urge you to resist the temptation to blindly accept anything. Figure out what make sense to you. I'm not advocating for climbing fences to get graveyard dirt. Breaking the law is not for everyone. Find a way to keep your magick wild. Be your own sort of outlaw witch.