I've always avoided angels. It seems I can't anymore. In this post, I discuss angels, ascension, and Hekate. There's also a ritual to welcome angelic help.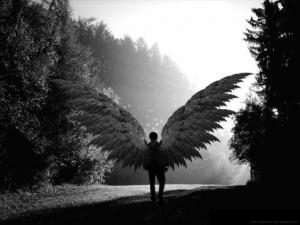 I'm currently dealing with an unwanted suitor. You see, for the second time in my life, an angel seems to want to become my spirit guide. The problem is that I don't much care for heavenly beings. I actually fear them if I'm being honest. As a daughter of The Dark Mother, I prefer the familiar underworld creatures. I brought this on myself by declaring that my dark days were over and welcoming Hekate Soteira into my life on the winter solstice. This version of Hekate as Savior also happens to be the Mother of Angels, so it's not surprising that this is happening. Since I'm committed to going where I fear to tread, I decided to perform a ritual to welcome my angel guide into my life. But I still have many questions about angels and witchcraft.
A Case of Angelic Avoidance
I wrote some of my confessions a while ago. Here comes another one – I'm afraid of angels.
Avoiding angels has been relatively easy up until now.
For weeks I've been dealing with an angel situation. When my beloved spirit guides, Uncle Lucky and Millie, took their leave, they had a clear message for me "now is the time for you to walk with the angels." Yeah, right. I've had this problem before.
Way back when I was taking a course, I did this upper world journey that ended up with an angel coming forward. Ewww. Gross. I was given the name "Malaki." Say it like "Mal-a-kai." Being the erstwhile student that I am, I launched into a search for the meaning of this name in spite of my allergic reaction. I looked in books. Nope. No mention of an angel with this name. Same thing online. Got out my Bible. Yes, I do have one…several actually…I get them whenever a family member dies. Maybe it's a subversive way to try to save my soul. I couldn't find my Malaki anywhere. Success was found on a Jewish scholarly website. Seems it means "messenger," although it was spelled differently. The same meaning as angel. My messenger was named messenger. How dull.
In the weeks that followed, I made a half-hearted (more like 1/10-hearted) attempt to understand this new spirit guide and angels in general. In the end, I resisted the whole lot. No angelic relationship for this daughter of The Dark Mother. I even quit the course.
Angels were altogether too New Age for me. Too sparkly, white,  and heavenly. Ugh. In addition, angels were intertwined with the Christianity from which I had escaped. Why would I ever want to do anything with a flipping angel when there's all sorts of spirit guides other there?
Where Angels Tread
Here I am again, with this angel-waiting-in-the-wings problem. For weeks, I kept this to myself. As these things tend to go, my angelic suitor was not willing to let me avoid him this time. When I climbed High Head to do a winter solstice ritual, once again good old Uncle Lucky told me to go with the angel. I realized that my beloved Uncle Lucky is most likely an angel, but he never presented himself this way to me. Maybe he knew that this fool wasn't ready to go where angels tread.
I started to think that just maybe I should walk on heavenly ground. After all, I had decreed winter to be the season of Hekate Soteira. As Savior in The Chaldean Oracles, she is viewed as the source of all things, including angels. As The Mother of Angels She sends Her messengers to help human souls ascend. Sounds good, right? Still, I had my doubts.
Angel Fire
Hesitantly, I initiated a discussion about angels and witchcraft while I was sitting around a fire with a group of friends. This happened: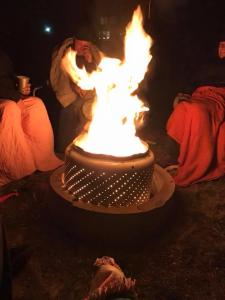 Alright, already. Even I get the message when it's in the shape of a big fiery angel. At this point, I decide to seriously consider accepting Malaki as a spirit guide. He's seems hellbent on it and I've announced to the world that I'm done with being a creature of the underworld.
Angels and Ascension
I did a lot of research. There's not much out there about Hekate and angels, other than authors discussing this in conjunction with The Chaldean Oracles. The boiled-down idea in this ancient text is that a certain type of angels are sent to humans to help us ascend, an idea that makes a lot of sense to me at this particular crossroads in my life.
In terms of a serious discussion on angels and witchcraft, I revisited Christopher Penzcak's Ascension Magick, a book I hadn't even thought about since I threw it across the room the last time I had an angel problem. Could it be that I actually hadn't been ready back then? Or was it some sort of shadow self resistance bullshit? I'll never know.
Penczak's explanation of angel magick is basically that we can work with heavenly beings as a method for our soul's ascension. If we are interested in becoming a higher vibration creation, then we need to look up to the heavens to do. Angels can help us in this regard. Sounds a lot like The Chaldean Oracles to me. And it makes sense. I'm committed to not being a creature of the dark anymore, so I need a light bringer to help me along.
Where I Fear to Tread
Have you ever reached the point where you say to yourself, "enough research! Do something, already!"? Well, I do and did again with this angel situation. I decided to walk forward. I'm not very clear about how this will work, but I'm going to have faith that my angelic guide knows what he's doing and will help me figure things out.
As a way of taking a rather trepidatious step forward into the angelic realm, I did a ritual welcoming my messenger into my life.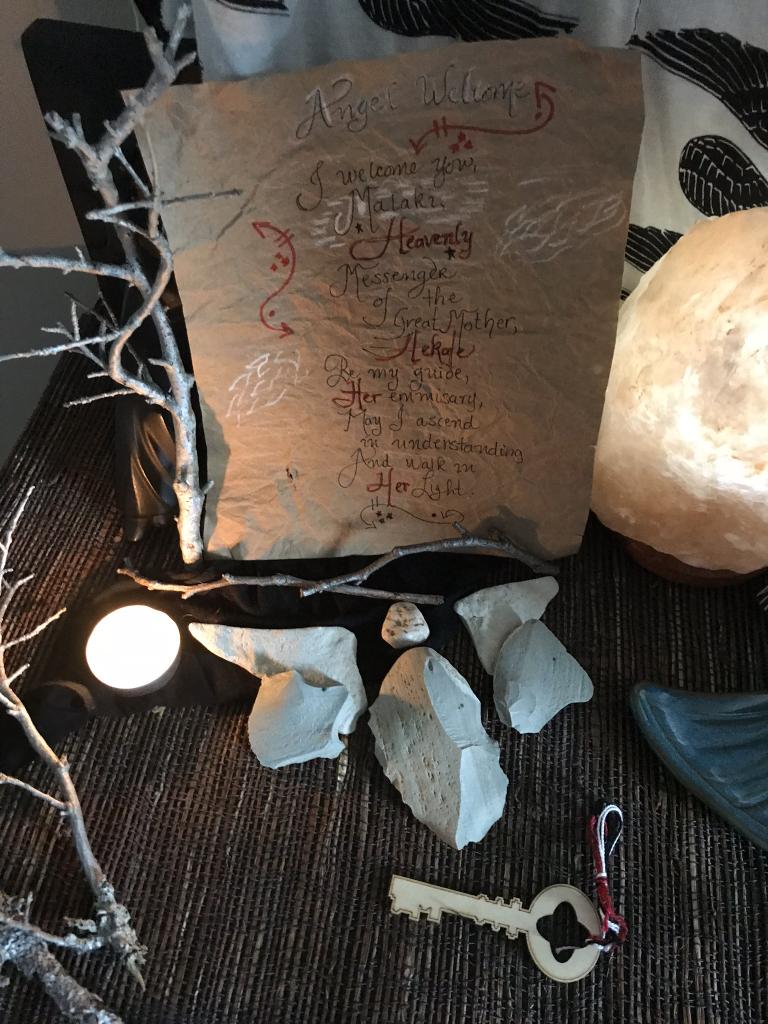 Angel Welcome Ritual
Before I started the ritual, I wrote a welcome to my angel:
I welcome you, Malaki,
Heavenly Messenger,
of The Great Mother, Hekate.
Be my guide,
Her emmisary.
May I ascend in understanding,
And walk in Her light.
Next, I decided that I needed to craft my own angel as symbol of accepting my new spirit guide. If there's one thing we have abundance here in Nova Scotia, it's rocks. After searching my collection of local stones, I formed some into an angelic shape using mostly agate. I consecrated them, along with a little burlap bag and a key, all the while focusing on removing my resistance to angels and creating space for Malaki.
I'm going to carry the stones in the bag with me, like a lot of pagans do. Added to the bag will be this key that I infused with my intention with a simple knot spell:
With this cord of black, I acknowledge my time in the underworld
And my guides that saw me through.
Knotted black cord to the key.
With this cord of white, I welcome my angelic guide
To see me along the starry road of the upper world.
Knotted white cord to the key.
With this cord of red, I connect to the life force of the middle world.
Knotted red cord to key.
I unite these cords,
As a commitment to bringing balance into my life.
Knotted all three cords together (with three knots).
(It'll take quite a while of heavenly ascension things to balance out all my time hanging out below.)
I'm going to put the key in the bag, too. I'll leave the welcome where it is so that I see it several times a day.
Even after all my thinking about angels and my ritual to welcome my personal heavenly being into my life, I'm still not exactly rushing into the angelic realm, although I am committed to doing so. I'm not sure how this will work into my witchcraft. I would love to hear your thoughts about angels and witchcraft. It'll help me as I go where I fear to tread.