I can't think about the title of this book without dreaming about visiting the ancient Temple of Hekate in Lagina, Turkey. I had been planning on going there in a couple of weeks with my youngest son, but life (as it often does) had other plans. I'm not complaining because we're happily renovating our little dream cottage instead of going on our Aegean adventure. My Hekatean expedition will happen in due course – the sites have been there for thousands of years and they probably aren't going anywhere. In the meantime, I re-read the Temple of Hekate by Tara Sanchez and visited the real temple via YouTube.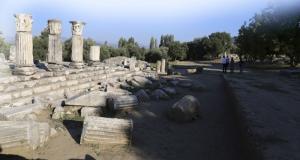 Temple of Hekate: Exploring the Goddess Hekate through ritual, meditation and divination
Let's begin by talking about the book. Temple of Hekate: Exploring the Goddess Hekate through ritual, meditation and divination by Tara Sanchez is not a new book. I found two earlier reviews that you might want to read as well. One is from Hearth Witch Down Under here on Patheos Pagan and the other was on wiccanrede.org.
You might be wondering why I would bother to write a review about Temple of Hekate. Well, I thought that the two earlier reviews didn't really capture the essence of the book. It's magic, if you will. As one of the founding members Tara Sanchez helped launch the Covenant of Hekate. In the years since this book was published, the Covenant has grown into a world-wide organization, with the highlight annual event being the Rite of Her Sacred Fires which has become a global celebration. The true magick of Temple of Hekate is that it has become a major contribution to the way that contemporary devotees practice Hekatean magic, especially those who are part of the Covenant.
Temple of Hekate is a fantastic book because it both summarizes a good chunk of our knowledge about historical Hekate and provides exercises for devotion and magic based on these ancient writings within our contemporary context. Tara Sanchez offers many unique ways to practice Hekeatean magic, including very creative and powerful rituals. However, my two favorite parts of the part are about divination from a Hekatean perspective. The first is Tara's expert interweaving of various aspects of Hekate onto the traditional Tarot deck. This alone makes the book worth it's price. But, she goes onto provide a fascinating – and highly detailed – dice divination technique.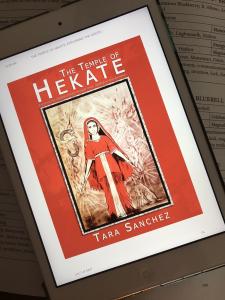 While there have been other books about historical Hekate that have come out in the past few years, notably Sorita D'Este's Circle of Hekate: Volume 1 History and Mythology, this book deserves attention because of the focus on magical exercises and ritual devotion to Hekate. I personally enjoy that Tara's more ceremonial magic approach is very different from my cottage witchcraft version of Modern Hekatean Witchcraft.
Dreams of the Real Temple
I think this diversity of interpretations of Hekate and magic(k) is a strength of contemporary practice. While we may understand Hekate differently, we (usually) are tolerant and supportive of each other's personal approach. I think most of us would share the longing to visit the real Temple of Hecate in Lagina, Turkey. Some of us have been fortunate enough to go there, but others, like me, have to make due with pictures and videos.
This last remaining ancient temple of Hekate is once more in a period of active archaeological excavation. You can read about that here.
You can experience a virtual tour of the site by watching this:
And this video from Sorita D'Este shows the treasures that have already been excavated and are in the Istanbul Archaeological Museum:
PS – Temple of Hekate and many of Avalonia's other books about Hekate are available on Kindle Unlimited.
Keeping Her Keys on Facebook has videos, photos, bonus content and more.