In the recent past paganism has endured threats to the web of our community that could have destroyed us. Instead a web of freedom, fortitude, faith and fraternity is being woven into a new p-age.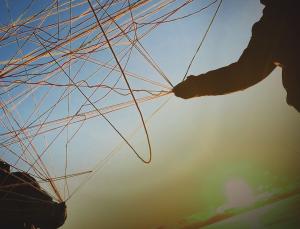 Weaving our Own Web
There seems to be a lot of threats to the web of the pagan community lately. For me, during times of turmoil I look for those who are acting with courage and grace. They are the spinners of a strong web. I also believe that optimism is the strongest thread in any way. We can't get mired down in all the bullshit and drama. I know that life can suck out loud and that we live in troubling political times.  It seems to me that when the shit hits the fan that's when our various assorted pagan paths should be a source of strength.
Perhaps even that we should turn to the lessons of our gods and leaders for inspiration. This is what I try to do – weave a web for my life that's about grace, perseverance and trust. Of course, I am human, and I've certainly had episodes of being a "sad pagan." I think we all go through periods like this. What matters is how we conduct ourselves during hard times. Some of us do our best to handle things with optimism and grace, while others are so overwhelmed with their pain that they have to inflict it on others. It's the latter group, often a small but mighty shadow-fueled minority, that can destroy lives and entire communities.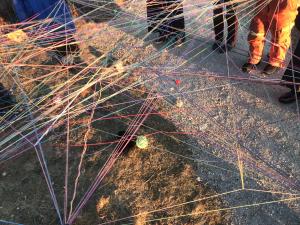 Weaving a New Web
What I've witnessed in the groups I belong to that have undergone threats to their web, is that the would-be web destroyers can't succeed if there are spinners willing to step in to repair the damage. Sometimes, we need to realize that mending the web isn't the best thing to do. Instead, we need to spin a new one.
My Personal Web Rebuilding
I've been spinning a new web of my own life for the past few years. I went through a time of massive rebuilding that kept me away from attending local pagan events. On the Winter Solstice, I decided that the time had come to reconnect with the local pagan community. At this Winter Solstice ritual we wove the web of life by throwing balls of yarn back and forth to each other until this big, messy web is formed. Then someone lies – face-down – in the middle of our creation. While we were weaving that web, I looked around at old friends and new faces. I felt a sense of belonging that brought me to tears. I was so glad that I had the courage to return to this place where one of the most painful experiences in my life started two years before. We are weaving this together.
It often takes a threat to our web, to force us to either repair our existing one or create a brand new web. We can choose to build or repair our web with stronger threads. This takes a lot of work. For me, I've found the energy to do weave a stronger personal web through my witchcraft and pagan beliefs. I also chose to learn the skills necessary to make the strongest web possible.
Welcome to the New P-age
There is a new age (or p-age) taking root. I see evidence of this here on Patheos Pagan, in the groups I belong to and the discussions I've been having. I see the signs of a web being spun using four threads (among many others) that will truly carry us all forward. Our web won't be made out of colorful yarn, but from the threads of freedom, fortitude, faith and fraternity.
Freedom
Modern paganism is about an individual's right to choose their own religious/spiritual path. That's the way it's always been, right? Not so much. Over the more than two decades that I've identified as a witch, I have faced plenty of judgment about my own practices from my fellow pagans. I saw many examples of others being ridiculed for not believing the "right" things. Lately, I'm noticing a stronger "you do you" attitude. Accompanying this shift in mindset is a rise in people speaking out against those who would deride others who don't share their beliefs. In the new p-age, personal freedom is being both embraced and defended.
Fortitude
It takes guts to share your beliefs when they are outside of the mainstream. Defending others rights to believe what they will also takes a strong backbone. But doing this with insults and belittling isn't true courage. Fortitude is strength forged with compassion. I've seen many examples of this in how pagans I admire handle difficult times. This is the stuff of true grit that will help create a new p-age that for many of us includes a progressive political and social agenda.
Faith
For those of us p-words with a progressive political and social agenda, we've gotta have faith. This extends to our belief in the pagan community as a whole. I'm talking about real faith – trust in ourselves, others and our community. This extends to faith in our deities, guides and other entities for some pagans. Wherever you can find it, get yourself some faith. Believe in yourself  if you can't get wrap your head around any other type of faith. The best part of faith is that it leads to a fierce optimism that can motivate us to change things for the better. We need faith to weave the web of the new p-age.
Fraternity
Weaving a web is impossible without an allegiance among members of the p-word community. Individual freedom, fortitude and faith are not enough to create the web of our time. Using the analogy of the Winter Solstice ritual, these three constructs are like the balls of yarn. Fraternity is the circle in which we throw those balls to each other, creating a web strong enough to sustain all of us. We weave fraternity when we show compassion, are supportive and have faith that someone will catch our ball of yarn.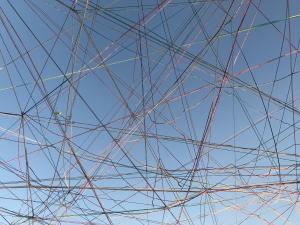 Participating in the New P-age
I'm proud to be standing in the circle contributing to the development of the web that is ushering the new p-age. I'm committing to conducting myself in a manner that reflects the four concepts that I've discussed. Part of my actions include doing energetic work to give myself freedom, fortitude, faith and to participate in the fraternity by supporting others. I'm asking you to consider doing the same – whether it's in the form of saying a prayer, doing a ritual or casting a spell that blesses the new p-age, our leaders and our community.
NOTE: I've revised this blog extensively after two days of contemplating whether I had accomplished my goal for the piece. I wanted to put a positive "spin" on what I see happening in the pagan community these days. Instead I ranted about events that I wasn't directly part of. The whole thing had gotten to me. I'm not renouncing what I wrote at all. I've removed all the negative stuff because I want to be an example of positivity which I don't believe my original blog reflected.