With Mother's Day on the horizon, my thoughts are on my own sons. Growing up with a mom who's a witch has made their lives interesting (to say the least). I wanted to take a few moments to acknowledge them. I'm totally going on a brag-fest about just how great they are. I really am the luckiest witch-mom.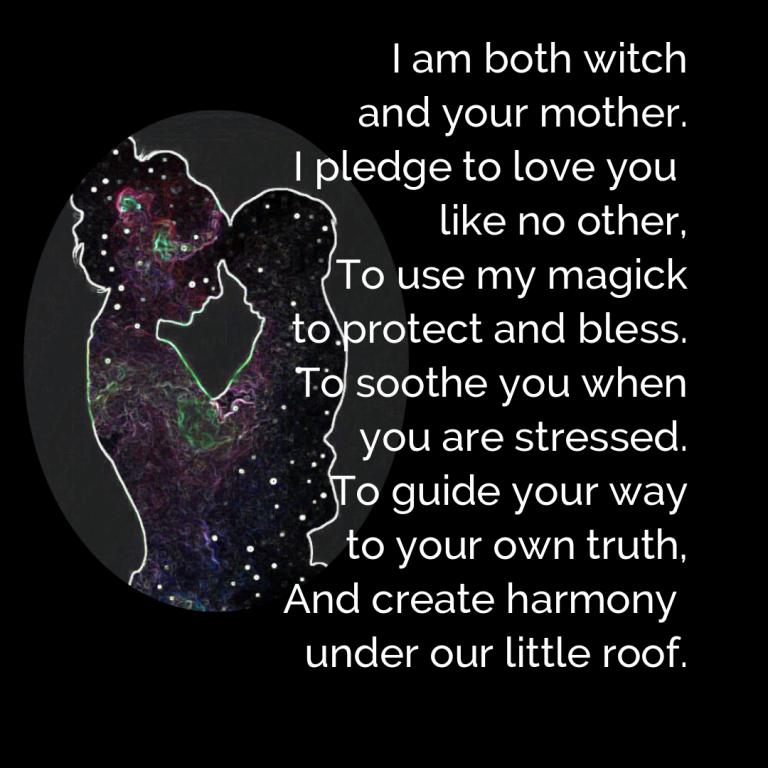 Here's an example from today:
Eldest offspring enters room carrying a rag and a bottle of cleaner:
"It's 900 degrees in here. It's so dusty I can't breathe and I don't know how you can stay awake listening to that sleepy music."
Me: Blink. Blink. "But, I'm BUSY."
Indeed, I am. So many people signed up for my introductory Applied Modern Witchcraft class that I have spent the past two days making lists and checking them twice. My beloved oldest spawn proceeded to clean my work space while I worked on the list. The conversation went like this:
Son: "What do you want me to do with all these branches?"
Me: "Don't throw them out! They're nice and dry! Especially not that one. I'm using it for a wand!"
You know what? He was right. My work space needed to be cleaned. I have a tendency to get so focused on whatever I am doing that regular household tasks go unnoticed. Except for eating. I always have time for that. My youngest son asked what he could do to help. He was enlisted to "do something with Instagram." He sent out messages and then read names on the list while I typed. My truth-tellers and helpers.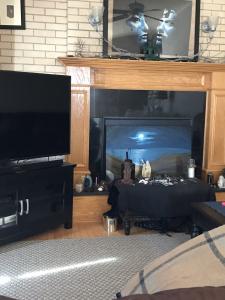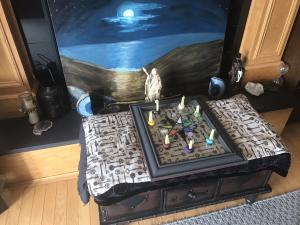 I am a most fortunate witch-mom (or is it mom-witch?). My boys are absolutely my biggest supporters in all that I get up to. Whether it's amateur forestry (our newest family hobby) or whale watching, they're up for almost anything. They do draw the line at doing their own magick, though. Maybe it's because they live witchcraft every day of their lives.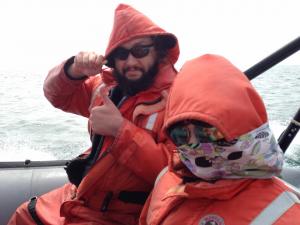 Along for the Broom Ride
I've gone from being a hot-mess broom-closeted (at least to the outside world) walking disaster to, well, me. That person who was always inside screaming for air. And those sons of mine? They've been riding right along on my broom through it all. Hanging onto the back of my cloak for dear life many times.
Let me tell you that the ride has been a long, strange trip. These days life is quite magickal here in our quirky little piece of the world. It hasn't always been this way. Since it's Mother's Day, I wanted to pay tribute to the two people who inspired me to create this magickal life. I don't write about the two of them because while they're along for the broom-ride, it's not of their volition. They have their own lives, after all.
Rule Breaker
Four years ago, my youngest son had to make a card for Mother's Day at school listing my attributes. At the very top of the list was "rule breaker." For me, that's what witchcraft means. I have broken the rules (or I lost the book) more times than I can count. I don't even remember them anymore. The fact that my son saw this as one of his favorite things about me says a lot. One time when I got mad at witchcraft, both of them complained that they missed all the things I normally did. Like stuffing them full of herbs when they were sick, making them carry stones in their pockets and enlisting their help for my do-it-yourself rituals. I took their advice and got back at it. They, as they often are, were 100% right.
Do You Want This in the Freezer?
I don't know about other witch-moms out there, but my sons have learned not to question the things I do – or bring home. They only ask "do you want this in the freezer?" after unpacking another magickal treasure that I've dragged home. Apparently, they wouldn't want it any other way. Except for maybe when the dust bunnies are about to reanimate the bones scattered all through the house.
They're My Inspiration
I want to keep the tone of this tribute light because both of them loathe sentimentality, but I have to briefly discuss just how much they inspire me. My oldest son has a better knowledge of the personal Under World than most people ever gain in their entire lives. When I feel like giving up, I look to his example and dig deeper. The younger one keeps me on my toes with his truth-telling and ever-watchful eyes: "You should go get dressed. You can't go out in those shorts." That was twenty pounds ago, so there's no leg-baring going on these days. Now when I grumble about not being able to lose the weight, all I get is unconditional support. Maybe they like it that I no longer live on boiled eggs and lettuce. That's because we took a trip to Disney World a few years back that was THE watershed moment for us as a family. The desperately failed attempt at a blended family came to an ugly end during that vacation. Also, I ate a cheeseburger. It was very, very good. In characteristic style, they persisted at having a great time as evidenced in this photo (used with their permission):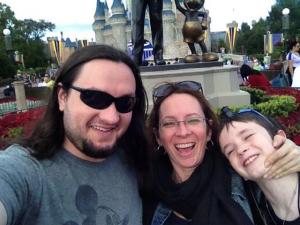 We came back from that epic journey ready to move forward as a family of three. Although I wish all that pain could have been avoided, it's brought us so much closer together that I don't regret it. We've all accepted who we are as individuals, each other, and our version of family. What more could a witch-mom want for Mother's Day?
My other articles on motherhood:
Hekate, Guardian of the Children: Ritual of Blessing, Protection and Rescue