Creating enchanted effigies is a practice as old as witchcraft. Useful for all types of witchery, from healing to hexing, poppets are a staple of the witch's magickal repertoire. Poppets can be made out of many materials, including dough, wax, fabric, wood, clay, plants, vegetables and even meat or cheese. They are activated using a variety of methods, ranging from baptism to incantation.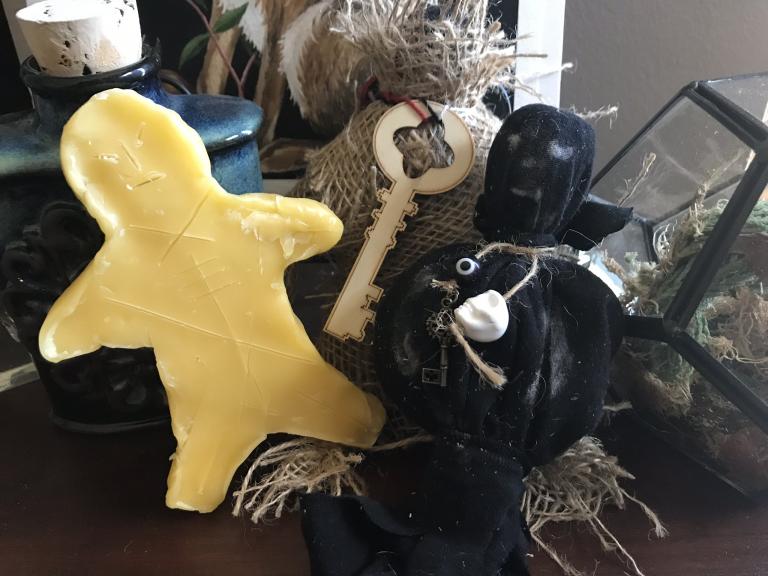 NOTE: This article is adapted from Hekate's Modern Witchcraft: The First Key. Learn more about this intensive program of Modern Hekatean Witchcraft here.
Poppets Are As Old As Witchcraft
Bronze and lead examples from the ancient Mediterranean have been found. In fact, it is these remaining artifacts that point to just how ancient the use of effigies for binding witchery truly is.
Hekate's ancient witches used these powerful dolls to bind lovers, especially that long-suffering Simaetha. She melted a wax poppet of the lover who spurned her to bring about his demise:
"Delphis has brought me pain, and I burn this bay leaf against Delphis. As it crackles in the flames with a sharp noise and flares leaving no trace of ash, so may Delphis' body melt in the flame." – from Theocritus, Idyll 2: Pharmakeutriai (The Witches) 2nd C BCE
Simaetha was practicing sympathetic magick – using a symbolic representation of a person, animal, spirit or even deity to bring about desired changes in their behavior. Such kolossoi, the ancient Greek word for these enchanted dolls, are thought to have been a popular form of magick.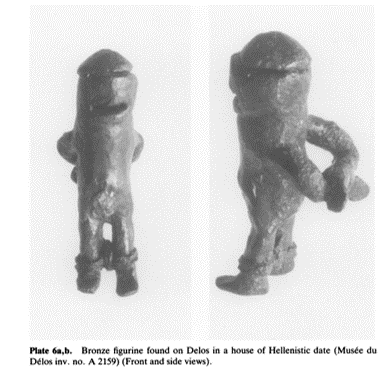 Sympathetic Magick Powers Poppets
Inherent in sympathetic magick is that representations of others can be infused with their energy, creating a way to remotely control their thoughts and behaviors. Put simply, sympathetic magick is about "like attracting like," so that the use of some part of the intended target is included in the poppet to act as a sort of tether to them. The tether can be to just about anything, human, animal or spirit. The tether binds the target to the poppet.
Read more about binding.
Put A Taglock On It
The most important part of any poppet is the taglock. This is the energetic tether between a poppet and the intended target, requiring something deeply connected to the person, animal or spirit.
Animal and human taglocks include:
Part of their physical being such as hair, nails, teeth, blood and other bodily fluids or skin
An image, photograph or painting
Clothing (unwashed is better)
Their name
Astrological considerations, such as their zodiac sign
Aspects of their personality
Favored possessions
Hobbies and interests
Spirit and deity taglocks can include:
Known and personal symbols
Correspondences, such as colors and animals
Botanicals associated with them
Their name and epithets
Taglocks can be used two ways:
The taglock is activated through the process of binding so that any work carried out on the poppet manifests on the person, animal or spirit as well.
The taglock captures a piece of the soul of the spirit or deity, binding them to the poppet. The poppet is used to activate the powers of the spirit or deity. A poppet containing a plant spirit would be made by using pieces of the plant as the taglock.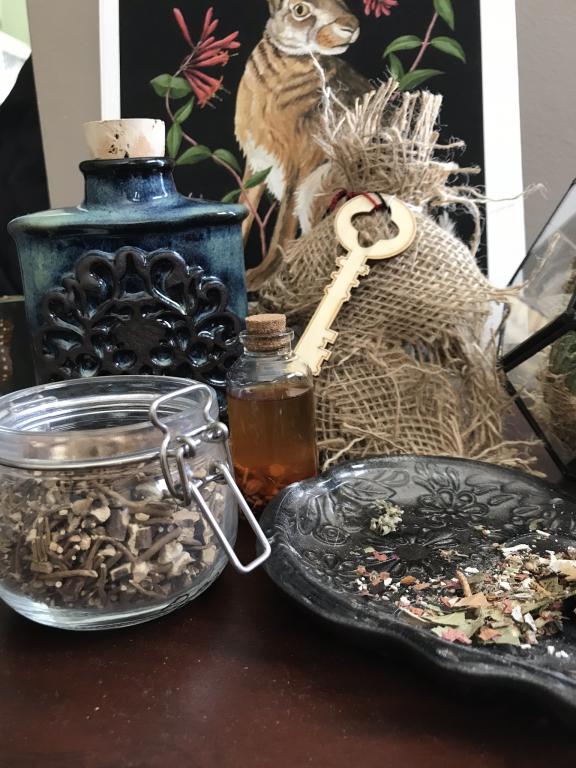 Steps for Creating a Poppet
Poppets are best used for when you want to have control over a distinct other, whether human or spirit. There should be a clear focus for the control. Cursing someone to have all the harm they inflicted on others is one example. If creating a healing poppet, include symbols and taglocks of the focus. A drop of blood smeared onto the "heart" of the effigy that comes from the target with a healing incantation to ease someone suffering from cardiac distress. Of course, that same drop of blood can be used to inflict cardiac troubles in hexing. Using a poppet to banish someone is very effective, use a material that you can completely destroy, like wax or paper. Keep that intention clear that you are only removing them from your life, not the world (unless, of course, that is your intention).
Intention
Developing an intention for a poppet is a bit more involved than writing one for a regular spell. Generally, the more specific the focus, the more successful the spell. With poppets, you also need to list the aspects of the target that you are going to control. These can be additive – pushing the target into new thoughts, feelings and actions – or subtractive – stopping specific ones. Consider how these controls will complement the existing nature of the person or spirit. For example, when creating a curse poppet, the intention can be that the person no longer engages in harmful behaviors (subtractive) and bears the weight of the harm they've previously caused (additive). A complementary aspect would be to include that their anger (already existing) becomes directed at themselves.
A spirit poppet that is to fully contain an entity should clearly include wording in the intention that does so, otherwise remnants of it will still wander free. This approach is particularly useful for harmful spirits, such as shade and malevolent ghosts. "To the spirit who haunts me, I cast you into this poppet, no more are you free to roam. Into the poppet you go, and I control you from now on." The poppet is a spirit trap. To harness the energy of a spirit while letting it retain its own free will requires ensouling part of it while leaving it whole. The intention should be worded to reflect this: "I cast into this poppet, the spirit of mugwort, binding it to my magick." Using a poppet to harness the powers of a spirit or deity so that they are always within your control is another intention suitable for a poppet. "I bind the powers of Medea's poison magick into this poppet, claiming them as my own."
Designing the Poppet
Poppets can be incredibly simple or very complex in their design. A bar of glycerin soap can be craved with symbols. A square of fabric, known as a paquet, can be used by wrapping it around a taglock and tying it. Usually a poppet takes on the basic physical appearance of the target, such as a human body. A simple technique is to shape a head, filling with a nut (such as walnut for mind or spirit work) and then tying it off. Bind to the person or spirit. Fabric, clay, and wax are easily worked with. Consider the nature of the target. Fabric and clay are great for enduring poppets. Wax is excellent for a temporary one, or for a poppet that will be destroyed.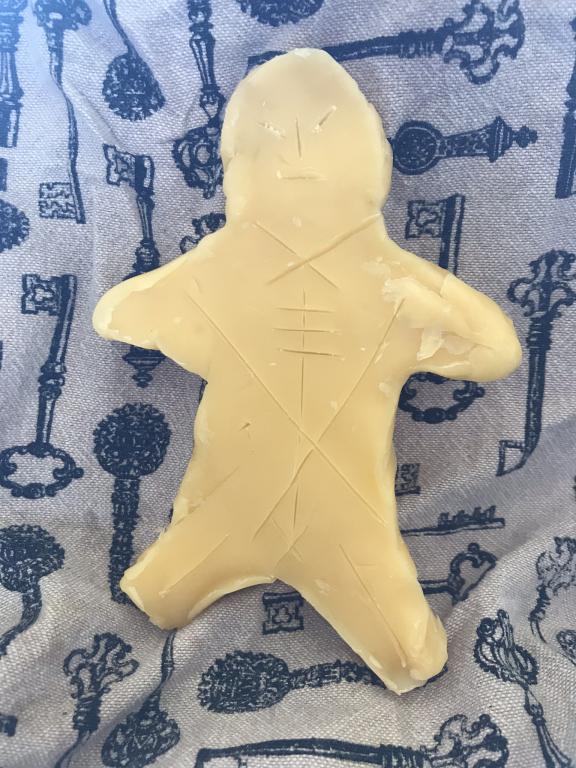 Correspondences
Keeping in mind the nature of the target and your intention, choose correspondences that will augment the power of your spell.
Fabric: Type and color. Black for cursing, protection, banishings, bindings, and most types of witchcraft. White for purity and revelation. Green for abundance. Pink for compassion. Blue for communication. Yellow for illumination. Purple for sovereignty and personal power. The fabric can be the taglock, using an old t-shirt or sock are two examples. The thread and string used should also match the intention.
Botanicals: Choose ones that are likely to last for as long as the spell needs to. Fresh ones will shrink as they dehydrate, so dried is best to maintain the integrity of the poppet. Cut dried roots such as black cohosh (divine feminine, easing female issues, binding to a woman) work well. An entire root, from Mayapple, wild carrot, yellow dock and others can be used for the poppet. Carve symbols into it and add the taglock. Vegetables can also be used for short-term poppets, such as potatoes and carrots.
Mugwort (protection, all witchcraft), yarrow (healing, prophesy), rose hips (love, protection, detoxification), birch bark (sovereignty, binding), and pine cones (prosperity) are some examples. Nuts and seeds that suit the intention can be used as well.
Stones: Can be used to represent the mind, the heart and physical organs. Choose ones that work with your intention. Blue agate for communication, soothing the mind, controlling another's mind. Pink quartz for creating love energy, either to persuade your target in your direction or to create feelings of self-love in them. Black obsidian, jet, charcoal or coal for removal magick of all sorts, from protection to cursing.
Symbols: Can be drawn, stitched or carved into the poppet. Astrological signs, numbers, sacred geometry, etc.
Stuffing: The botanicals used to stuff cloth poppets can be augmented with extra bits of the fabric used to make it, cotton wool, rice, and beans can also be used.
Features: Make the poppet resemble the target as much as possible. Are they short or tall? Thin or thick? Use a hair taglock for the hair. Draw features that are similar to the target. Use buttons that match their eye color.
Clothing: Dressing the poppet to resemble the target is another way to ensure its efficacy. Strips of cloth can be used for the binding process. Recite your intention as you wrap the poppet. Choose an appropriate type of fabric and color.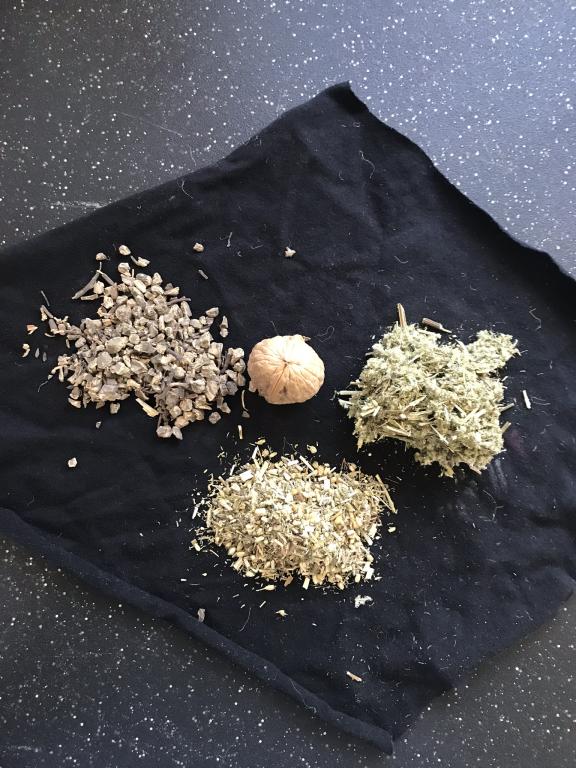 Creating the Poppet
Once the intention and design are set, choose the hour and date that works best for you, considering astrological influences and date significances (e.g., Friday is Venus' day, well suited for poppets that are love spells).
Assemble your materials and written intention. I like to insert a miniature version of the intention as the heart of the poppet.
As you create the poppet, envision the results of your witchery. How will your target heal or suffer? How will the spirits being bound work for you?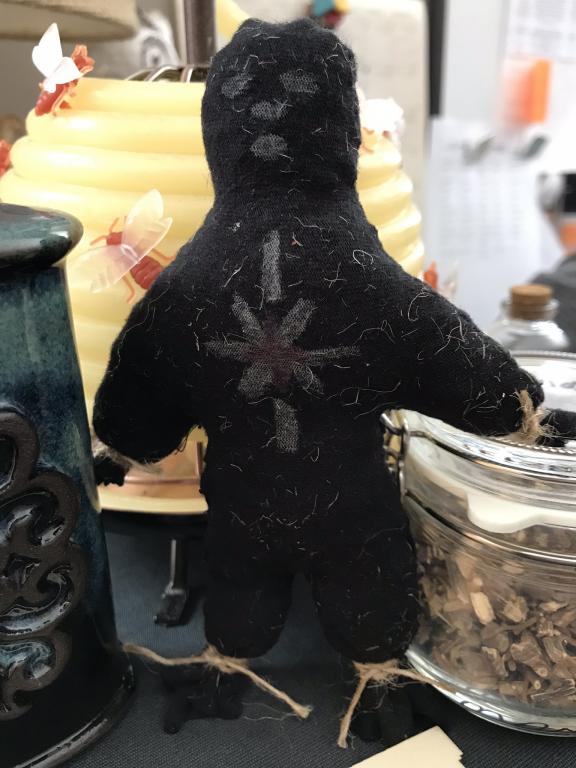 Activating the Poppet
Once completed, activate the poppet with words of power that give life to it. Write an incantation that is firm and directive. Use strong verbs and short sentences. The poppet must be well controlled by you for it to work. "Now complete, this poppet now comes to life, bound to that which is my target. Firmly under my control. As I speak it, it is so." The poppet can be anointed with appropriate oils or waters, or even baptized.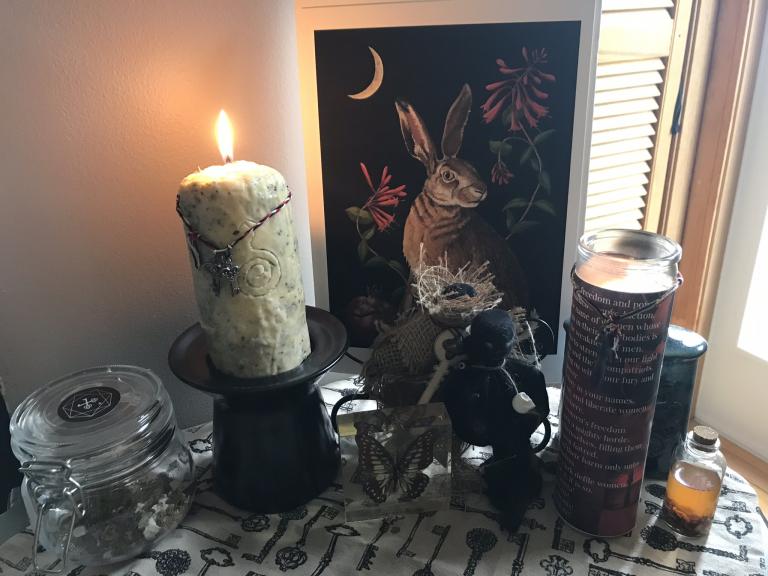 Using the Poppet
Poppets are meant to be manipulated by their owners, unless the point is to completely bind a person to themselves. At minimal, holding the poppet while activating its powers should be done whenever the target requires attention, or you wish to harness the power of the poppet. Rubbing the eyes to help another gain clarity, anointing the crown to encourage wisdom or soothe the mind, piercing the heart to inflict pain.
The poppet can be destroyed to completely sever your connection to them or to bring about their demise, whether regarding a specific action or otherwise. The poppet can be locked up in a coffin/box to prevent the target from acting. This sort of spirit trap is good for problem entities. Burying this type of poppet works well.
Maintaining the Poppet
For long-term control of a target, the Poppet needs regular use and may require energetic boosts by anointing or spraying with an appropriate botanical. Keep in a dry place out of sunlight. If the poppet is performing a specific function, such as protecting magickal objects or watching over a child, keep it nearby.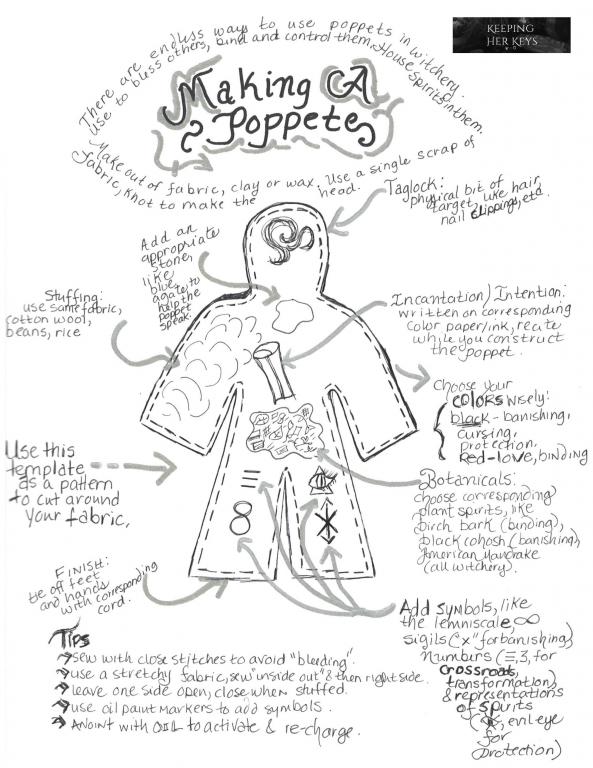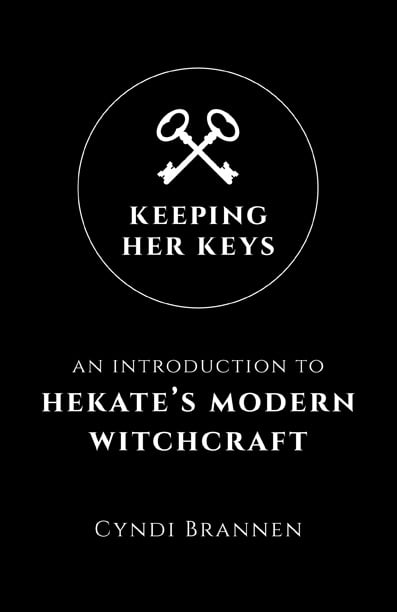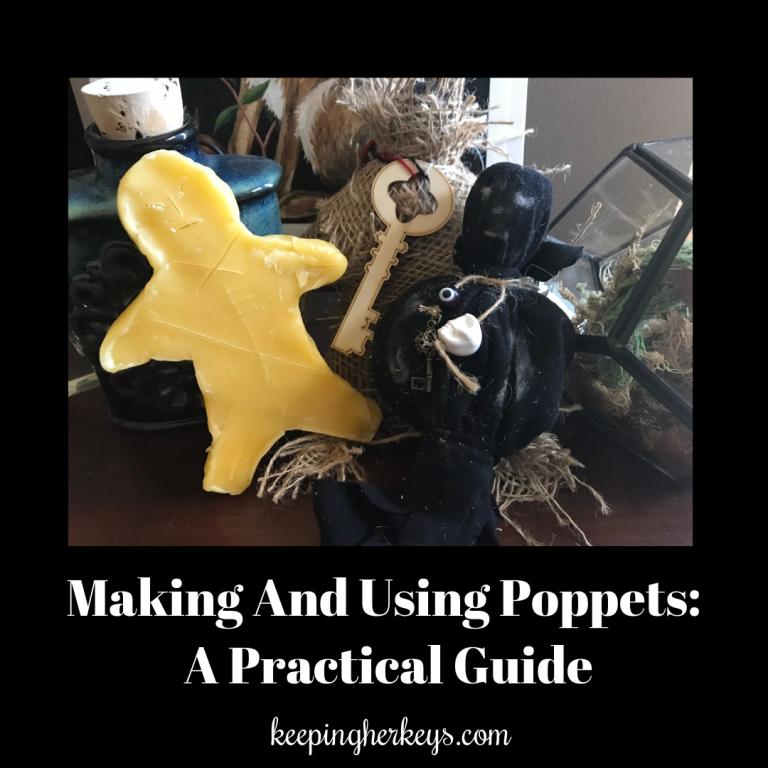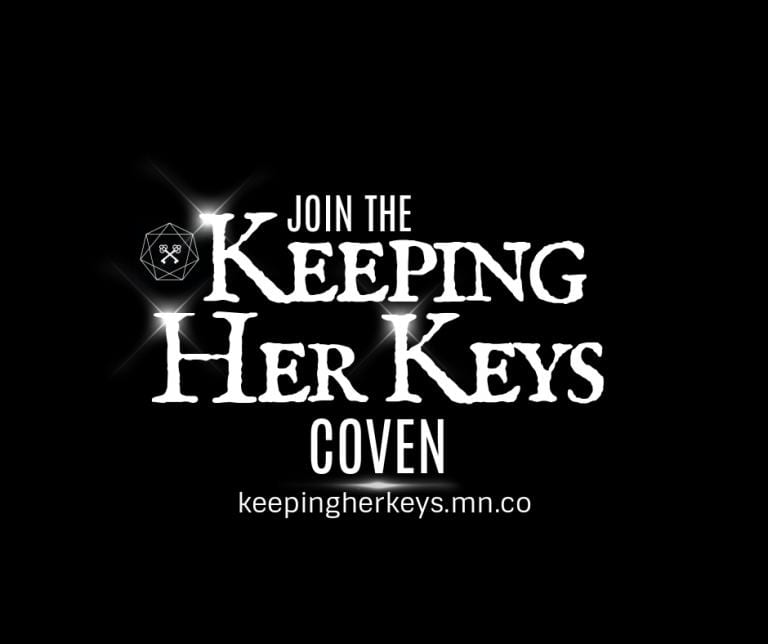 Courses, classes, events and more. Walk with the goddess.