I recently gave a talk for those interested in practicing Modern Hekatean Witchcraft. I started with the story of how I felt called by Hekate late one evening while I was folding towels in the basement. Out of nowhere, this voice deep inside me said, "it's time." I knew – somehow – that this was Hekate even though I had only a vague knowledge of her at the time. Some part of me had activated my own eternal flame resulting in this surprising knowing. If there's one thing I know for certain is that those torches of Hekate that I'm always following are part of my own soul's mission. There is no separation. All things are sacred. All things have a spirit.
Is Hekate some sort of embodied being running the universal show?
Read When Hekate Calls: A Practical Guide for Answering
For me, the answer is "I don't know." I'm perfectly comfortable with not knowing what I believe is unknowable to almost all humans. If we are sincerely seeking deeper understanding of the mysteries of the universe, then a certain degree of uncertainty is a necessity. Questioning and seeking go hand-in-hand. If we already know all the answers, then there's no need to go anywhere. One thing I do know for certain is that the divine, however we understand it, lives as much within us as without. Separation is an illusion. The sacred fire is found within. That fire is known by many names, but it, at its essence, it is the same vital force. The key of this fire is the quest for understanding my life's purpose within the mysterious fabric of the universe. That is one of the keys I keep.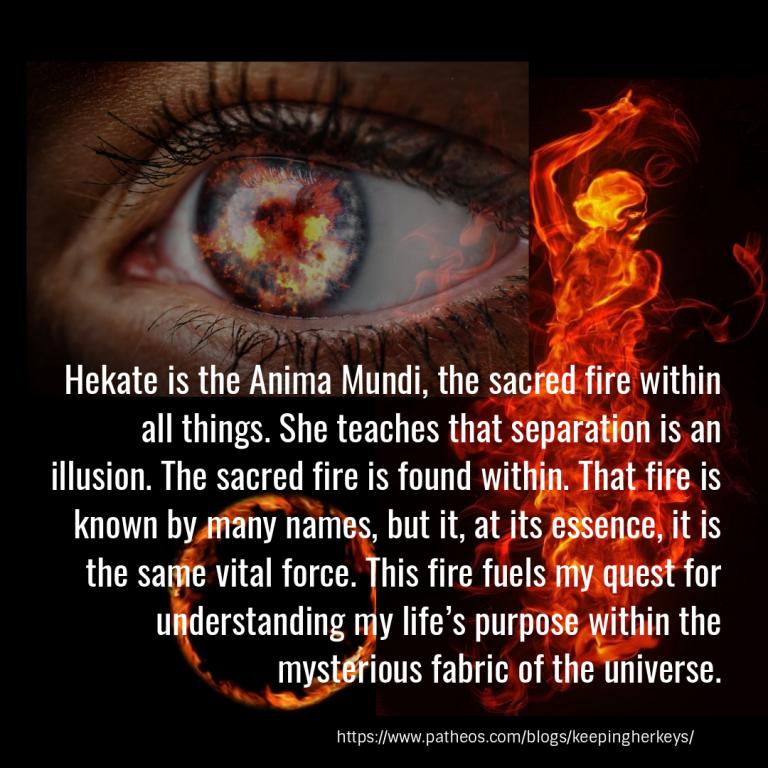 Keeping Her Keys: The Rise Of Hekate And Her Witches
Seeking Truth in the Deeper World
When Hekate called while I was doing laundry, it was a massive WTF moment. I was very much an atheist at the time. I wasn't looking to be called by any spirit or goddess. My quest to understand what happened that night is how we ended up right here today. This is another one of my keys: seeking truth of the deeper world.
In actuality, I had my spirit guides, one of whom was Abigail Adams, at the time. Ghosts, spirits of place and plant allies were all part of my everyday life. Actual goddesses flying around on high, or living deep in some Under World cavern seemed ludicrous to me then, and still do if I'm being honest. Moreover, I was comfortable with the notion that my otherworldly companions could be entirely creations of my imagination. I suspected otherwise, as I still do. There is much, much more to the world than we can see or know. However, for me, humanoid deities that act, think and feel like I do still seem a bit too much. Why would the consciousness underlying the world be human? Such a reductive, self-absorbed understanding of deity is not my view. I've always been an agnostic animist and probably always will be.
I've spent far too much of my life being an apologist for things that speak truth to me. Enough of that. Since the interview linked below came out, and in other conversations, I've heard from so many of you who experience the deeper world in a similar way as I do and were afraid to say so publicly.
Corporeal and Etheric DNA
Being a spiritual seeker is encoded in my corporeal and etheric DNA. Do you know what isn't? Being religious. By this, I mean following a prescribed set of rules and perceiving deity in a standardized way. Hekate is pure force and primal source. However anyone experiences her presence should be filtered through their genetic code, experiences and knowledge. Highly personal, deeply spiritual. Not an egoic wish-granting statue on a shelf. Witchcraft, to me, is not about shallow materialism or superficial popularity, it's a tool that speaks of mystery and power. A portal to the deeper world. A reconnection to myself and the Anima Mundi. Part of my genetic soul code as much as being short is part of my physicality.
Read My Goddesses Are Wild And Free
As humans we are fundamentally all driven by the need to make sense of our world. We fill in the gaps. Filter through past experience, and add details as necessary. Hekate, God, the gods – whatever we choose to call the organizing force of the universe – is always a result of who we are as individuals. We create God as much as God creates us. The universal primal source lives within us: we are as much God as anything else.  I call this "Hekate," you might use a different label. "Hekate" is one of my keys. She is the Keeper of the Keys for all things, too.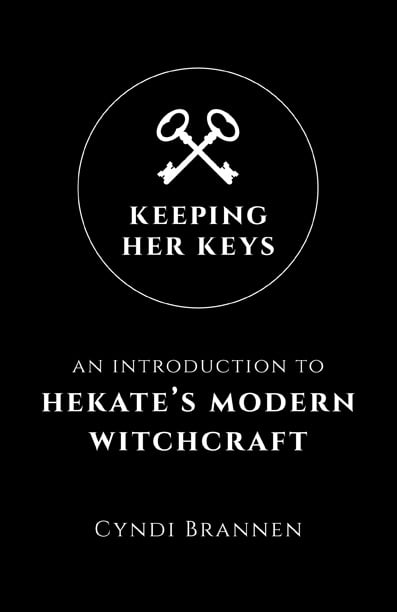 The Mystery of Anima Mundi
I've spent a lot of time thinking about my own need to call primal source as I do. When I was called by Hekate, I had no prior knowledge that many of the ancients – philosophers and practitioners alike – saw her the same way. Hekate as Anima Mundi is the very fuel of creation and destruction, to me and them. It makes perfect sense that she has always been associated with witchcraft since we who identify as such associate with and utilize the primal source from which all types of energy flow. Why is it that my truth includes the pursuit of the magic(k) and mysteries of this force by calling it Hekate? My theory is that I, and some of you, have a certain unborn affiliation with the World Soul this way.  We aren't meant to be restricted by religion. Our God (Hekate) is a reflection of the divine within us. A fixed mindset is completely foreign to us, therefore we understand the divine and the deeper world in a fluid, often agnostic and animistic way. The law of the universe is growth, but it is always preceded by destruction.  A growth mindset is another one of my keys.
For me, I experience Hekate and the other deities and spirits whom I associate with through my human perception. As a witch, I choose to believe that I have natural abilities that help me connect to the deeper world. I use myths, art and literature, which are others attempts to understand this unknowable world to help me understand my experiences of it. Personally, I don't care what anyone else calls this primal source. I call it "Hekate," but "God" works just as well. This source is comprised of all the individual currents. The elements and the realms are master currents within which countless others reside. All things in the material world and many in the spirit one are mixtures of many currents. This is what renders the characteristics of deities, spirits and correspondences.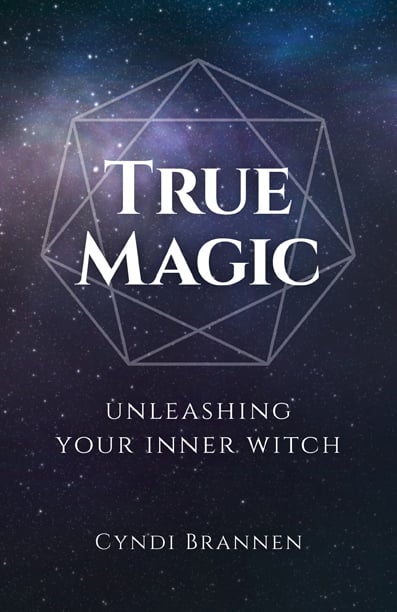 True Magic: Unleashing Your Inner Witch explains the Sacred Seven laws of witchcraft and offers accessible techniques for using them.
No deities required.
Working With the Deeper World
I get asked a lot of questions about "working" with Hekate. I used "working" because I've never cared much for this expression. I work with correspondences like colors and numbers. They are typically lacking in free thought or personality. Not always, though. I have relationships with spirits such as plants, animals and even a few very special stones. We each bring a great deal to our alliance, from will to hang-ups. With more complex spirits, it has to be more balanced, meaning that it's less about me commanding their energies and more about collaborating. Is this a "working" relationship?Aren't all relationships? Regarding deities, including Hekate, we also have relationships. Depending on perspective, we may petition, pray or even beg for favors. This is all human methodologies for accessing primal source and the embedded spirits within it.
If you're more of an agnostic type like me, perhaps you see deity as a human perception of the deeper world. The unseen and unknowable spirit that flows through all life. For me, that's Hekate. As Anima Mundi, she is primal source, the very fire that fuels creation. I use the epithets and her roles to access specific parts of the primal source; death, life, fierceness, resilience are a few. I sort of "work" with these currents the same way I work with all correspondences, but it's more complicated than calling it thus implies.
The Necessity of Mystery
Think of it like this: even in our closest relationships, with full disclosure among equals and excellent reciprocity, we never truly know the entire contents of the other's heart and mind. In other words, understanding other humans is always challenging, and often elusive. Why should anyone think that knowing the heart and mind of a deity would be otherwise? We work to establish meaningful relationships where there exists mutual trust, respect and affection. This is of value to us. I would argue that applying this approach to our association with the forces we know as deities and spirits deepens our understanding of them and the unseen world. We can say that we are "working" with these forces and we certainly do, as a metaphor for how we collaborate with other humans. It's not adequate to explain the process, though.
The struggle I have to appropriately label my experience of the deeper world, whether it's when I'm summoning forces for assistance with my spells or through consciousness-changing mind work like meditation, is, for me, a necessity. The lack of being able to precisely label what I do is how it should be when "working with" forces far beyond my human understanding.
Regarding how Hekate often shows up when we are at our weakest, my theory is that our personal energy signature in those moments emits a signal that attracts the Anima Mundi consciousness, especially if we cry out to however we interpret it. This is why Hekate has historically been associated with the unwanted, whether living, dead or purely etheric. The consciousness of the Anima Mundi that I connect with is Dark Mother, not a light/fluffy/warm God. There's something about me that resonates with the darkness. It is simply where my truth abides. This isn't a criticism of those who don't identify in a similar manner. I will say that witchcraft has always been associated with the wisdom of the shadows rather than the burning, refined energy of the sun. This isn't a rejection of the refined energy of ascended beings, such as angels or a denial of the importance of the Higher Self. For me, my natural spiritual home is a damp and dark cave, followed by a dense, lush garden. The mystical heights of The Starry Road are third place, for me.
Join Open Circle for our coven and courses.
In my recent interview over at Witches & Wine on YouTube, I talk much more about Hekatean Witchcraft from my perspective as an agnostic animist, as well as many other topics.