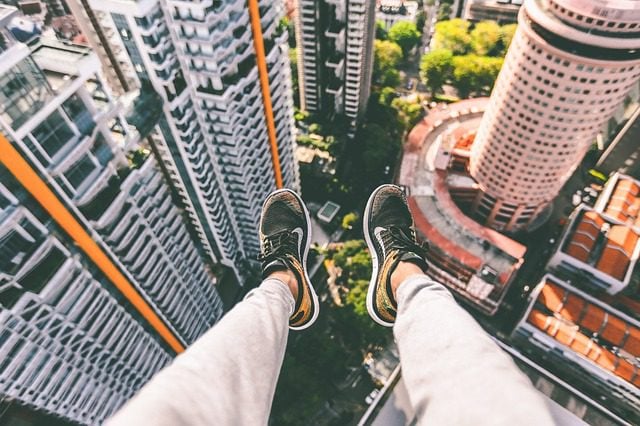 So, as I'm drilling down to uncover why so many of those who profess to know Christ are comfortable with killing, and torture, and war, I've discovered something: It turns out that what we really seem to lack is an abiding connection to the love of Christ in our daily, walking around lives.
At least, I cannot personally fathom how anyone who was abiding in Christ – who is Agape love incarnate – could look at another person made in the image of God and condone their torture, or approve of their death, or justify their suffering – even if it was in the best interest of our nation.
Not only are we disconnected from the love of Christ ourselves – and lacking in love for one another – we are also more often ruled by our fears than by our confidence in our Lord Jesus.
The truth is, our world is inundated with a continual, abiding fear. We are immersed in fear. We are surrounded by it. It is nearly inescapable in our culture today.
Don't believe me? Just watch the evening news and count how often the word "fear" is used. Listen for how many times the news anchors refer to people who are afraid, or who are horrified, or terrified, etc. and you'll see what I'm talking about.
Then pay attention to the TV shows you watch. Notice how often fear is used to motivate everyone's actions. Or how those real-life mystery shows train you to suspect your spouse or to mistrust your neighbors.
It's on the Internet too. Just the other day I posted this on social media:
"Fear says: Buy bigger guns, locks and dogs to protect yourself.
Love says: Welcome friend. What's mine is yours."
The reaction I received to that was this:
"Easy enough to say until you're watching some thug rape your wife or daughter."
Wow. Instant, automatic fear response. (And, yes, this was from a Christian).
Our choice is simple: We either decide to remain in a place of fear – and then we make decisions that flow from that fear – OR we decide to live in the love of Christ and then we make decisions that flow from Him and His love.
Let's not kid ourselves here, we cannot do both.
Either we put our hope in Christ and we walk in His love, or we walk in fear and we live our lives as people who must manage those fears.
Let's consider this for a moment: Could someone who honestly put their hope in Christ ever live in continual fear? Of course not! And someone who is led by their fears can't – at the same time – be completely trusting the Lord and placing their hope in Him. The two are mutually exclusive.
As I've said once before, Jesus came and introduced us to something called "The Good News (or Gospel) of the Kingdom" and it is about complete submission and daily reliance upon Christ.
We either follow the Way of the World (which involves fear, and violence, and torture, and power, etc.), or we follow the Way of Christ (which involves trust, and love, and humility and service to others, etc.).
We cannot follow the Way of the World and the Way of Christ at the same time. It's like saying that you're going to get in your car and drive East and West at the same time. It can't be done.
Either go one way or the other, but you can't do both because one path will take you in the opposite direction from the other one.
Why am I writing about fear? Because fear is the flip side of the coin from love. We're told that "Perfect love casts out all fear." (1 Jn. 4:18) And I believe that if we cling to our fears we'll also experience less love and suffer from the effects of that deficiency.
Anyone who doubts this can simply look around you. Our world is not following the Way of Christ. It is saturated with fear. It is ruled by fear. It is all about power and control and exploitation and selfishness.
Jesus came and died to demonstrate a better way. That's what we call the Good News.
It means we can abandon those ways of being and start living a different way – a Heavenly way. It means we can actually be transformed from within by His incredible love and His amazing Holy Spirit into people who are not ruled by fear any longer.
Because we put our continual hope in Jesus we can love without fearing pain. We can trust without fearing violence. We can give without fearing poverty. We can share without fearing guilt.
As followers of Jesus, we have to say no to fear and yes to love. We have to repent and turn away from the way of the world. We have to put our hearts into His capable hands and begin to trust Him with everything. We have to start learning how to walk in love and to leave fear behind us for good.
Abiding in Christ means abandoning fear. The only thing that casts out all fear is His perfect love. When we are filled with his love there is no more room for fear. When His love fills us, we can't help but love everyone around us – even our enemies.
"I pray that out of his glorious riches he may strengthen you with power through his Spirit in your inner being, so that Christ may dwell in your hearts through faith. And I pray that you, being rooted and established in love, may have power, together with all the Lord's holy people, to grasp how wide and long and high and deep is the love of Christ, and to know this love that surpasses knowledge—that you may be filled to the measure of all the fullness of God." (Eph. 3:16-19)
**

Keith Giles is the author of several books, including the forthcoming "Jesus Unbound: How the Bible Keeps Us From Hearing the Word of God", available July 4th, 2018.
He is also the author of the Amazon best-seller, "Jesus Untangled: Crucifying Our Politics To Pledge Allegiance To The Lamb". He is the co-host of the Heretic Happy Hour Podcast on iTunes and Podbean. He and his wife live in Orange, CA with their two sons.
BONUS: Unlock exclusive content including blog articles, short stories, music, podcasts, videos and more on my Patreon page.